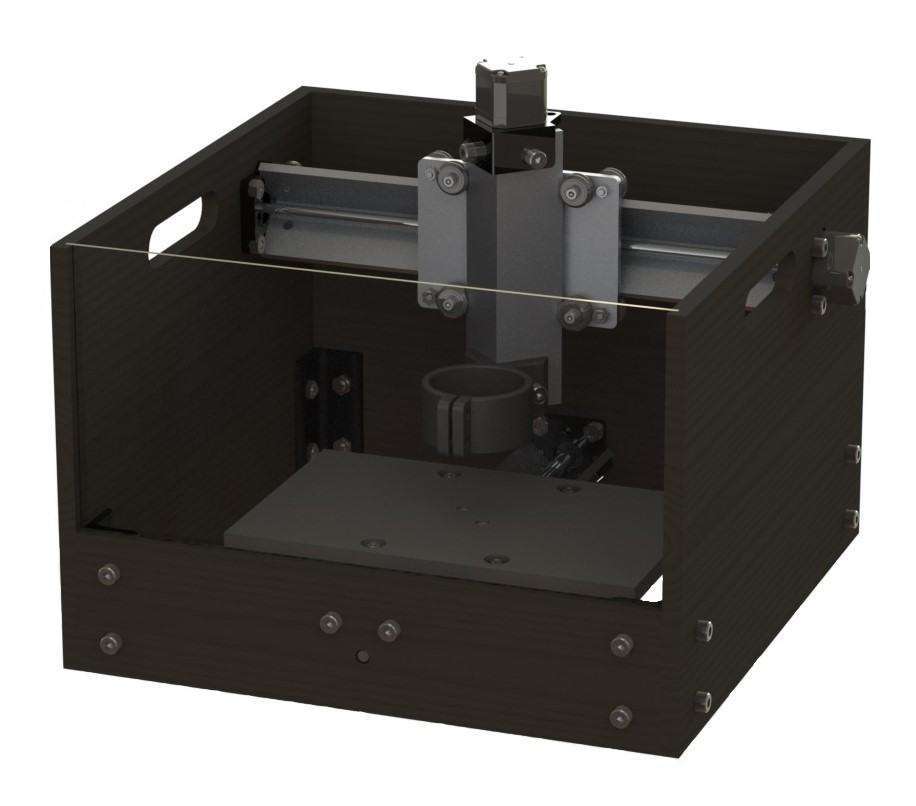 Model: Mill One
Working Area: approximately 235mm x 185mm x 100mm (9 ¼" x 7 ¼" x 4")
Machine Volume: 430mm x 430mm x 300mm (17" x 17" x 11 ⅞")
Mechanical resolution: ±0.1mm
Max Travel Speed: 1200mm/min at ⅛ microstepping (arbitrary cap)
Commands to Controller: G-code
Driving system: CNC V3.0 HCARDU0086 Arduino Shield on Arduino Uno with Pololu A4988 stepper motor drivers and GRBL firmware
Software Compatibility: Universal GCode Sender, Kiri:Moto, Fusion 360 (with Universal GCode Sender plugin), and any other g-code sending software (some 3D printer senders work)
Interface: USB
Power supply: External 120V/220V, 50/60Hz AC to 24VDC
Power consumption: 110W +power consumption of spindle
Run Speed: Recommended speeds are dependent on cutter choice and material hardness. Listed are some of the typical feed rates and depths of cut we use for our machine with a 2 flute ⅛" end mill.
Wood:
Feed rate: 800 to 1200mm/min
Depth of cut: 1.5 to 2 mm
6061 Aluminum:
Feed rate: 800 to 1200mm/min
Depth of cut: 0.08 to 0.1 mm
Coolant: water or rubbing alcohol
Acrylic:
Feed rate: 500 to 1000mm/min
Depth of cut: 1 to 1.5 mm
PVC:
Feed rate: 800 to 1200
Depth of cut: 1.5mm to 2mm
Material Diversity: metals softer than aluminum, woods, plastics, foams, printed circuit boards, leather, and more!
Extras: Our machine uses open source hardware and firmware, letting users build and modify their machines. Not only that, nearly all of our components are standard and easy to source or 3D printable, making replacing parts easy.