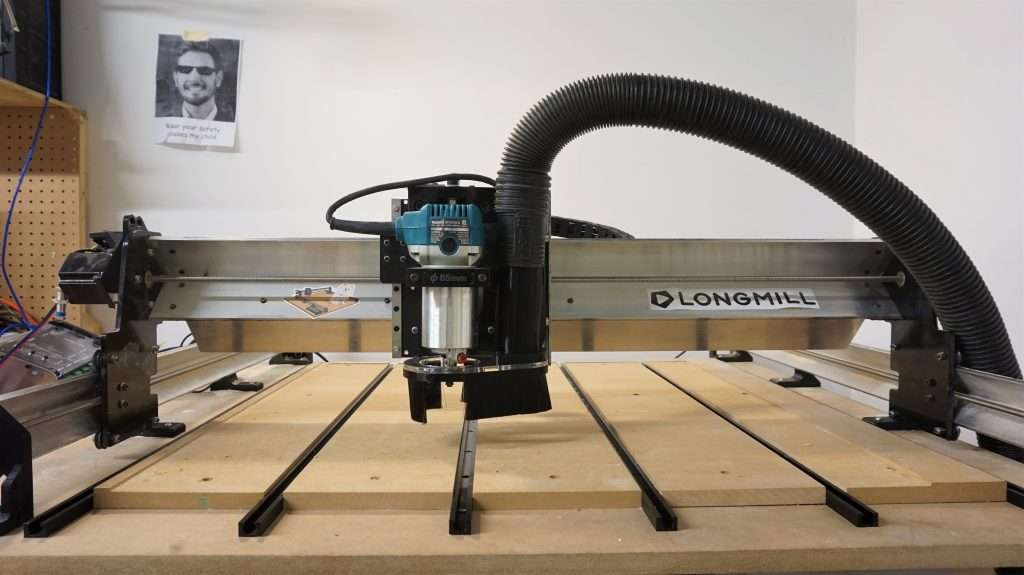 CNC milling can be a messy job. A dust shoe is a great way to suck dust up as you mill and makes final cleanup easy.
A dust shoe is a device that couples with a vacuum system and sits near or next to the cut area to take chips and dust away. In a way, it is a fancy vacuum attachment for your CNC machine.
Pros of having a dust shoe:
Keeps your work area and air clean.
Sucks dust out of the cut.
Cons of having a dust shoe:
A vacuum or dust collector system can be noisy.
You need to make sure that the dust shoe won't collide with anything and is set up correctly.
Needs to be moved out of the way to perform a tool change.
Here are some considerations for setting up a dust shoe.
What dust collector/vacuum am I using?
Your dust shoe will need a source of suction. Most users will be able to use their existing Shop-Vacs or dust collectors with their dust shoes. 
Most vacuums and dust collectors will have enough power for most applications, however, you may want to look at your system's CFM and suction lift specifications depending on your needs.
CFM (cubic feet per minute) denotes the amount of air your vacuum can pass through. The higher the CFM, the more volume of material you can move. You will want a higher CFM rating if you are cutting a large amount of material.
Suction power (sometimes called Water Lift, Static Lift, Static Pressure…) indicates how fast the air is moving through the system. The higher your suction is, the harder the dust is pulled through your dust shoe and hose. You will typically want a higher suction vacuum if you are cutting heavier materials like metals, need to draw chips out of narrow cuts, or are using a Z-axis dependant dust shoe.
What size hoses should I use?
Your vacuum or dust collector will probably come with a hose of a certain diameter. Your system will probably work most optimally if you use hoses that are similar in diameter. 
Dust collectors for example typically have higher CFMs but lower suction, thus better suited with larger diameter hoses. Using a smaller diameter hose can constrict airflow and reduce its efficiency.
Shop-Vacs, on the other hand, have smaller CFMs but higher suction power. These types of vacuums are happy with using smaller diameter hoses.
Depending on the design of your dust shoe, you may need to adapt your hose to match. You can find adapters that can help switch between hose diameters. 
Z-axis dependent vs Z-axis independent dust shoes
The design of your dust shoe can greatly affect how well it collects dust. There are hundreds of different designs for dust shoes, however, one of the largest differentiators is whether it is Z-axis dependent or independent.
Whether a dust shoe is Z-axis dependent or independent relies on where it's mounted:
If a dust shoe is Z-axis dependent, then it will be mounted to the Z-axis or the router. When the Z-axis moves up or down, then the dust shoe will also move up and down the exact same amount. 
If a dust shoe is Z-axis independent, then it is mounted to the X-axis. When the Z-axis moves up and down, the dust shoe stays in the spot that it was set to. 
Pros of a Z-axis dependent dust shoe
Typically a much simpler design
Less risk of something colliding with the dust shoe as it moves up with the router while cutting
Pros of a Z-axis independent dust shoe
Must more efficient at collecting dust
Consistent performance regardless of how deep your cut is
Cons of a Z-axis dependent dust shoe
Not efficient at collecting dust, and typically relies heavily on the vacuum's suction power to collect dust
Cons of a Z-axis independent dust shoe
More complicated and requiring adjustment based on your material's thickness.
For general purpose cutting, we recommend using a Z-axis independent dust shoe as it is significantly better at collecting dust and debris, and relies less on how powerful your vacuum system is to work.
Sienci Labs Dust Shoe
To make dust collection easier for your LongMill, we spent the time to design it its very own dust shoe. The new Sienci Labs Magnetic Dust Shoe is a great add-on for your machine that can keep dust management easy! This dust shoe is designed specifically for the LongMill and works with 1.5″, and 2″ to 2-1/8″ hoses.
This dust shoe is a Z-axis independent style dust shoe designed to collect dust and debris efficiently.
Below you'll find the instructions which show the assembly and use of our dust shoe design:
Magnetic Shoe
At the start of August 2020, we launched our brand new magnetic dust shoe design with many improvements over the previous non-magnetic version. You can see the many benefits this design offered here: https://sienci.com/product/longmill-magnetic-dust-shoe/
The assembly is shown after the initial reveal in the following video:
Regular Shoe
At the end of October 2019, we re-designed the dust shoe that we've created for the LongMill. Some improvements include:
Ability to use both 2″ and 1-1/4″ vacuum hoses
Stronger, more durable construction
Compatible with up to 80mm routers and spindles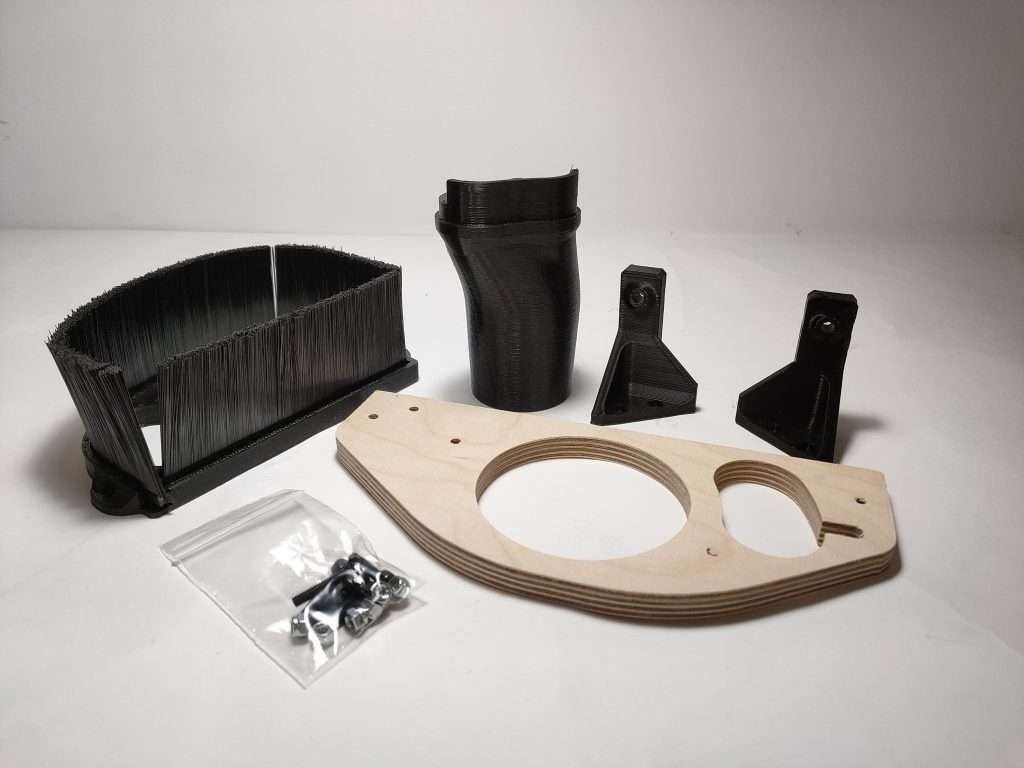 All of our customers who ordered a dust shoe will receive this version of the dust shoe.
The instructions for mounting the aluminum extrusions and steel plate remains the same as the pre-release. However, there are different steps to putting the dust shoe itself together.
All of the parts to put the dust shoe together come with your kit, and you will need a size 3 Allen key to assemble everything.
First, mount the M4 nuts into the bristle ring. There are two spots, indicated by the red circles.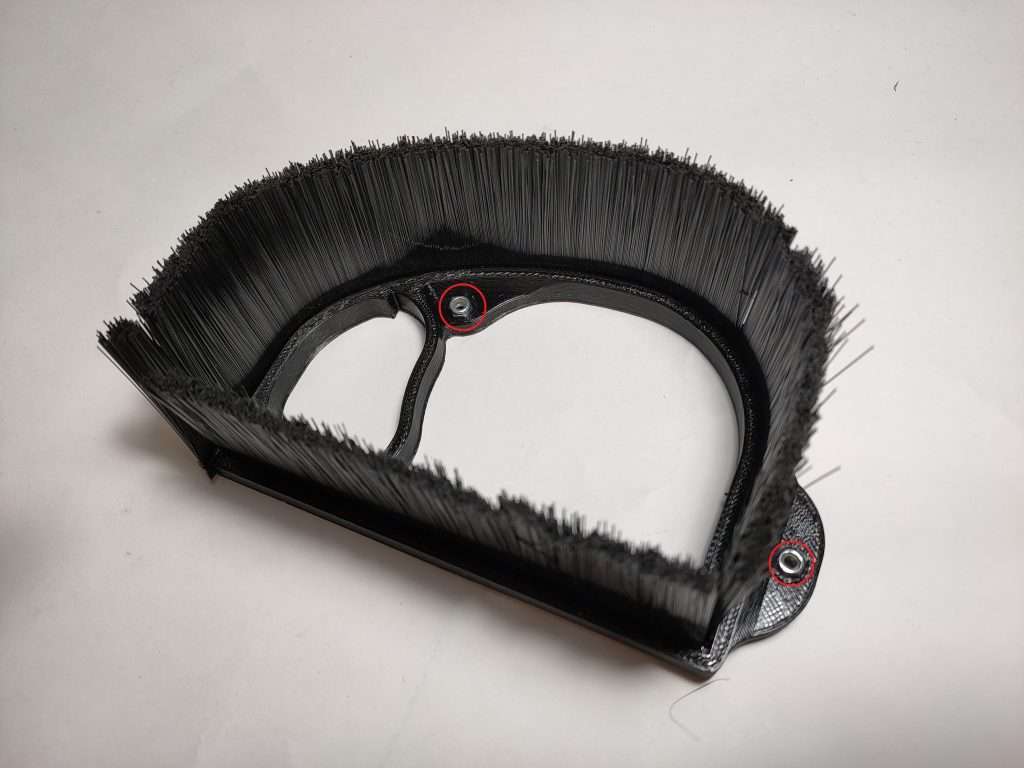 Next, mount the bristle ring onto the plywood body using two M4-16mm screws. These are the shorter of the two screws provided in your kit.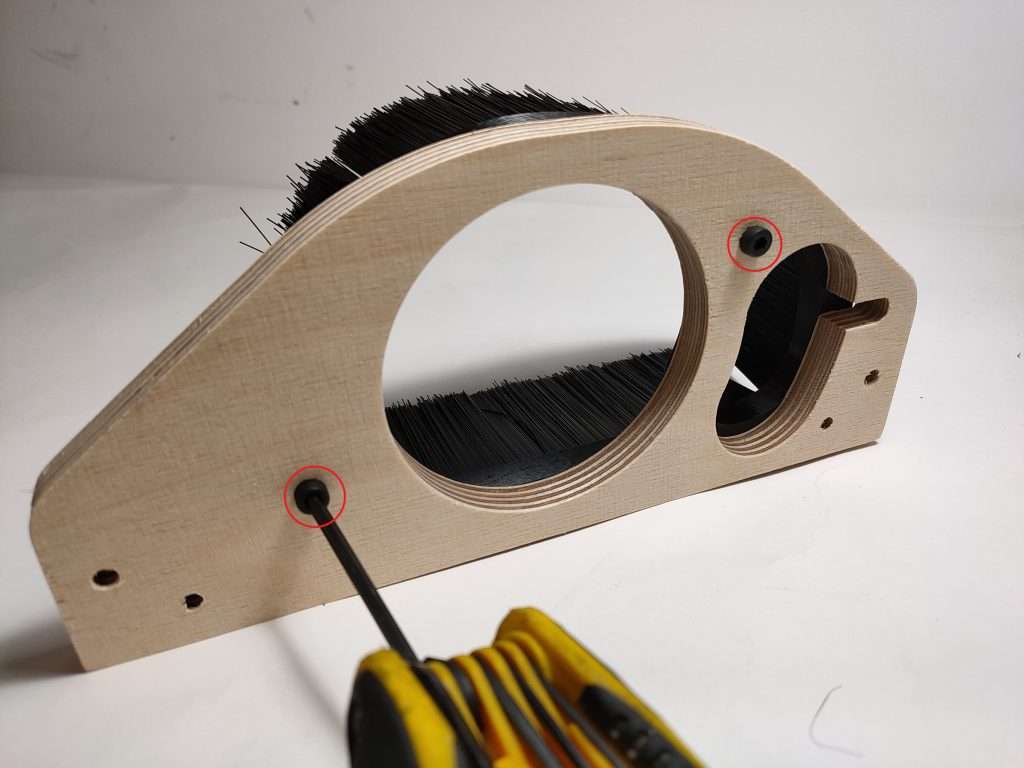 We will now attach the two arms. These are two printed parts that help connect the dust shoe to the extrusion. Put four M4 nuts into the nut catches in these parts.

We can now attach the two arms to the machine. The left hand side arm uses M4-20mm and the right hand side arm uses M4-16mm screws. The left hand side uses longer screws as it connects both the bristle strip and the arm together.
When mounting these parts, make sure to keep the sides of the part flush with the edge of the plywood.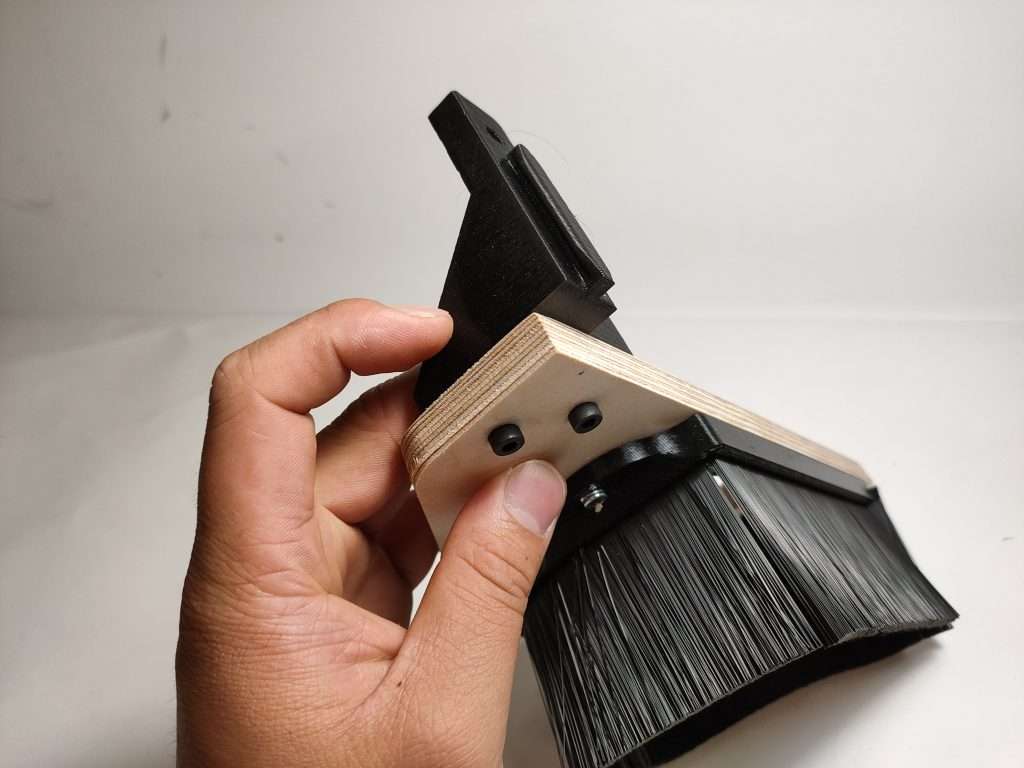 Grab the two knobs and two T-nuts and install them onto the arms.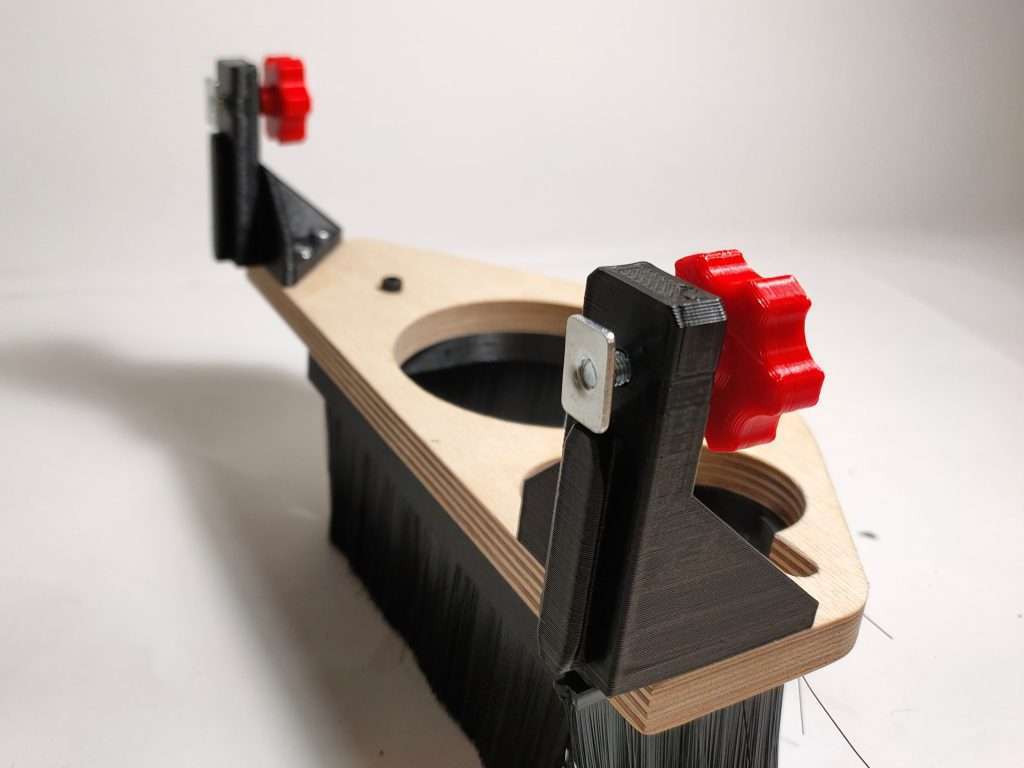 Lastly, we'll put the hose mount to the dust shoe.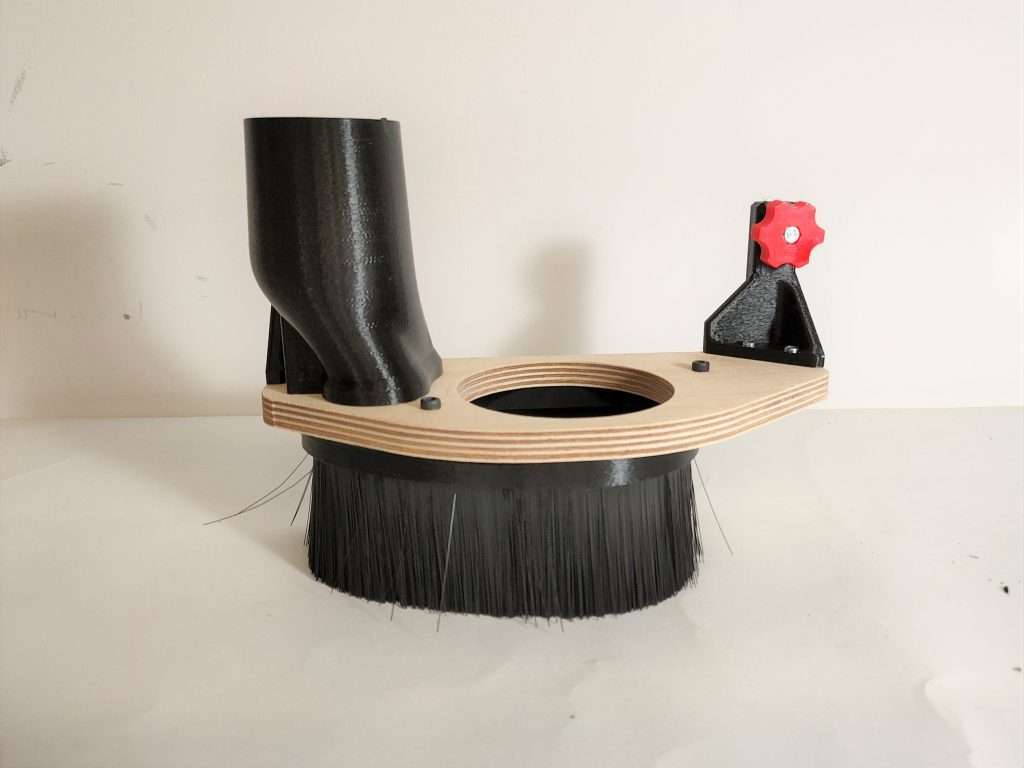 And that's everything! You are now ready to mount it to the machine as in the video.
Pre-release