Sienci Labs is going to the Toronto Maker Festival!
We here at Sienci Labs want every maker to learn just how easy it is to design for and use a CNC machine. And what better way to learn than to design something and have it made!
In support of the Toronto Maker Festival 2018 event on July 7-8, Sienci Labs will host a contest for artwork & design submissions that can be integrated with CNC routing.
You design it, we'll make it and give it to you at the event.
Submit your designs for one or both of the design categories listed below
Chosen submissions will be made on the Mill One
You will be notified prior to the event to claim your prize at our booth
Category #1 - Engraved Artwork
We love using our Mill One to showcase artwork! Check out this video where we show you how we do it!
Rules:
Must be original artwork (or have written consent to submit work on artist's behave)
We'll do our best to work with your submissions, no matter the format! 

(Traditional Engraving of Kanagawa-oki nami ura, Katsushika Hokusai)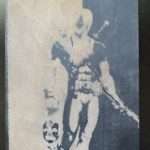 (Stipple Engraving of Deadpool, Ken Hunt)
Category #2 - Functional/Decorative Designs
Who says CNC milling is only good for making signs and engraving? We've made coasters, bottle openers, photo-frames, and phone stands using simple plywood and glue! Think of a design that can be cut from a plywood board, make a rough sketch of it on paper with a few measurements, and send it to us!
Design constraints:
Max. dimension: 9-1/4" x 7-1/4" x 7/16" OR 235mm x 185mm x 11mm
Can be multiple parts, as long as design parts (all of them) can fit within the single given dimensions



We may contact you regarding details of your selection to help with making it on the Mill One :)
Some ideas/inspiration:
book ends
phone/tablet stand
fridge organizer
drawer handle
ANYTHING YOU CAN THINK OF!!


How do I enter the contest?
We're taking submissions all over the internet!
Post your designs and artwork on social media with a small description of what it is
Tag both Sienci Labs and Maker Festival TO in your post and include the hashtag #MillOneDesignChallenge



Twitter: @SienciLabs @MakerFestivalTO
Instagram: @sienci_labs @makerfestival
Facebook: @siencilabs @MakerFestivalToronto


We will begin contacting selected artists July 5th through their corresponding social media platforms



The earlier the submission, the better your chances to get your design made!

The projects will be made by us on a 9.25" x 7.25" plywood board for winners to take home from the event
Here's an example of a submission done via Twitter:

Feel free to submit on all three platforms! The easier to find you, the better!