Introducing gSender, your CNC dashboard

Connect to your CNC over USB
Quickly position and manipulate your CNC in all axes
Set zero manually or using a touch plate to locate your cutting job
Preview g-code with 3D visualization and other information
Run cutting jobs with active feedback and overrides
Leverage keymaps for full-keyboard control or use a joystick
and much more!
Why choose gSender?

Designed to be clean and easy to use no matter your previous CNC experience
Brings new features to the table for easier CNC calibration, surfacing, tool changing, firmware control, and more
Streamlined code-base and optional 'Lightweight mode' means larger cutting jobs run more reliably
Presets support many GRBL-based machines and works out-of-the-box on the LongMill CNC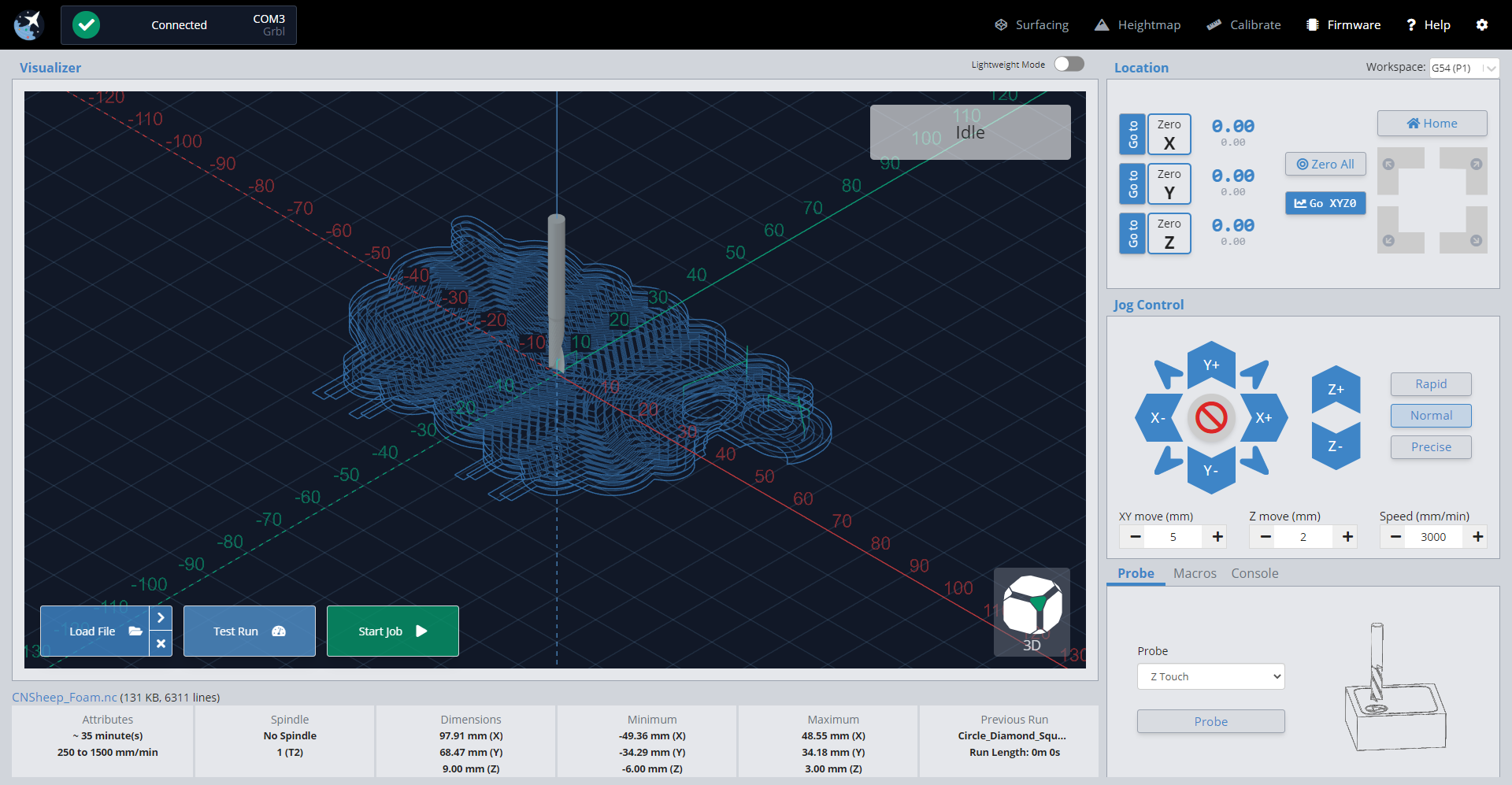 Downloads
(latest version)
Windows (x64)
Windows (x32)
Mac OS X
Raspberry Pi
See all latest releases...
Development is still ongoing, providing feedback will help us continue to improve it.
Licensed under GNU GPLv3 license
GRBL controllers supported
Smart machine connection
3-axis digital readout (DRO) with manual value entry
All-directional jogging with XY diagonals, jog presets, and incremental/continuous single-button handling
Zero-setting and gotos (independent and combined)
Probing in any direction plus safe continuity detection ensures no broken cutting tools
Full imperial/metric compatibility
Responsive screen design and workspace customizations including visualizer light and dark theme
3D toolpath visualization (no machine connection required)
File insight on load (feed range, spindle range, tools used, estimated cutting time, and overall, max, and min dimensions)
Feed override and active job status indicators
Fully exposed keyboard shortcuts for external keyboard/keypad control
Joystick support built-in for a variety of controllers
Safe height movements - accommodates machines with or without endstops
Homing cycle and quick-movement locations available for machines with homing hardware
Full spindle/laser support via manual control widgets, active alerting, and live overrides
Full mist/flood coolant support via manual control widgets and active alerting
Macros buttons (rearrangeable) with enhanced macro variables and individually assignable keyboard shortcuts
Lightweight mode reduces processing intensity on less powerful hardware or when running larger files
Easy workspace swapping for more advanced jigging or alignment work
Optional automatic handling for common error throwing g-code
Firmware tool for easier GRBL EEPROM changes, loading defaults, and GRBL flashing
Surfacing tool auto-generates surfacing g-code based on machine cutting area and other preferences, ready to execute
Calibration tool for axis alignment - a step by step process to make sure your CNC is square
Movement tuning tool for calibrating motor axis movements
Tool change functionality - pause, ignore, or run code blocks on M6 commands
Start-from-line functionality to resume jobs part-way through in case of failure of abort
Outline functionality indicates the rough bounds of the job before cutting
Customizable g-code injection at job start & end
Tooltips for data entry points
Alarm warning explanations to better contextualize CNC errors
Sleep management to keep PC awake during g-code sending
Pre-built machine profiles, including:

Shapeoko
X-carve
LongMill
OpenBuilds CNCs
3018 CNC & PROVer
Onefinity
BobsCNC CNCs
CNC4Newbie CNCs
Mill Right CNCs
Ooznest WorkBee
Nomad
Carvey
Mill One, and more...
 Has this program been around for a while?
It is and we'd recommend you check it out! gSender is built off of the already sturdy code infrastructure of CNCjs, plus after over 5 months of Alpha testing then Closed Beta testing with over 300 people it's now been out in the wild since May 2021. Since public release, gSender is now trusted by many thousands of people - and counting - to easily and reliably run their CNC routers every day. In many cases, the capability of the CNC can be dictated by the limitations of the software; we hope you notice the difference with gSender.
Where do I download gSender? Is it free?
gSender is a free program available to be used for many different CNC routers on the market. To download the latest version, there's a box above on this page titled "Downloads" which is always kept up-to-date  as we continue to release new features and improvements.
How do I know if I have the latest version?
This page will always link to download the latest version of gSender. If you'd like to see the particular version number, you can find it on this page (https://github.com/Sienci-Labs/gsender/releases) and cross-reference it to the version number that appears in gSender's top toolbar or in the Settings -> About page within gSender
What CNC machines can gSender control?
As long as your CNC is GRBL-based and has a minimum of the GRBL 1.1 Firmware then you'll be able to control it with gSender. As of now, gSender only has easy control of 3-axis machines.
What computer can I use with it (system requirements)?
gSender is built to work on Windows/PC (Windows 7 and up), Mac (El Capitan 10.11 and up), Linux, and even Mini PCs or single board computers like a Raspberry Pi. No matter the computer used, our minimum recommended system requirements would be:
2GB of RAM
1280 x 768 screen size
Can gSender be used in inches?
Yes! It's got a global toggle so that everything can be in either mm or inches. It also accepts mm and inches files.
Do you need an internet connection to run gSender?
Not at all. gSender can be run completely standalone once you've downloaded the install file. One feature that won't work without an internet connection is gSender's ability to automatically check for updates to keep itself up-to-date, though you can always manually install a newer version on top of the current version yourself.
Does it have all the same features as UGS?
UGS and gSender have far more similarities than they have differences. Although gSender has yet to catch up to UGS in its depth of features, the features that it already has are plentiful and should suit the needs of all beginner CNCers as well as most individuals with an intermediate level of CNC experience.
No. gSender is strictly a CNC control software and has no features currently for gcode generation outside of some additional features like it's surfacing and bed levelling tools. You'll need to use gSender in combination with some other CAM, or design + CAM, software to create your full CNC toolchain. If you're looking for CNC software advice, check out our purpose-made tool that compiles information from over 80 different programs that can help you find the software that would be right for you! https://resources.sienci.com/view/lm-choosing-software/#toolchain-wizard