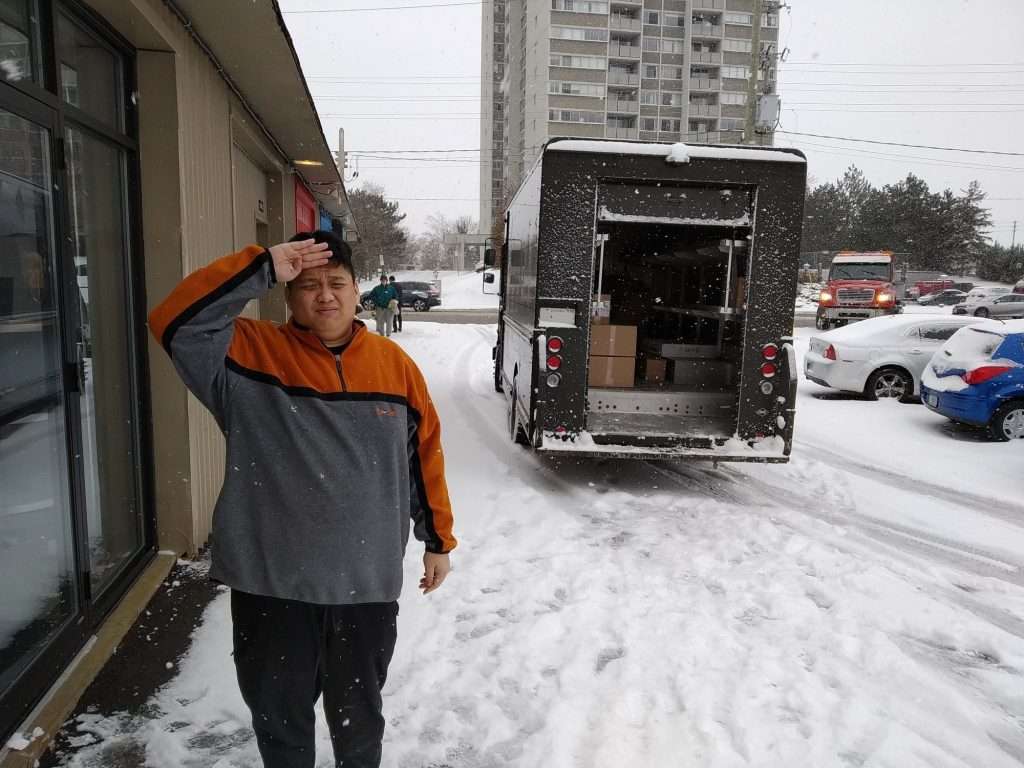 Hi there! This section will cover some information about shipping for your order.
Here are some things you should know about shipping:
You can get an estimate for shipping costs at the checkout page by entering your ZIP/Postal Code.
Local customers can pick up items from our office in Waterloo, ON for free.
A tracking number will be emailed to you when the order has been shipped.
If you have questions or problems with your order, let us know at hi@sienci.com.
Shipping for LongMills
LongMills are packed to order. Please check the latest lead time or estimated shipping dates on the product page.
Some addresses will have multiple shipping options based on speed and courier.
LongMills are approximately 60lbs and come in cartons 41.5x9x11″ for 12×30 and 30×30 machines. 48×30 machines come in two packages consisting of a 41.5x9x11″ and 60x6x6″ box weighting around 75-80lbs. Parts that are ordered alongside your LongMill will come in the box or as additional separate packages depending on size and weight constraints.
Combining shipments
In some cases, if you have two separate pending orders we may be able to combine the order to save you shipping. We will refund you the difference in cost for shipping.
To combine your order, please:
Purchase the additional items on our store
Include in the order note at checkout with the order number of the purchase you want to have merged
If you have any additional details or instructions, please add them to the notes
If your shipment has not already been packed and shipped, and there is a difference in shipping costs to merge, we will refund you the difference.
Please note:
Some items (such as LongMills, T-tracks, and LaserBeams) must be shipped separately as they have weight and size restrictions. Although we can combine small parts, such as bits and accessories with these items, LongMills, T-Tracks, and LeaserBeams cannot be combined with each other and must be shipped separately. Our online system will automatically configure your order with multiple shipping fees if they will be shipped separately.
Combining shipping for two orders may delay your order. If you have an item that has a longer lead time or is back-ordered, shipments will have to wait till all items are available before they can ship.
We cannot re-charge for items, once a refund is made and you change your mind, the order will need to be canceled completely and re-ordered.
Please allow 3-5 business days to combine your order.
If you want to remove items from an existing order, please contact us, and we can remove the items from your cart and refund you the difference.
Shipping for parts, end mills, and add-ons.
All other items (in-stock) typically will ship out within 3 business days. If there are any issues with your order, we will contact you.
Duties, taxes, and tariffs
Depending on your country and location, you may be subject to duties, taxes, and tariffs. We do not cover the cost of duties, taxes, and tariffs. You may be charged with these items depending on the size of your order.
Canadian customers will be charged sales tax based on their province.
Shipments to the US are DDP (Delivery Duty Paid). This means that any duties, taxes, or brokerage fees will be billed directly to us and no additional payment is required for your order after it is placed.
Pick up from our office
If you are local to us, you can come pick your items up from our office. We will send you an email when your items are ready for pick up.
Our address is Unit 2 – 372 King St N. Waterloo ON. We are typically open for pick-ups between the hours of 10AM to 5PM. If you require a pick up outside of these hours, please contact us.
---
Warranty
The LongMill Benchtop CNC comes with a 90 day warranty, more details can be found on the product page. The LaserBeam Laser System comes with a 90 day warranty. Details can be found on the product page.
Unless specifically noted for each product on the product page, we provide a 60-day warranty once your order is received by the purchaser against missing parts, defects in material, and defects in workmanship. This warranty does not cover products for wear and tear, improper use, intentional damage, modifications, and lack of maintenance. Consumables such as end mills, anti-backlash delrin nuts, and v-wheels that have been opened or used are not covered under warranty.
Sienci Labs will ensure additional service is provided to replace defective parts or provide a partial or full refund.
Sienci Labs may require you to ship back defective parts or provide additional information to provide warranty service.
If you need warranty service, please contact us through this form.
Cancellations
If your order has not shipped yet, you can cancel your order with no penalty.
If your order has shipped and is shipped back due to refusal to accept the shipment, our return policy will apply.
Returns
You may return your order within 30 days of receiving it. Orders may be subject to additional fees, and refunds will be made by the sole discretion of Sienci Labs based on the condition of the order returned.
LongMills and other add-ons or items that have been assembled or used cannot be returned.
You must first contact us to approve a return. Return shipping is the responsibility of the buyer.
Our shipping address is Unit 2 – 372 King St N, Waterloo ON. N2J 2Z3.
Fees for returns:
Orders that are returned are subject to a 20% restocking fee. Shipping fees that were paid to ship your order are non-refundable. Products that are opened, damaged during transit, or are returned outside of the 30-day window may not be eligible for a refund.
Refunds
Refunds typically take a few days to process. Most payment processors (Paypal, Moneris) usually say that it can take around 5-7 business days and up to 14 business days for the money to show back in your account.
---
Software purchases
When you purchase software from our store, you will receive an email containing a license code and a link or instructions on downloading the software and activating it. There are no physical discs or keys included in the purchase.
Once a license key is issued, it cannot be returned or refunded. All software sales are final.
---
Payment methods
Our store takes payment through credit card, debit card, and Paypal. We take most major cards, such as Visa and Mastercard. Some customers may experience issues with our system taking American Express or Discover Cards. If these cards are not being accepted we recommend trying a different card provider.
Your security is important to us. We do not save or carry any payment details and all transactions are processed through our secure payment processors.
If you are a Canadian customer, you also have the option to pay with e-transfer at checkout for purchases over $1000.
Payment FAQ and troubleshooting
If you are having issues with processing a payment, please send us an email. Here are some additional FAQ and troubleshooting information.
My payment is not going through. What is going on?
Payments can be declined for several reasons:
Incorrect billing details, such as your name and address
Incorrect credit card details, such as your CCV, expiry date, and billing address
If you are a customer outside of Canada, your bank may flag international purchases
Unsupported cards
Transaction limits
Credit limits
Security rules in place by your banks
If you are having trouble with your payment, we recommend:
Checking with your bank or credit card processor
Confirming your card details, like your CCV, expiry date, and billing address
Checking with us to see the status report from the attempted payment
Is there any way to make a payment with my credit card if my credit limit is smaller than my order size?
Typically you can over-pay the balance on your credit card to be able to pay for orders larger than your credit card. For example, if your credit limit is $1000, but your order is $1500, you can pay your current balance plus $500 (or whatever the difference is) to be able to submit a payment over your credit limit.
Can I split my payment between two credit cards?
Unfortunately, there is no easy way to split payments between two cards. One option is to split your order into multiple orders, in which case we can help you combine them and combine shipping costs once you've placed the order.
Do you offer any financing?
At this time, we do not offer any financing options. All orders must be paid in full at the time of order.
How do I make an E-transfer
Canadian customers may use Interac E-transfer to pay for orders some orders. We currently only allow orders above $1000CAD, paid in CAD, and for customers in Canada to pay with E-transfer. If you wish to pay for your order via Etransfer, please follow these instructions.
Create an order on our website.
Choose "Pay with E-transfer (Canada only)" as your payment option.
Ensure that your billing and shipping details are correct and submit your order.
Send us an E-transfer to our email address (hi@sienci.com). Please include your order number in the message. Our account is registered for auto-deposit. More information about E-transfers can be found here: https://www.interac.ca/en/consumers/products/interac-e-transfer/. Your E-transfer must contain the full total amount of your order, which includes the price of the items ordered, shipping, and taxes.
If you wish to split your E-transfer into multiple payments, please contact us to let us know.
Please note that orders that don't receive a payment within 2 business days may be canceled.