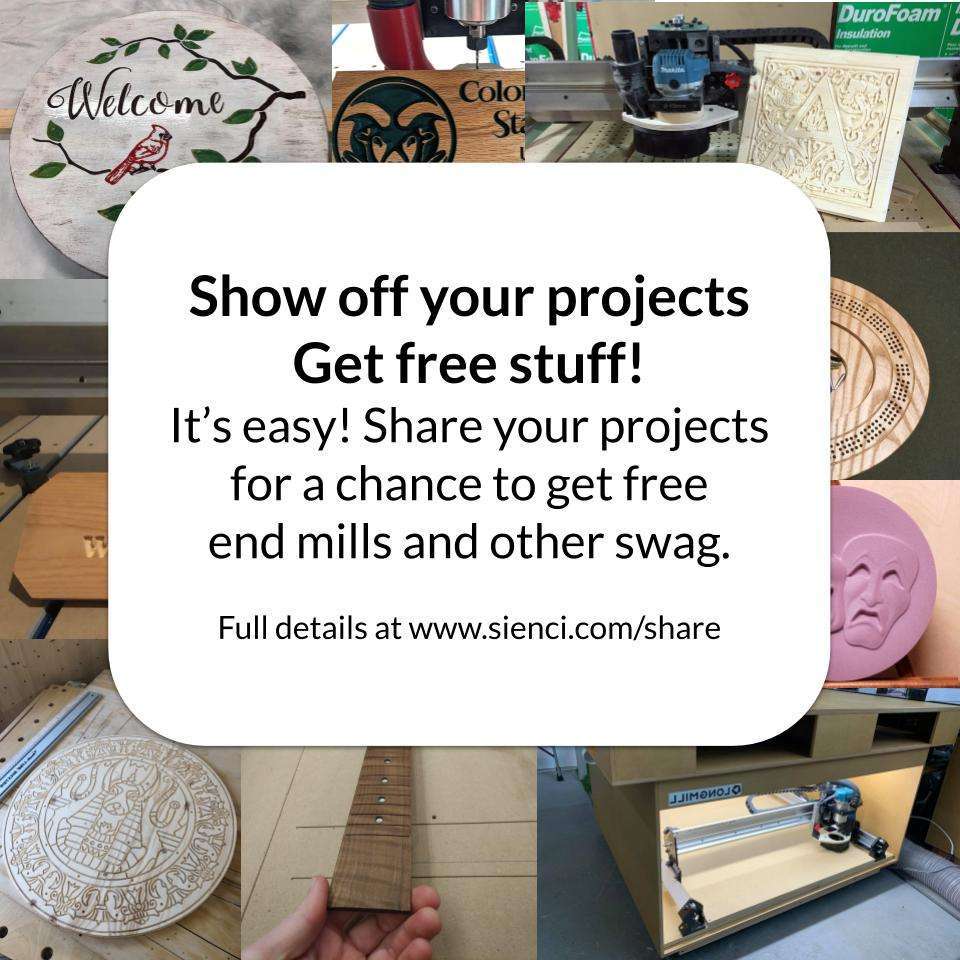 Hi everyone, I'm excited to announce that we'll be doing some giveaways this month! 
Our December 2020 Giveaway is now over. Thank you everyone who participated!
Winning projects below:
First of all, I wanted to say thank you to everyone for being part of the community and helping each other navigate the world of CNC. You may not see us all the time, but me and the rest of our team at Sienci Labs love taking time to see your posts, comments, suggestions, and complaints as a way to stay in touch with our customers and improve our service and products where we can.
Rules:
Anyways…let's give away some bits! Here's what you need to do!
Share your projects that you've done with one of our CNC machines, such as in the community forum, Facebook page, Instagram, Youtube, or wherever you like to frequent.
If you post outside of the LongMill and Mill One Facebook group or Online Forum, please tag us (@Sienci Labs)
If you post on Instagram, please tag us (@siencilabs) and/or use our hashtags (#longmill #millone #siencilabs)
If you post on Twitter, tag us (@siencilabs)
We also regularly get updates on when people post LongMill content on other parts of the web, so feel free to post on your own channels.
We encourage users to talk about their project to help other members of the community to learn from what you've made. You can add:
Feeds and speeds
Material
Who you're making it for
A story about your project and your work
Business tips and ideas
A link to your product, if you are selling it for your business
Your project doesn't have to be technically challenging or impressive to receive a prize. We just want to encourage everyone to share with the community regardless of your skill level or experience and we'll pick the ones we like to get a prize.
Other details:
This giveaway will run from Dec 1 -31, 2020. You may receive prizes after the end of the giveaway in some circumstances. If we like your project and select you as a winner, we will mail you one of the prizes listed below or another gift that we feel may be suitable. We may contact you via our social media channels if we need more info to get a prize to you.
Prizes do not come with warranties.
Winners may win more than one prize. We've set aside a minimum of these items to give away. We intend to give away all of these items, and we may add more prizes to this list.
Prizes:
Aluminum/Plastic Cutting Pack (8 kits)
2pcs – ¼" Single Flute End Mill
2 sets (2pcs) – ⅛" Single Flute End Mill
Relief Cutting Pack (8 kits)
1pcs – ¼" Tapered Bit
1 set (2pcs) – ⅛" Tapered Bit
1pcs – ¼" Ball Nose
1 set (3pcs) – ⅛" Ball Nose
End Mill Starter Pack (10 kits)
1pc – ¼" Flat End Mill
1pc – ¼" Downcut Flat End Mill
1 set (3pc) – ⅛" Ball Nose
1 set (3pc) – ⅛" Flat End
Signmaking Kit (8 kits)
1pc – 90 Degree V-Bit
1pc – 60 Degree V-Bit
2 sets (4pcs) – 30 Degree Engraving V-Bit
1pc – ¼" Downcut Bit
Assorted stickers, shirts, and other random goodies (until supplies last)
Are you a business or someone who wants to join in on the fun and provide a prize for the giveaway? Please get in touch with us at hi@sienci.com.