Release date:
The LongMill is available now for preorder:
https://sienci.com/product/longmill/
Why does the LongMill exist?
The LongMill aims to build upon the Mill One by providing a simple, affordable, open-source CNC platform with some major differences.
Size: The LongMill is a significantly larger machine, opening up new possibilities for larger projects.
Power: The LongMill is also significantly faster and more rigid that the Mill One, allowing the machine to do more work in less time, and making it easier to machine more materials.
While the Mill One is the perfect platform for users to learn and explore CNC milling, the LongMill focuses on being a powerful and useful tool for your workshop.
The LongMill comes in three sizes, 12×12, 12×30, and 30×30, which correspond to the approximate work area of the two machines in inches.
Here are some other, smaller goals we set out to accomplish with this machine.
Easy to assemble and fix. The LongMill kit should take only a few short hours to assemble
Easy to modify and replicate. The LongMill builds upon the openness of the Mill One and allows it to be modified for many different uses. The hardware and software used aims to be as close to off the shelf and easy to access as possible.
Great value for money. The LongMill aims to be the most rigid and powerful machine in its class, while being one of the most affordable options. We do this by manufacturing intelligently and locally while removing unnecessary bloat.
Pricing: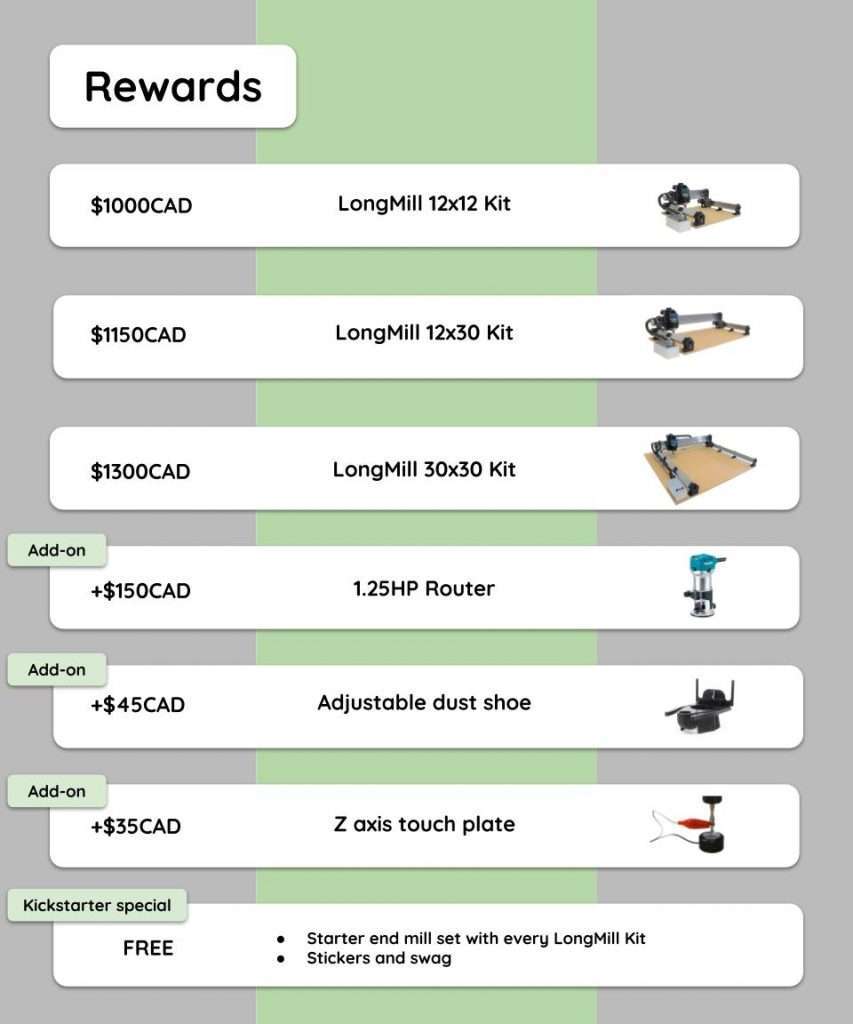 Prices may vary slightly depending on exchange rates and other factors, but they should stay around these prices.
You should expect the full retail version to be around $100-200USD higher than the Kickstarter price.
Table Mounting:
Creating a mounting table for the machine should be quite easy, we've started working on a Guide Document which you can access here.
Hardware and Electronics:
The 12×12, 12×30, and 30×30 share similar hardware, with the exception of longer rails, X axis rail reinforcement (on the 12×30 and 30×30), and longer lead screws.
The section below covers the hardware and electronics used in the LongMill CNC (may change over time):
2x2x1/4″ extruded dual angle aluminum rail on the Y-axis. Y-axis rails are supported along the axis, ensuring that there is minimal flex.
3x3x1/4″ extruded angle aluminum on the X axis (with additional reinforcement on the 12×12 and 30×30 version LongMill).
4-start T8 ACME 2mm pitch lead screws on all axis with anti-backlash delrin nut blocks. Should provide at least +/- 0.1mm accuracy.
Single NEMA 23 motor on the X and Z axis, with dual NEMA 23 motors on the Y-axis. All motors are 178.5oz.in motors.
TB6600 type drivers and 24V 10A power supply.
1/4″ laser cut steel gantries on all axis.
MGN12 high precision linear guides on the Z axis.
Compatible with trim routers (we recommend the Makita RT0700 or RT0701).
Drag chains on X and Y axis
Dust boot/shoe as an addon.
Software:
The LongMill is compatible with the same software as the Mill One. You can use CAMLab and other great softwares which you can find in the resources section of the website or on our software compatibility page: https://sienci.com/longmill/software/
Manufacturing:
Click here to read about the manufacturing and production schedule for our Kickstarter.
The large majority of parts are supplied and manufactured in the local area, within a one hour drive of our office in Kitchener.
Aluminum stock comes from Cambridge
Fasteners come from St Jacobs
Steel gantries are manufactured in Wellesley
Powder coating is done in Linwood
Aluminum drilling and tapping is done in Conestogo and Princeton
Custom boxes are manufactured in Kitchener
Packaging supplies come from Milton
3D printing material comes from Vaughan
3D printing is done in house
Everything that we cannot source or manufacture locally is imported from China (PS shoot us an email if you can recommend a local source for these items). These items include:
Electronics, such as motors, drivers, boards, and power supplies
V-wheels and bearings
Couplers
Lead screws, nuts, and other power transmission hardware
Eccentric nuts
We package all of our kits here in Kitchener before they are shipped out.
Because of our close proximity and relationships with our suppliers and manufacturers, we are able to continually improve the quality of our machines, while implementing design changes and improvements to make machine performance better as well.
We have build ten Beta LongMills to work out early kinks on the manufacturing and assembly side, to get a more accurate idea on manufacturing timelines and scale-ability.
Open source:
The LongMill project is at its core an open source project. Many of its design choices, from sourcing as many off the shelf parts as possible to our choice in CAD software, comes down to making this project replicable and well supported as possible.
We believe that by making this design open source, we will be able to drive the CNC community forward through sharing and improving CNC technology. We want:
Users to modify and improve their machines to fit their needs, and share their designs with the community to help others that have similar needs.
Makers to use our design ideas and design philosophy to create other types of machines, such as laser cutters, plasma cutters, and 3D printers.
Us to gain inspiration from the community to help us guide our development of current and future products and features.
You should expect files to be released around the time when the LongMill is in production on these platforms:
Onshape
Thingiverse
www.sienci.com/open-source
Future improvements and goals:
Depending on the scale of production, we can start to invest money into furthering the development of our products. This list always grows. Here are some future features we want to implement or improve.
Software development for CAM and control software
Integration of additional sensors
Wireless control
Enclosure
4th and 5th axis
New workholding solutions
By supporting our project, you also help us develop new technologies and products.
Competitive analysis:
The LongMill competes against several machines that exist in the midsize hobby desktop or benchtop CNC routers. You might have seen by now that the market is dominated by the X-Carve and the Shapeoko 3, with machines like the Stepcraft following along.
I have a couple theories on why that happens to be.
Machines with a work area of around 1ftx1ft and 2ftx2ft allow for use of standard size materials. Sheet material, such as plywood, typically can be found in 4ftx8ft sheets, which means that you can get material cut into several 1ftx1ft or 2ftx2ft sheets.
Machines can be easily installed on a table or workbench, which is what most small personal workshops have access to.
The packages that the machines come in are small and light enough to be shipped through regular carriers and do not need to be freighted.
The price point of these machines are within reach of most consumers.
Machines are able to keep fairly accurate tolerances without needing complicated equipment or methods to keep machines in line or square.
Parts that can be made on these machines are able to cover the large majority of common CNC projects.
We made the LongMill with those things in mind.
If you're here, you've probably been interested in hobby CNCing for at least a little while. Here are some things that make the LongMill similar or the same as the X-Carve and Shapeoko.
Same form factor and working area. All three machines come in approximately the same size, and come in two or three variations depending on the size.
Similar v-wheel and eccentric nut setup. This works well for this type of machine since it is relatively inexpensive, durable, and forgiving.
Same router/spindle. All three machines the same spec trim router. The model and brand may be different (Makita vs Dewalt), but power and size wise, they are basically equivalent.
Same size stepper motors. Each machine has four NEMA 23 motors of approximately the same size.
Here are some of the pros of the LongMill over the other two machines:
Lead screws on all axis. This is probably the biggest one because the biggest complaint from every X-Carve and Shapeoko owner we've talked to has brought this up. While belts are cheap and simple, stretching and tensioning issues cause frustration and inaccuracies. Belts also make it easy to lose position during tool changes if it is accidentally bumped. Lead screws are much more accurate and do not stretch over time, and are almost completely impervious from being bumped out of zero for tool changes.
Linear guides on the Z axis. We use MGN12 type linear guides on the Z axis, making it by far the stiffest and lowest profile Z axis. Making it lower profile makes a huge difference since it means that it creates a smaller lever arm between the end mill and the X-axis rail.
1/4″ steel gantry plates. The X-Carve's gantry plates are 12ga steel (0.1046″), and the Shapeoko are 10ga steel (0.1345″). The LongMill uses gantries that are approximately twice the thickness, making it much more rigid.
Both the LongMill and X-Carve can support up to 4A current each to the stepper motors, whereas the Shapeoko 3 has a max current of 2A. By default, the LongMill has its current set to around 2.5A, but you may use higher current for motor upgrades.
Full support along the Y axis. People have reported that there is a significant amount of flex along the Y axis rails of the X-Carve. This is mostly a non-issue with the Shapeoko 3, since it has beefier rails, but the LongMill reduces flex by having supports along the Y-axis (one pair of supports on the 12×12 and two pairs on the 30×30).
You can find all the info about the Shapeoko 3 here: https://wiki.shapeoko.com/index.php/Shapeoko_3
You can find all the info about the X-Carve here: https://discuss.inventables.com/t/open-source-design-documentation/8842 and here https://www.inventables.com/technologies/x-carve/choose
Cons of the LongMill over the two machines:
Limited software supported directly by us. Both machines come with CAM software (Carbide Create and Easel) which have been created specifically for the Shapeoko and X-Carve. While we did create CAMLab as our own CAM software, it is still quite early in development. That being said, both Carbide Create and Easel can be used for any machine regardless of the manufacturer, and there are tons of other software that are fully compatible with the LongMill.
Slower rapids. Since the lead screws have a reduction effect, the LongMill has slower rapids than belt driven machines. Currently the rapids speed is set to around 3000mm/min on the LongMill versus around 5000mm/min on the Shapeoko and 8000mm/min on the X-Carve. Rapids shouldn't really matter too much however because in most cases during regular milling, you won't be cutting that fast.
No wasteboard included. Technically you can choose to not include this for the X-Carve and Shapeoko, but we are planning to not ship a wasteboard as default with the LongMill because it is the most expensive item to ship by far. You can get material for the wasteboard easily at your local hardware store, and the savings get passed along to building the machine stronger and less expensive.
Smaller community. This is a new product, so it'll take some time to grow the community.