One of the most frequently asked questions at Sienci Labs is "Can you build a bigger version of the LongMill?". Well, I just want to assure everyone we have been actively working on the development of 1) an extended version of the LongMill and 2) the Altmill! Although we've been working on these projects for a couple of months now, these projects are still quite early in their development and we don't have a ton of details to share. The purpose of this announcement is to start getting our community involved by learning what sort of machines and features folks are looking for. If you're interested in being involved in this process, please make sure to fill out the survey.
What is the extended version of the LongMill?
Well, I guess it's in the name. We're working on a version of the LongMill that uses the core components of the original machine, but extends the rails and leadscrews to add more working area to the machine. The goal is to have a LongMill 30×48 or LongMill 48×48 machine. We expect to be working in a price point of around $2000-$2500 for a full extended version of the LongMill, with kits available for adapting pre-existing models of the LongMill to the larger size as well around $800 to $1000. Please note that pricing is an estimate at this point and may change.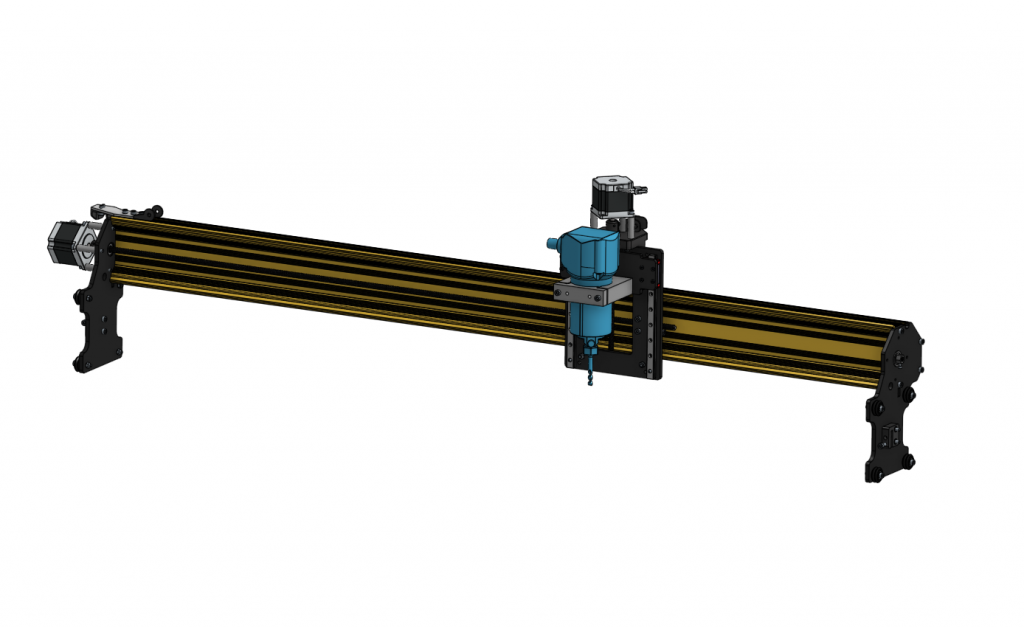 What is the AltMill?
The AltMill is a new machine that we've been working on that focuses more on the more industrial/production end of the spectrum of hobby CNCing. This means linear rails and ball screws, more powerful motors, and other features that are designed for more intense CNCing. We expect to be working in a price point of around $3000-4000 for a 48×48 inch working area.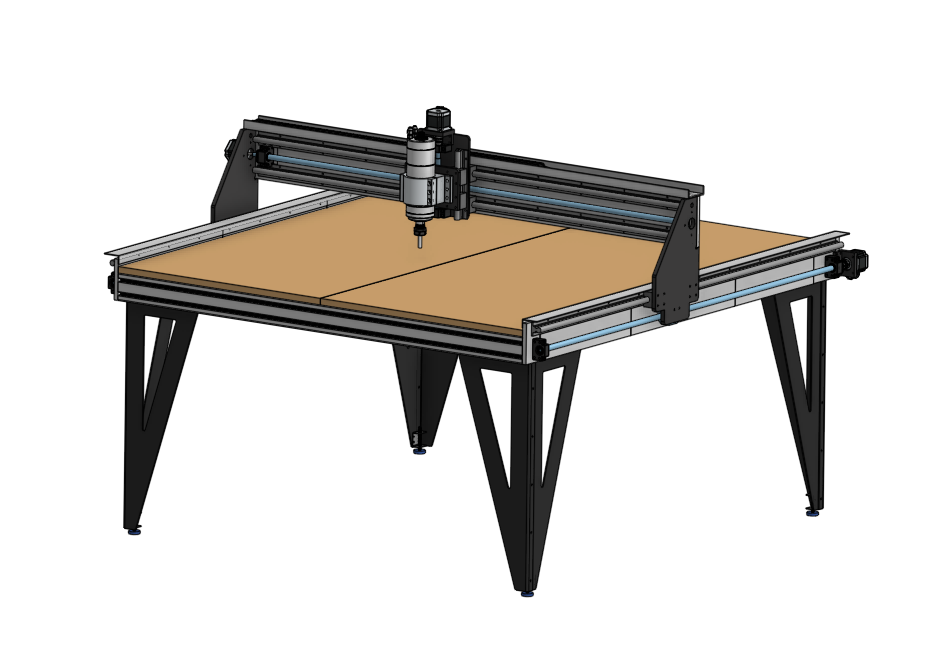 Timeline
Extended version of the LongMill
We are currently in the early stages of manufacturing prototypes of the rails for the extended version of the LongMill. We will be conducting testing between October and November, to push for a December or early 2022 launch.
AltMill
We are currently building to scale prototypes with wood, with plans to start producing prototypes from aluminum in the coming months. Due to the scale and complexity of the project, we expect to have working versions of the AltMill at the start of 2022 with a launch for the AltMill in mid-2022.
Beta testing
If you wish to be part of our beta testing program, please fill out the survey. You will be able to provide your information at the end of the survey.
General challenges of the project
Building larger machines also prevents new challenges. Here are some things that we're working on addressing. We also discuss this topic specifically about the LongMill here: https://sienci.com/2020/06/05/things-to-consider-when-making-a-longer-longmill/
Rigidity
Longer rails have more flex, which means that we need stronger rails to compensate. For the LongMill, we are currently working on a new rail design that improves rail rigidity while keeping overall weight down. This should help keep similar levels of overall rigidity in the machine and allow users to run their machines with the same speeds and feeds as any smaller LongMill.
The AltMill on the other hand will use stronger linear rails and bearings, as well as a solid aluminum structure to ensure a high degree of rigidity.
Squaring
Our machines rely on both Y rails to be parallel with each other and perpendicular to the X rail to ensure that the machine doesn't rack or cut out of square. With the LongMill, we can generally rely on our table mounting procedure to ensure that the machine is square, but the larger and heavier the machines become, the harder it becomes to square the machine properly.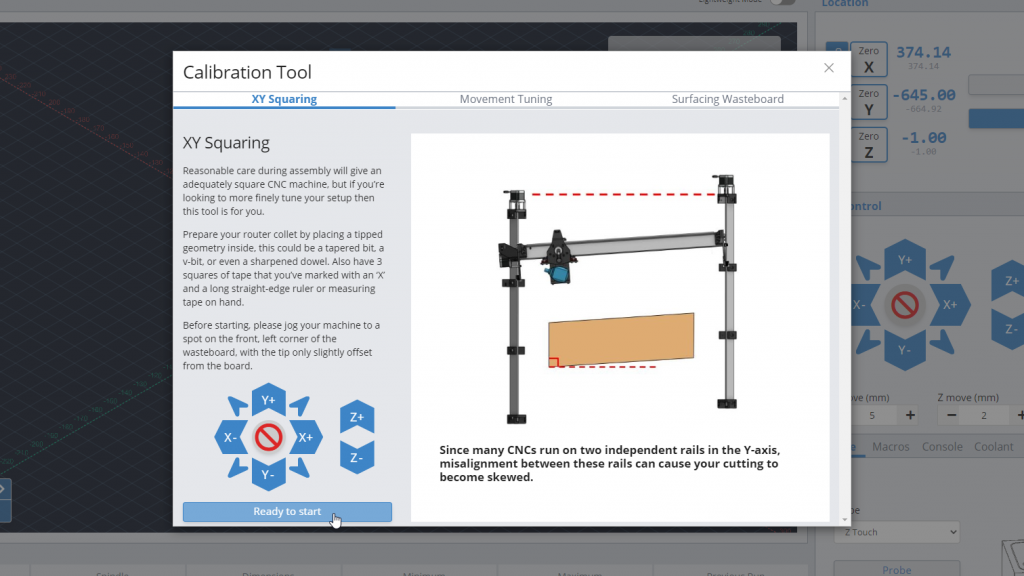 To account for this, there are a couple of options:
A table which uses precision cut parts to help square the machine
A tool or measuring device included in with the machine
Making the machine smaller
A table, in my opinion, offers the most precise way of keeping the machine square, which is why we are developing additional structures to support the machine that can use similar or same designs between both the larger LongMill or AltMill.
Beyond this, gSender also offers a calibration tool that will play a more integral role in working with larger machines.
Mounting
Although a LongMill 30×30 fits perfectly on a 4×4 ft sheet of MDF, it is generally difficult to find sheets larger than this for mounting larger machines. One option is to cut and join multiple smaller sheets into a 5ft or 6ft square base to mount a machine on or have a pre-built bench or table that the machine mounts to, with space in the middle to put a larger wasteboard.
In terms of a 30×48 LongMill size, customers could purchase a 4×8 ft sheet and cut it down to 4×6 ft size to mount the machine to. However, 48×48 machines and the AltMill would need to use an alternative method.
In this case, having a table would also offer a good solution to this issue.
Power
The larger a machine gets, the more power it needs. This means larger motors and drivers. This is because:
The parts that make up the machine that need to move are larger and heavier
We want to cut faster so that larger projects don't take forever
I generally use the rule of thumb that no matter how large or small the machine is, you want the machine to be able to travel between the lowest left corner to the highest right corner in the same amount of time. So this means that the machine needs to travel faster the larger it is.
We are currently working on either using larger motors as well as optimizing the power from the stock LongMill NEMA 23 motors.
Spindle and router choices
The bigger and more powerful the machine becomes, the router or spindle power becomes a limiting factor. Although I believe that the Makita router we recommend for our LongMills should be able to handle anything for the extended versions of the LongMill, a spindle may be necessary on an AltMill. Here are some hurdles to get over with spindles:
They are larger and weigh more, thus needing more hardware to support on a machine
Have higher power requirements, which means that users will also need to make sure their workplace can support it
Require additional wiring, which adds additional complexity
Generally not available in retail, which means that we have to source a spindle manufacturer and ensure we do proper QA and testing
Seeing as spindles could be used interchangeably between the AltMill and LongMill, this opens up the opportunity to offer spindles for both machines as well.
Shipping
Larger machines are larger and heavier, making it harder and more challenging to ship. The current shipping weight of the LongMill 30×30 is around 60lbs. Although fairly manageable, any heavier and larger than this, I feel would be unwieldy for the average user. Not only that, larger, heavier packages are more prone to being damaged during shipping, which is something we definitely want to avoid.
I expect our larger machines to be way bigger and heavier than this, and I estimate that weights will start to exceed 100lbs. This means either shipping the machine in several separate boxes, as well as figuring out the best way to handle the tracking and logistics on this.
Our goal is to continue to make it possible for us to ship by courier (UPS/Canada Post) to ensure that customers don't need to worry about freighting. This should make our machines more accessible for the general public.
Pricing
Because of all of the factors discussed above, larger machines cost more. As with the current LongMill, our primary goal is to provide the best possible value by lowering manufacturing costs with the most optimal designs. We do make certain decisions, some good and some tradeoffs to achieve competitive prices. Here are some examples:
Using standard extrusions for building tables – easy to source and build with
Reducing the number of variations of the machine to take advantage of economies of scale (no custom sizes) – reduces the amount of different types of support and resources we need to create as well as reduces machine complexity by not needing to design high customizability, but means customers have less choice in the size of their machine.
Assembly required by the customer – better understanding on how the machine works and saves costs on in house assembly labour, but would take longer for customers to get up and running
On the other hand, there are some changes that will add costs that we feel are worthwhile to spend money on:
Partial assembly of the AltMill to ensure proper assembly of linear motion components – we are able to create jigs and tooling to make in house assembly and calibration easier than most customers
Tables and other mounting options for larger wasteboards and machines – ensure proper squaring and make it easier for the user to set up their machines
Larger lead screws and ball screws – Although more expensive, larger screw drives are needed to prevent whip which are more apparent in larger machines