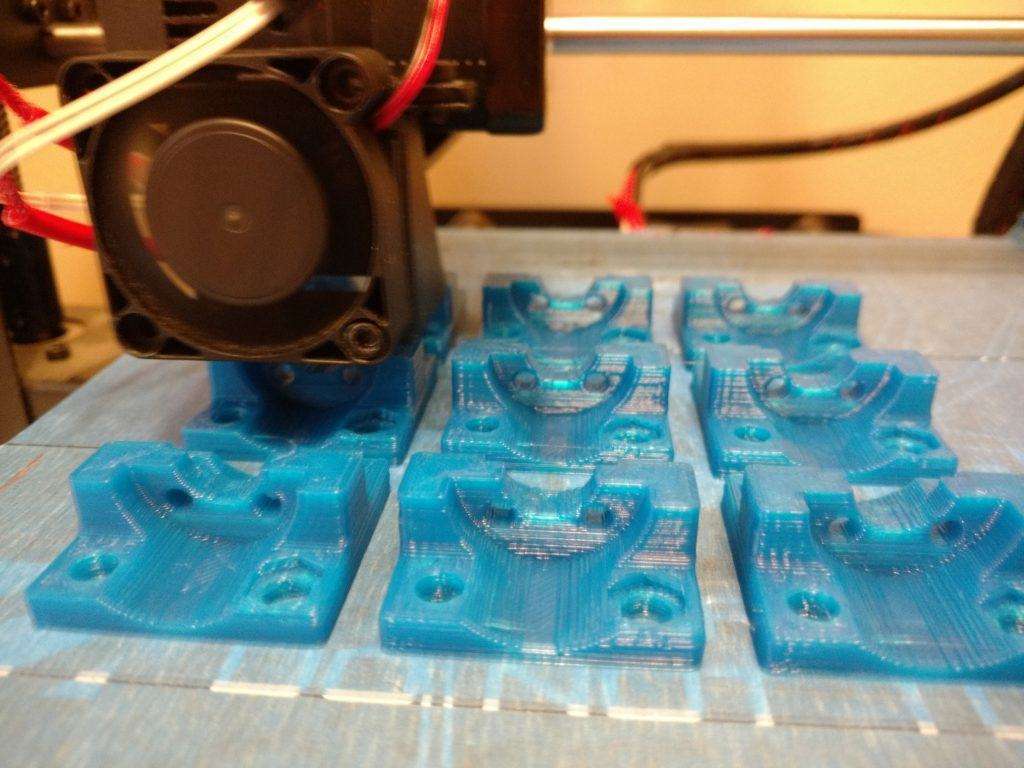 Production keeps moving along at Sienci Labs. We've recently placed our orders for the aluminum rails and production will be starting next Tuesday. One of the companies we had the chance to visit during the summer graciously offered to help us manufacture the aluminum parts. JGW Machine Ltd has worked with many startups in the Waterloo Region, and I guess we're one of their next. We hope to be able to pick up the aluminum in about two weeks.
In other news, I managed to fixed one of the 3D printers. We've been doing most of the printing with one of the printers upstairs, but I took some of the parts from the Tevo Tarantula that Tim and I bought together (we took it apart for the parts) and put it into the Wanhao Duplicator i3 that we bought in the summer. So I've been churning out these ACME leadscrew nut holders that will go into the first batch of Sienci Mill Ones.
Something that Chris and I have been discussing is whether we should purchase additional 3D printers to 3D print our own parts or have another company do it for us. If you have any suggestions on reliable printers that are of good value, feel free to let us know!
We've been getting a steady stream of parts from our Chinese suppliers, like the delrin V wheels, CNC V3 shields, and a few other small things, but for the large stuff, we've held off ordering them since the plan was to order them with Inksmith. Turns out that they've decided to back out for now and we will not be doing a joint order with them. To keep to our production schedule, we will most likely be ordering the parts we've been holding off on in the next couple of days via Express shipping. This means it will be coming in within a week of ordering. It will cost a lot more to do it this way, but with everyone waiting for their machines, and plus with a fast growing waiting list,  building machines and putting together kits quickly is our priority.
I wanted to take a moment to thank the people who didn't have the chance to back us on the Kickstarter but who have been emailing us with support, as well as asking us about when machines will be available next. Our first priority is to have our first batch go to our backers, but knowing that we will be able to continue a steady stream of sales going forward is really exciting, and we'll continue to develop better designs and make desktop CNCing better for everyone.