We know that there are lots of folks eagerly waiting for their LongMills. Here's an update on the production for the LongMills.
As far as components go, all parts for the LongMill are currently in the shop being packed now with the exception of two of the components because we are waiting for them to be delivered.
Control boxes
Control boards
We currently have a partial batch and waiting for the balance to be delivered for
TB6600 drivers
Power supplies
There has been a ton of changes we have made to our production to improve the quality and speed of our packaging and assembly, as well as to reduce the chance of errors. We are also working to ensure that we can ship machines as quickly as possible once our inventory is fully stocked again.
Control boards and boxes
We'll start by talking about the current bottleneck in our production which is with the control boards and the control boxes.
The control boards are currently delayed by two weeks. We are currently having them assembled in China, and due to the coronavirus, factory workers did not start work again until the 17th. I have been told that the boards are expected to complete production and ship next week. All of the PCBs have been made, but we are waiting on the assembly to finish.
In the meantime, we have tested and checked the first batch of drivers to be installed into the control boards so that they are ready to go as soon as the boards arrive.
Control boxes are also in the process of being made. We have made significant changes to the design to 1) decrease assembly time 2) improve durability 3) add mounting holes for mounting to your table. The first 200 sets of parts for the control boxes were completed yesterday and have been delivered to be powder coated. We currently have the first 150 acrylic top panels completed as well, with the remaining expected to be finished at the start of March.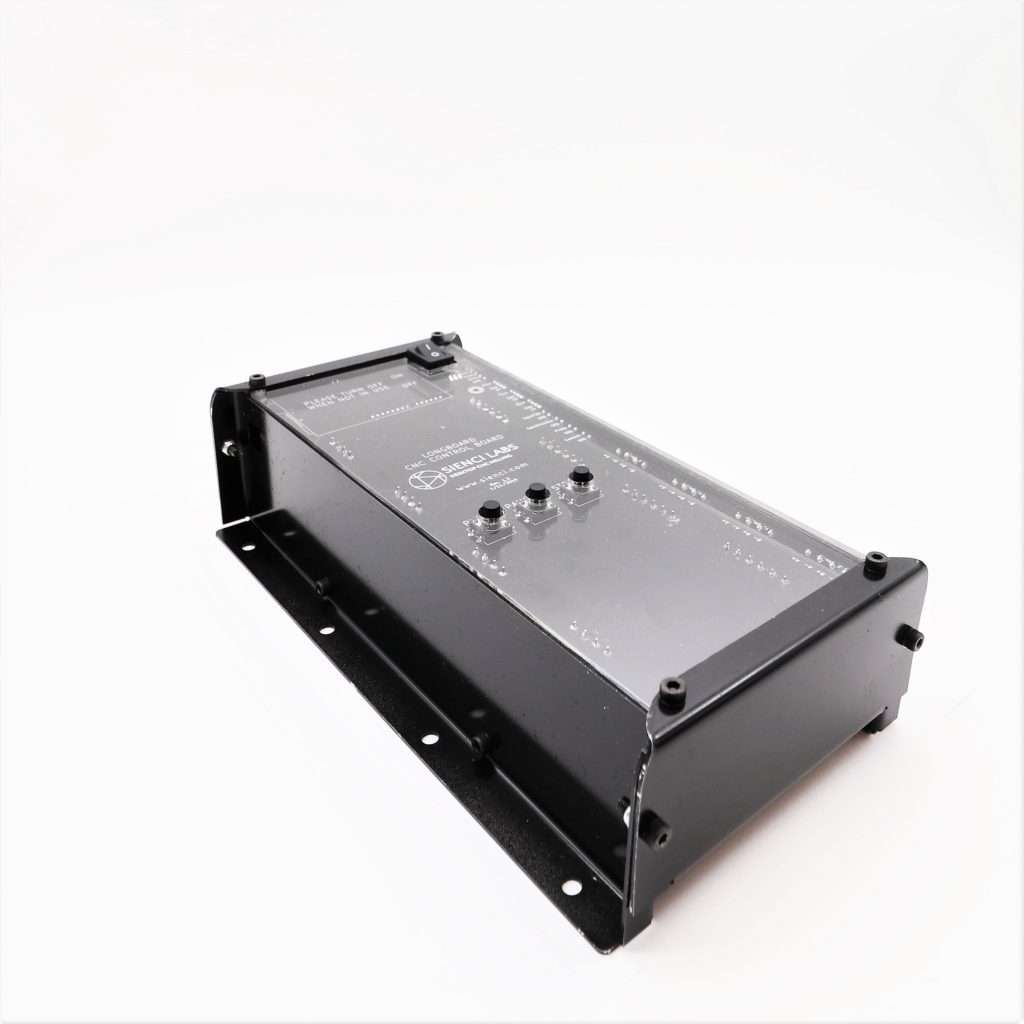 From batch 1, our biggest bottleneck in production has been in the assembly of the control boxes. With the new design, assembly is significantly faster and easier, reducing the bottleneck.
I am expecting this to increase our overall speed in which we can ship machines and get machines into our users sooner.
Aluminum rails, drag chains, and lead screws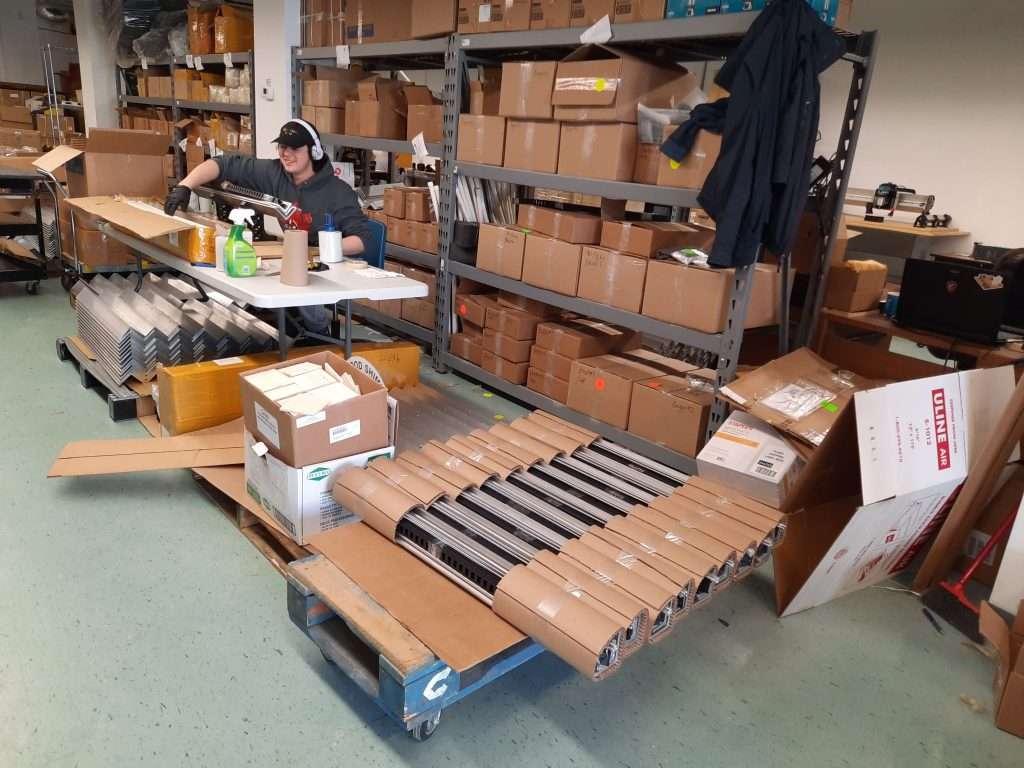 Here's Dylan diligently putting together rails into sets. We are now packing all rails, drag chains, and lead screws into one package to simplify our packaging and process.
This was one of the most time consuming and physically demanding parts of our packing process from the last batch, but we have been able to greatly speed up the packing by using a custom made stand that eliminates the need for two people to wrap the rails together.
Gantries and sheet metal parts
We have received all the gantries and other sheet metal parts ahead of schedule, and have started the packing and assembly for these parts.
Currently, we have all 400+ Y-axis gantries packed and on the shelf ready to go, and many of the Z-axis motor mounts packed as well.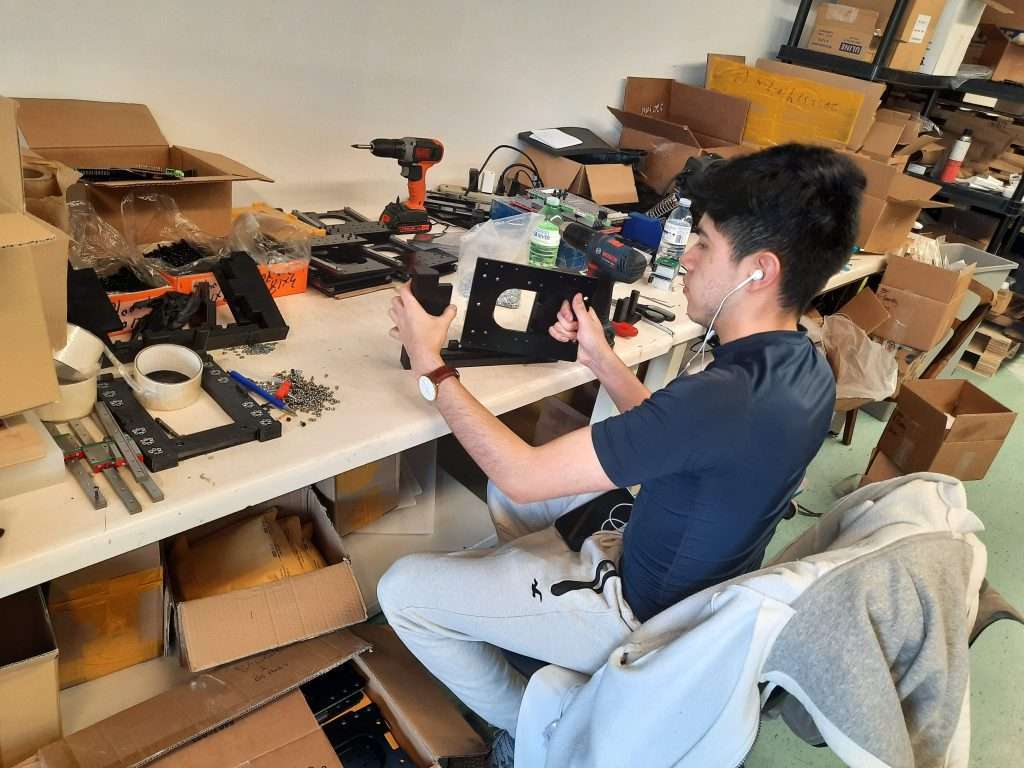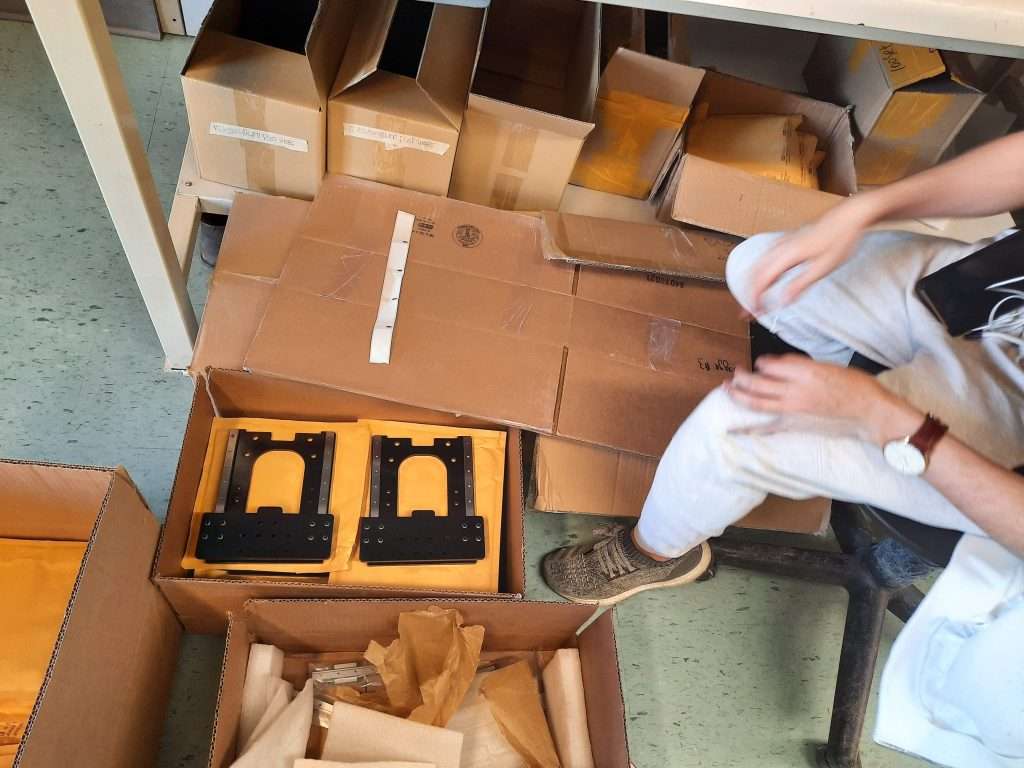 Here's Esteban putting together the gantries for the X and Z axis. We do this process in house as it can be tricky to get the proper alignment in the linear guides, as well as due to the chance of losing the ball bearings if the linear guide block comes off the rail. Esteban and Jeemin, two students working at Sienci Labs this term, designed and assembled a new jig design (amongst many others being used in production currently) to help align and assemble these gantries.
With the new jig and the threaded holes in the linear guides that were not on the previous version, we have been able to reduce assembly time significantly as well. We currently have around 96 completed assemblies, so just over 300 more to go!
3D printed parts
With the new filament material, improved part designs, and upgraded components on our 3D printers, we have dramatically increased the efficiency in 3D printing. Currently, we have 34-35 printers online churning out parts.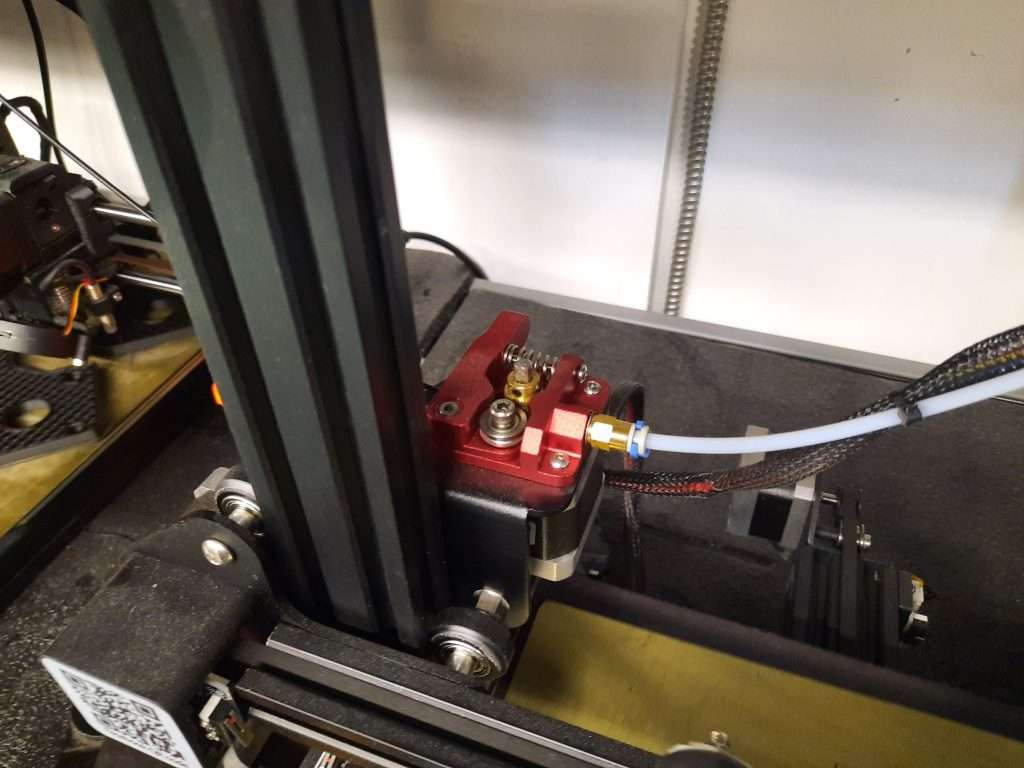 One major upgrade was to the extruders on the Ender 3s. We had done so much printing on the machines that the tensioning arm for our printers were completely worn through.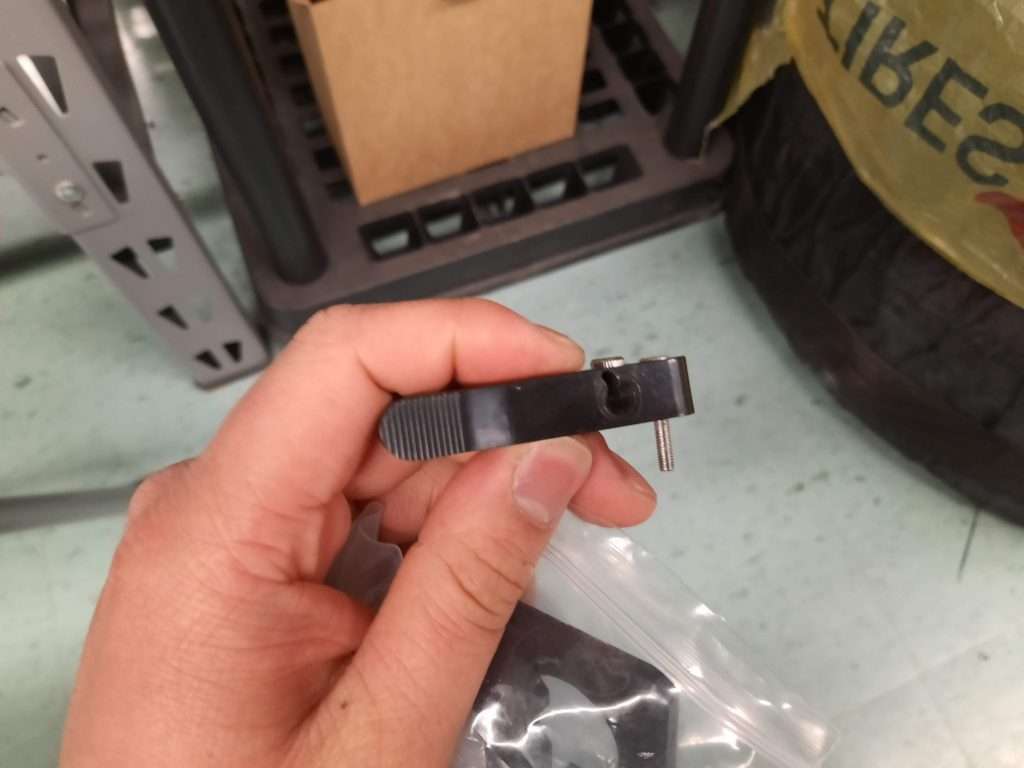 Other changes include using magnetic PEI sheet beds on all Ender 3s that helps us remove parts quickly and easily, as well as continually improving our print slicer settings to increase print strength and quality.
There have also been some small changes to some of the 3D printed parts to improve the fit and finish of the parts as well (seating nuts, sliding rails through, etc.).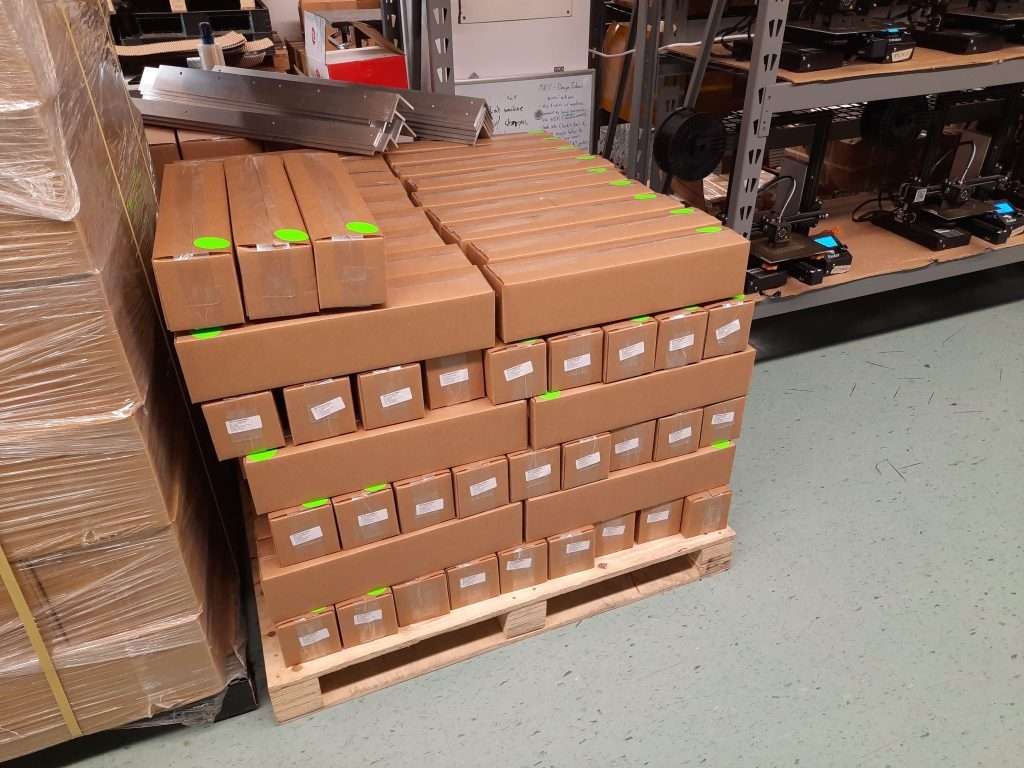 To speed up our packing process and improve our organization, we now will pack all of the 3D printed components into one separate box (as shown in the photo).
Power supplies, fasteners, and Z-axis motor mount plates

We've packed and put the power supply, fasteners, and z-axis motor mount plates into another box to pre-pack and prepare for shipping.
We also had all of the fasteners pre-packed and labeled with their size at the factory, to speed up packing and make the assembly process easier.
NEMA 23 stepper motors
One of the most time-consuming part of our packing process has been to wrap and pack the NEMA 23 stepper motors. We've now pre-packed all of the motors in cartons in foam, along with the wires together to eliminate this step.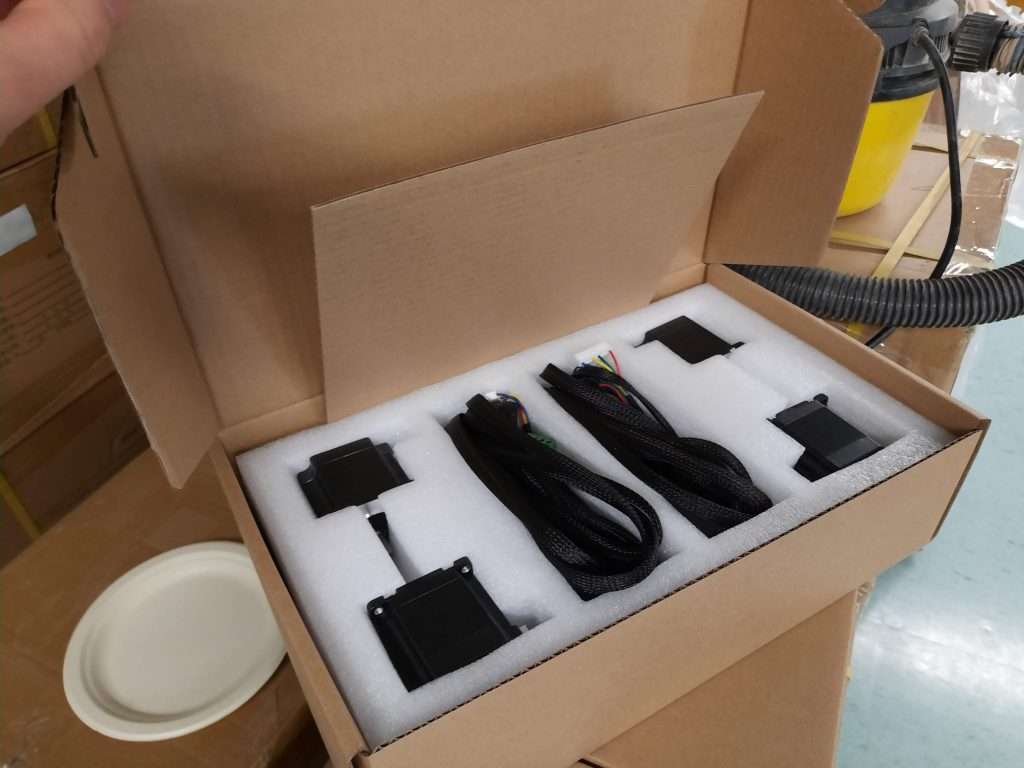 They also have our logo laser engraved on them along with whether they are threaded or not threaded as well, also eliminating us needing to label them as well.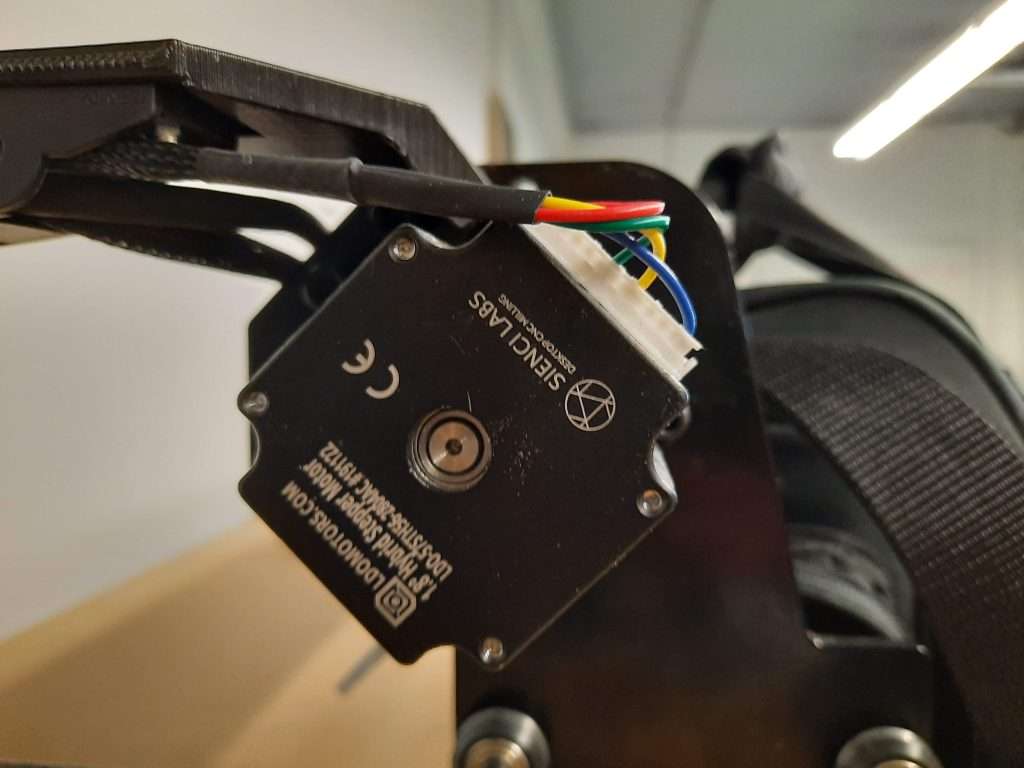 Conclusion
Packing and production continues on and we are working towards getting machines out the door as quickly as possible. Based on our current pace and expected delivery time for the remaining components, I expect that we will start shipping machines early to mid-March.
Our current plan is to start shipping machines as soon as the control box and control board parts arrive and start to ramp up our shipping to 50ish units per week. This means that most of the backlog will ship near the tail end of March and folks that placed their orders in the past month may be seeing their machines sooner than the 8-10 week estimate, but please plan for those estimates to stay the same if you have any time-sensitive projects.
We do have a chance of shipping earlier still if the control boards arrive on time. From our experience with our powder coating company, they often can provide the parts sooner than their lead-time estimates, but I will provide estimates assuming that they stick to the lead times I have been told. If there are significant changes to production I will make sure to post them.