May has been a pretty rough month, dealing with some QA issues and other manufacturing delays. Overall, we've been able to keep time to ship to time to order for LongMills down to about 1-2 weeks for most customers at this current time, but we've faced some challenges in keeping production moving smoothly.
This is our June 2022 production update. We'll touch on some news from May and talk about stuff to expect in June.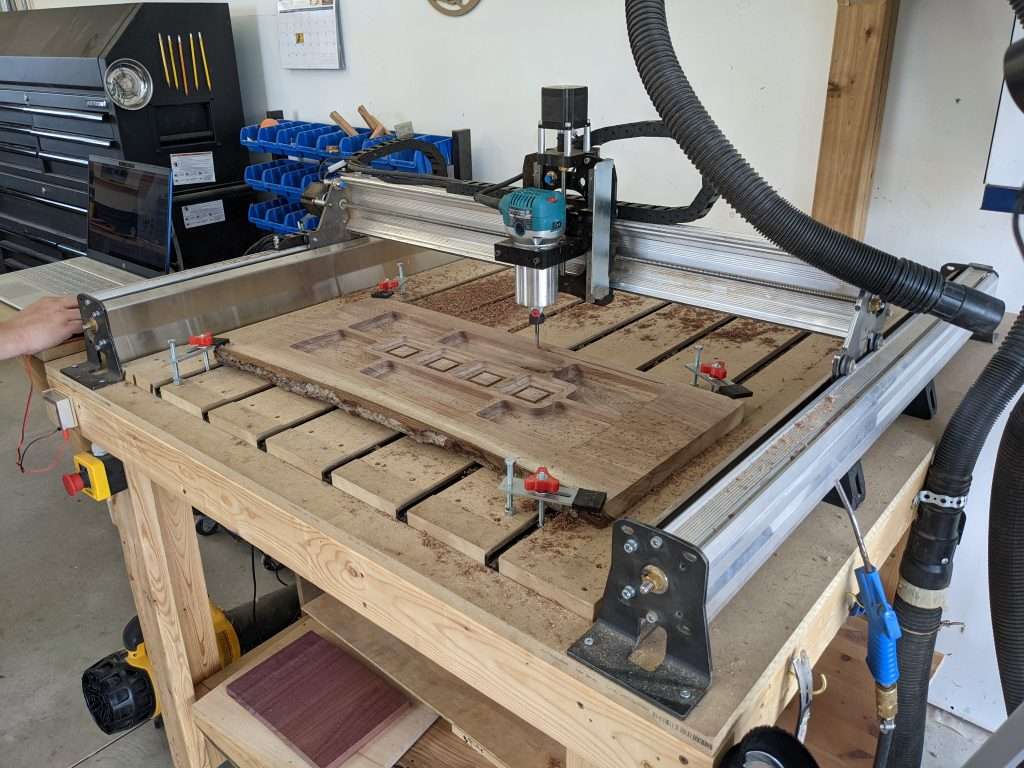 Current lead times
Lead times currently are 1-2 weeks on MK 12×30 and 30×30. Our lead time is mostly affected by when our newest batch of Y gantries will arrive. We are expecting them to be ready for coating by Thursday and come back to us at the start of next week.
*UPDATE Jun 3, 2022* Our new batch of Y gantries have arrived today and have passed QA inspection! We are packing up machines now to ship and should have things continue to go out!
Our mini-saga of Y gantries
About two months ago when we first started manufacturing the new batch of 1000 Y gantries, our manufacturer jumped the gun and started producing new plates before we provided the new revision of plates. Due to this, we needed to recut another 1000 Y gantries with the new revision and keep the old version in storage for use in the future potentially. Because there were already quite a few other parts getting processed at the time, the overall time for us to get the materials down to the coating shop was unaffected.
It took another week and a half to get everything coated, but just as the finished parts were loaded up onto the truck, the pallet fell, causing many of the plates to get damaged. We received a partial order of undamaged parts (X gantries, Z gantries, front and back feet, and controller box parts), but unfortunately, all of the Y gantries were damaged and needed to be fixed.
In the meantime, we continued to fulfill orders with the remaining number of gantries we had on hand. However, at the current time of writing, we are out of Y gantries.
About a week later, we received the fixed Y gantries, but then we ran into another issue.
We had changed to a new process of drilling and tapping holes, which referenced the center bearing hole to cut some of the smaller holes on the plate. Previously, we were laser cutting all of the holes, but we switched to the CNC method to speed up the process and automate the tapping process.
Although we are investigating the incident, it we suspect that the workholding was not done correctly on this batch of parts, causing all of the holes to be slightly off from where they need to be.
Initially, we did find that 1/3rd of the plates had the holes in the correct place, but after doing further checking we found that the tapping angle of the threads was also dramatically off, and none of the plates were able to be used.
Thankfully, our manufacturer which we've worked with for the last 6 years has been working hard with us to rectify the issue and implement new processes to eliminate this issue in the future. We've also sent a few of the members from our manufacturing team to set up another tapping cart and make a new batch of gantries as quickly as possible. At the time of writing, I've been informed that we've just finished 500 Y-gantry plates and will be shipping them to be coated on Thursday.
We're currently working with our coating manufacturer to get this batch of parts to get coated as soon as possible and are looking at sometime next week when we'll be able to get them.
Laser driver issues
For the original post: https://sienci.com/2022/05/31/bittele-sent-1oz-boards-again-makerfab-drivers-waiting-to-be-cleared-at-the-local-center/
Of course, to add to the issues for this month, the second batch of repaired driver boards for the laser still has issues. We are waiting on another batch of drivers from another manufacturer that should be arriving this week.
48×30 MK2s and Extension Kits
We have now started packing and prepping the parts for the MK2 48×30 machines and the Extension Kits. We are waiting on the production for the wiring and Y gantries to be done over the next couple of weeks, but progress on those is moving along on time and we are still on track to ship in July.
Parts that are being processed currently include:
Extended X rails
Couplers
Lead screws
Drag chains
ACME locking nuts
Delrin nuts
Bearings
Parts to start packing include:
MK1 to T12 Delrin nut adapter
Wiring management parts
Wires
Y gantries
At the current time, we starting packing and processing the new kits. Once we get the wiring and Y gantries we'll have full kits ready to go. Here are our rough estimated delivery times:
Y gantries: 3rd week of June
Wiring: 2nd week of June
Although production of these parts is coming along fairly smoothly so far, I am currently expecting the resources for the assembly to be one big hurdle to get through and may make a big impact on the timing of shipments. Of course, we don't want to delay shipments, but we also don't want to hand the product over to the customer without proper instructions on using it. We will put out more updates on the timing of shipments as we continue to develop the resources for the 48×30 machines.
So far, our beta testers have been using the extended version of their LongMills with lots of success. If you want to see Dana, who's had his extension kit for testing for the last little bit, check out the video below:
Wrapping up the beta testing program
We just finished filming our last beta tester's interview this past weekend. It's been such a great journey to follow along with each user to see how they grow and learn to use their machines.
Our last beta tester interview will be posted in about 1 week from now.
If you want to see the interviews, please check our playlist here: