Hey everyone, here are the production updates for Dec 2022.
For all news and updates, please see our Blog.
Just as a reminder, if you'd like to get these updates as a weekly email newsletter, please subscribe here: https://sienci.us13.list-manage.com/subscribe/post?u=720f140325aaa668a8aa09916&id=e18d59a085
LongMill users on a map!
Using a new feature in our e-commerce sales tracking software, we can now look at all of our customers on a heatmap!
Here are some cool facts:
We have customers in 59 countries, including Aruba, the Faroe Islands, and Oman!
The United States represents our largest demographic, followed by Canada. We have customers in all 50 States!
We estimate that we have about 5000-6000 LongMill users in total!

LongMill and Extension Kit Orders
Last month we slowed down shipping due to a shortage of lead screws and linear guides. I'm happy to say that our new batch was expedited (at no small cost) and we are currently working to get through the current backlog. Although we expect to get through most of the backlog next week, we are currently keeping our 3-4 week lead time for the time being. Once the backlog is cleared orders should ship within 1-2 weeks. We will have an updated lead time once we have gone through initial quality checks today and early next week for the new batch of parts.
Batch 6, which consists of 1500 machines, is officially complete! New orders are now part of Batch 7. For changes and improvements we've made through Batch 6, check out the write-up from the last production update. Batch 7 consists of another 1500 LongMills.
Recently we had a few issues with bent lead screws. We're currently working on testing all of them before shipping to make sure they are straight and don't cause binding issues. Here we're using an optical comparator to check how much deviation each screw has.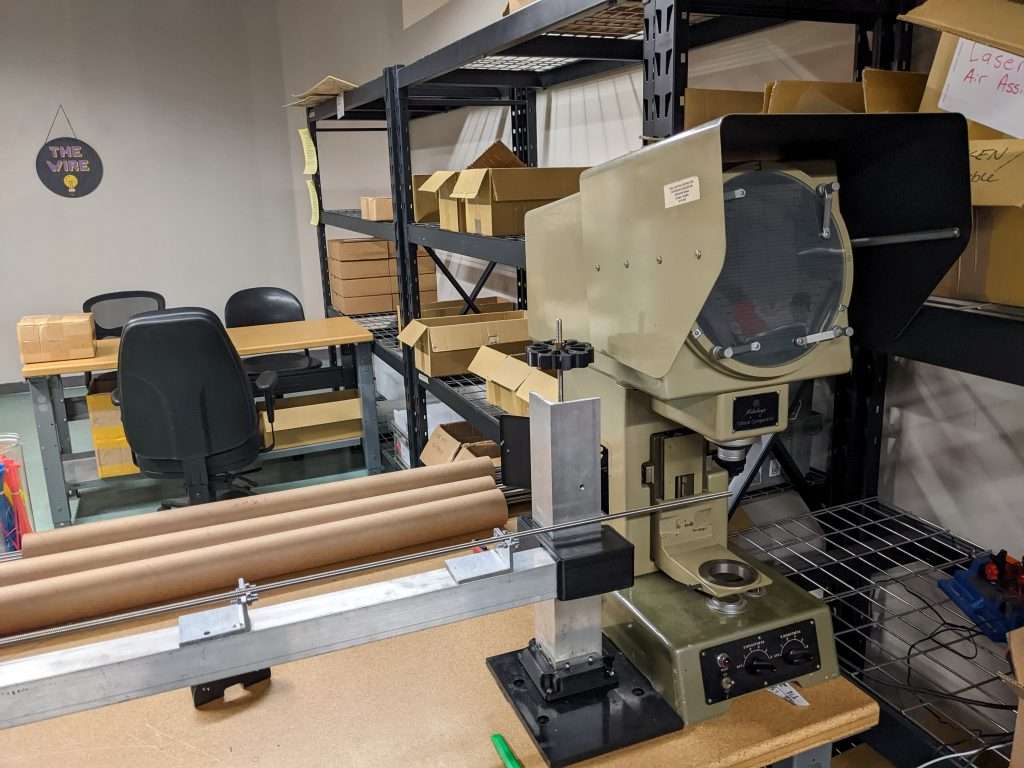 LaserBeam Orders
Orders for LaserBeams continue to ship as usual with fairly short lead times. Although we have stock, we are currently working on adding another 500 units to inventory. Due to a sudden increase in sales, we are currently low in stock and while some order will ship quickly, customers should expect to wait 4-6 weeks for their orders to ship based on part availability.
End-of-Year Holidays
As we typically do, we are on closing for holidays from Dec 23rd to Jan 2nd. If you have any questions or need anything shipped out, please reach out to us before the 23rd. There may be some of us providing limited holiday support and getting ready for the new year, but the large majority of us will be on holiday.