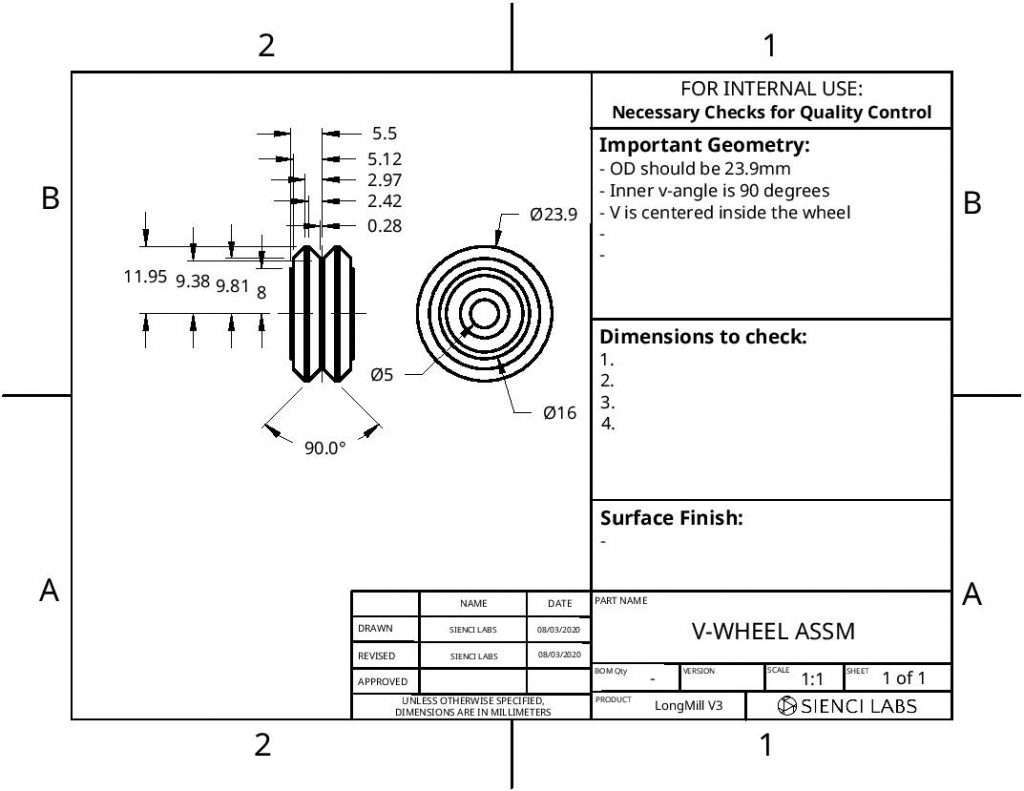 Hi everyone. If you guys have been following along with our company, you'll probably know that at this moment we are currently super backed up with orders. At the time of writing, we have around 270 machines waiting to ship and counting.
Back at the end of April/start of June, we were expecting to clear out of inventory for Batch 2 around the end of July. Then sales jumped to more than double in June and double again in July. By the end of June, we were sold out of Batch 2 machines and by the end of July, already halfway sold out on Batch 3 before we were to ship.
Now, if we ran out of stock at the end of July as we were initially expecting, it would have coincided well with when we would have received all of the parts for Batch 3 and start shipping new units again. As you probably figured already, this plan didn't really work out. With a combination of COVID-19, shipping and production delays, and all the other things, we've had to increase lead times for subsequent orders coming in.
In hindsight, it probably would have been better to get prepared earlier, as well as order parts in larger batches, but in my defense, I didn't expect so many people to be ordering LongMills and that things would pick up so quickly. I guess it's a good thing since it seems that folks are really liking their machines and I've seen a lot of people recommending the LongMill to other folks, so I'd like to think that this jump comes from building a good product. Nevertheless, going forward, I've already started ordering parts for Batch 4 and doubled the size of the batch for parts for things that have the longest lead times. With slowdowns with production, customs, and other things with shipping during COVID-19 times, I have a better idea of what shipping companies to work with to ensure parts come on time as well.
Although most the parts were supposed to be completed, shipped, and at our shop by start to middle of July to give us more time to check over everything, it ended up that with delays in customs especially, some items needed an extra few weeks to arrive. This meant that the time I had set aside to fix quality issues was taken up with the delays.
And that brings us to the whole v-wheel fiasco.
Around the middle of June, we ran out of v-wheels, anti-backlash delrin nuts, and 608ZZ flange bearings, so we ordered a small batch from one of our manufacturers that we have been working with for 2-3 years via express shipping. The idea was that we would be able to ship some machines up to when we would receive our full order of parts from them.
Our initial inspection of the parts appeared to look good, and since we had ordered the same parts from the same company for several years now, we expected to be the same. However, a small number of customers got in contact with us to let us know that the fit for the v-wheels were too tight, and in some cases, causing the v-wheel itself to break. At this point we stopped shipping the machines to check the remaining batch of v-wheels and try to solve the issue.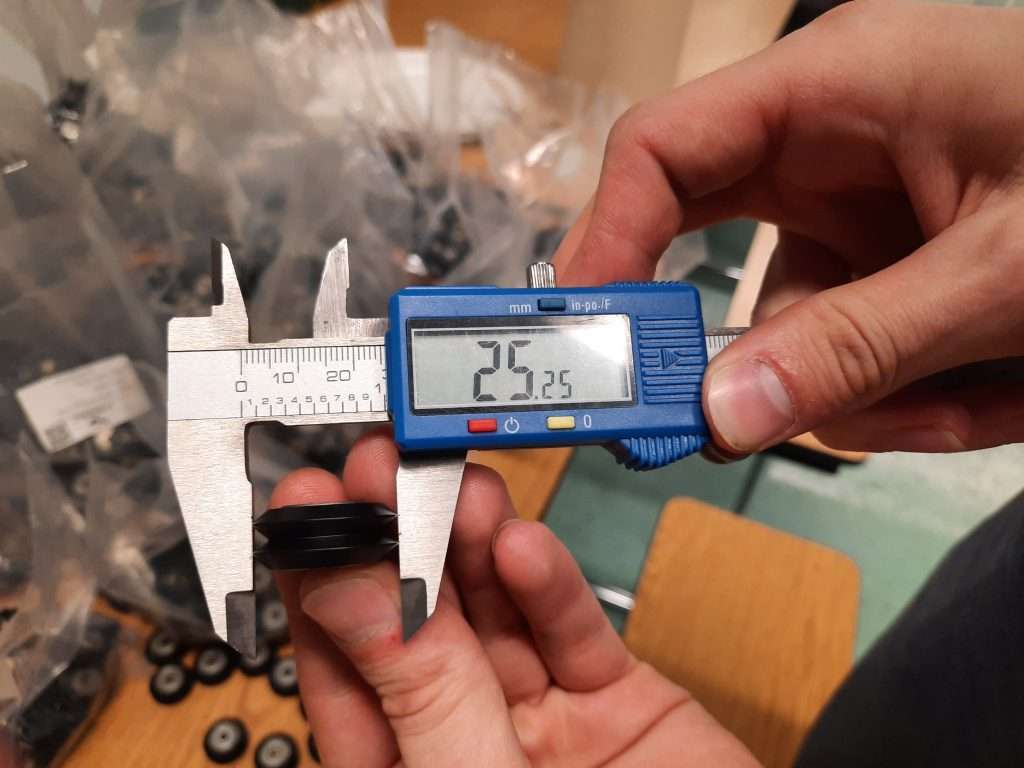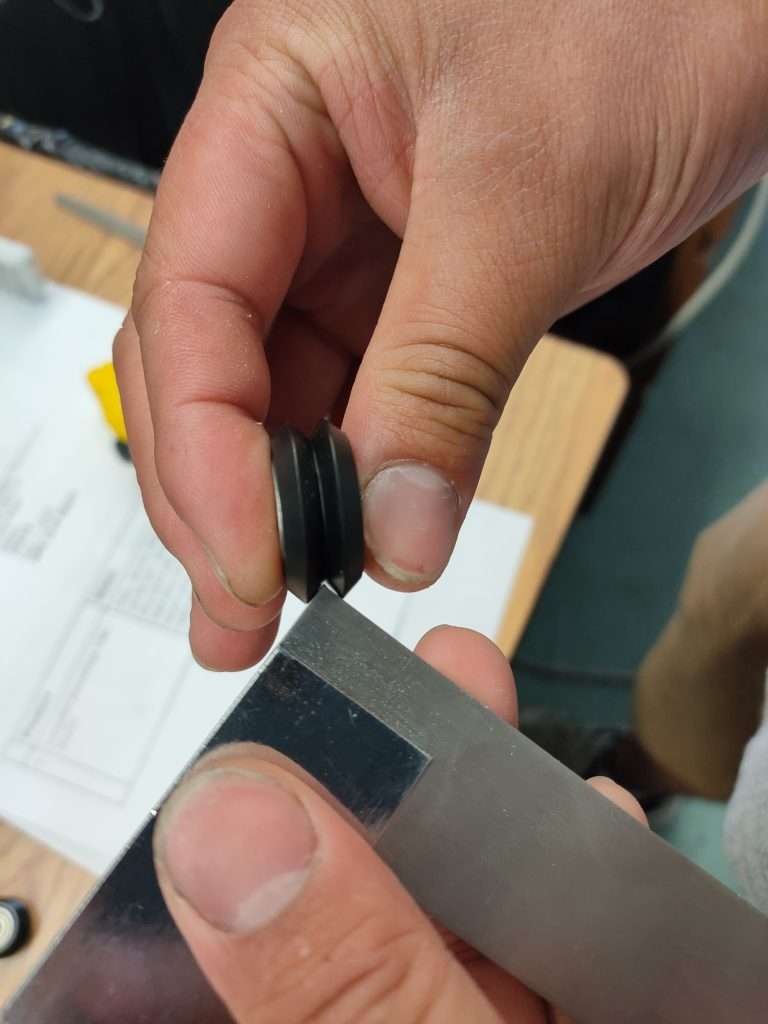 Well it turns out there were two problems. First was that the outer diameter was too large. Rather than being 23.9mm or 24mm which is standard, all of the v-wheels had a diameter of 25mm. This meant that the spacing between the wheels was off causing the fit of the gantry to be too tight. Second, the angle of the v was not exactly 90 degrees, which means that the v-wheel rides slightly higher on the rail, thus exacerbating the first issue and causing even more spacing issues. On top of this, there were several other inconsistencies that Chris and I weren't happy with.
In an attempt to prevent us from stopping shipping altogether, we tried to purchase some v-wheels from local sources that would only ship in within a day or two (other suppliers, Amazon…). For some insane reason, no matter which place we ordered from, they all had the same problem. What we suspect is that one manufacturer made all of the wheels for all of the different distributors, thus making all of the wheels come out to be out of spec.
I even ordered another batch of 3000 wheels from China that promised that they would be in spec, only to find that they still had the same problem. I was really hoping that at this point that this saga would be over.
Yesterday night, I ordered 600 wheels from OpenBuilds from the US using their fastest shipping method, enough to build 50 more LongMills. Tracking is showing that they are expected to arrive tomorrow. I also have another 1000 wheels coming in from China to replace part of the defective wheels that should arrive in a few days. My plan is to keep bringing in more wheels to continue shipping and try to get the machines as quickly as we can with a combination of different suppliers so that if one manufacturer mis-manufactures the wheels, we would have another source of wheels to use. If they all end up good, then we can hold the stock and use it for future batches.
We also have our manufacturers re-making the wheels from scratch as well to a new drawing and with extra QA done to ensure that the right size wheels are being shipped. This will likely be a two to three-week process altogether so we should see these wheels for the later part of Batch 3 production.
I feel pretty confident that the v-wheels from OpenBuilds will end up being the correct size, especially due to the massive price difference and it being an American company. I would much rather pay the extra bit to make sure all of the customers who have been patiently waiting to get their machines get it as quickly as possible and have the machines work the first time around. That should get machines moving out the door while I wait for the rest of the wheels to finally show up from our regular suppliers.
So the plan for tomorrow is to have all of the machines on the packing table get shipped out with the first batch of 600 wheels coming from OpenBuilds. If you have fingers please cross them for us for the wheels to be good this time.
Thanks – Andy