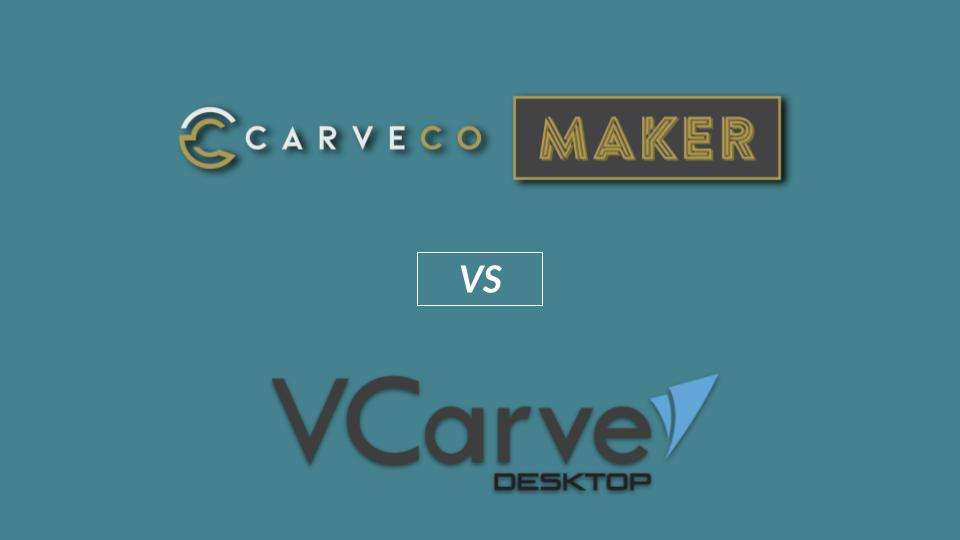 Hey everyone, a quick announcement to make. Carveco recently got in touch with us about reselling and promoting their software. You can subscribe to Carveco Maker ($15USD/month) and get your first month for free. For more details, please visit the product page.
If you're not sure if you should get paid software or free software for your CNC, please check out our blog post on this topic.
If you're looking for paid CAM and design programs for your CNC machine, Vectric VCarve and Carveco Maker offer excellent options for beginner users. Today we'll be comparing the two options to help you decide which software to go with. Aleks and I (Andy) have been using the software for several weeks now and we hope to offer a good comparison between the two.
Please note, we make money from each sale of software. That being said, I will aim to be as unbiased as possible for both of the software we will be discussing today. We also try to be as accurate as possible to compare the two programs,
We will be primarily focusing on Vectric VCarve Desktop and Carveco Maker as we feel like they are the most applicable for hobby use, but will touch on other versions that are available.
Introduction
CNC software traditionally focused heavily on industrial applications, which came with large price tags and very complicated features. Software like HSM and MasterCAM cost thousands of dollars per seat but power the machines that make car parts and airplanes. Even though full-featured software is compatible with LongMills and other hobby-level CNCs, they are generally too complicated and expensive for most people to use.
Having recognized that, software companies have moved to offer lower cost alternatives to their industrial software for use with hobby and semi industrial machines over the last couple years as smaller, budget-friendly machines become more popular.
Independent developers and CNC manufacturers now offer a wide range of free and low-cost CAM software that are generally very simple and are designed for hobby level projects. Some include Kiri:Moto, EstlCAM, and MakerCAM, which are free or very inexpensive compared to industrial software, but come with limitations that would make it unsuitable for industrial applications.
On the other hand, Vectric and Carveco are offshoots of an industrial-focused software created by Delcam called ArtCAM. From there, both companies created their offshoots from their flagship software to other software better suited for beginners to capture a larger audience, thus containing higher-end features originally found in industrial software that has been simplified for consumer use.
I expect that there will continue to be growth and additional competition in this space as CNC becomes more popular with hobbyists especially as CNC hardware continues to improve over time.
Features
Both programs have similar basic software feature sets such as:
● Easily switching between 2D and 3D views
● Importing vector and raster 2D files (with automatic image tracing)
● Importing a wide variety of 3D files for relief carving
● Full 2D vector creation and control (lines, text, graphics)
● Basic manipulation of imported 3D files (moving, scaling)
● Include a library of premade relief models
● A variety of milling toolpath types – profile, pocket, v-carve engrave, drilling, inlaying, chamfering, fluting
● Fully animated toolpath simulation with a variety of materials
Overall, both software provide a full set of features that you should look for your CAM.
For full details for each software, please visit:
https://www.vectric.com/products/vcarve-desktop
https://carveco.com/carveco-software-range/carveco-maker/
Some of the unique features that each software offers that the other does not include:
VCarve Desktop
2 sided machining
Thread milling
4th axis machining
Laser module (extra $50USD)
Carveco Maker
Vector doctor/repair
Laser toolpaths
There is a major limitation to VCarve Desktop, at least in our opinion, that may contribute to your choice between the two software, which is the 24″x24″ size limitation. While Carveco Maker does not impose a size limitation, the maximum project size that VCarve can do is 24″x24″, which means that everyone with a LongMill 30×30 will lose a small chuck of their working area.
This is something I have talked to Vectric about and something that they are considering, but it may be some time until an alternative comes out.
If you like VCarve Desktop, but need the extra inches, you will have to upgrade to VCarve Pro, which does not have any size limitations. The price for VCarve Pro is $699USD (double the price of VCarve Desktop).
Price
VCarve Desktop: $349USD
Carveco Maker: $15USD/month or $180USD/year
One of the major differences for Vectric Desktop and Carveco Maker comes down to not just the price but the pricing structure.
Vectric offers their software for sale as a perpetual license that can be used as long as you'd like without ever paying another cent. Vectric offers free upgrades to the latest version of your software for 12 months from the date of your purchase. You also can easily upgrade between higher tier products by paying the difference.
Carveco on the other hand provides both monthly subscription options as well as perpetual license options, but for the Maker tier option, only a monthly or annual subscription option exists. The lowest cost perpetual licence, the Carveco Maker Plus, costs $1200USD.
It should be noted that you get all updates for free while subscribed to Carveco, which is great if you want to stay up to date with new features and bug fixes.
If having a perpetual license is important to you, Vectric generally offers more options for perpetual licenses, and their two higher tier options, VCarve Pro and Aspire, run for $699USD and $1995USD, which may be worth considering over Carveco Maker Plus for $1200USD.
Otherwise, Carveco Maker at $15/month offers a very affordable option that is within the budget for most hobbyists.
Trial Period
VCarve Desktop: unlimited trial, with limited saving and export options
Carveco Maker: First month free with a subscription that can be cancelled at any time
Vectric highly recommends their customers to try out their software before purchasing by allowing you to evaluate the software for an unlimited period of time. However you are limited to being able to export their own trial projects and there are some restrictions on being able to save and export projects.
Carveco Maker on the other hand only offers a 1 month free subscription, which requires you to sign up with a payment method, and if you don't cancel within the first month, you'll be charged with another month's worth of subscription at $15USD/month.
I feel that one month of either software provides more than enough time to evaluate which program you like better, which I would recommend folks to do.
Ease of use
From our initial use, we found both software to work very similar to each other, especially in workflow.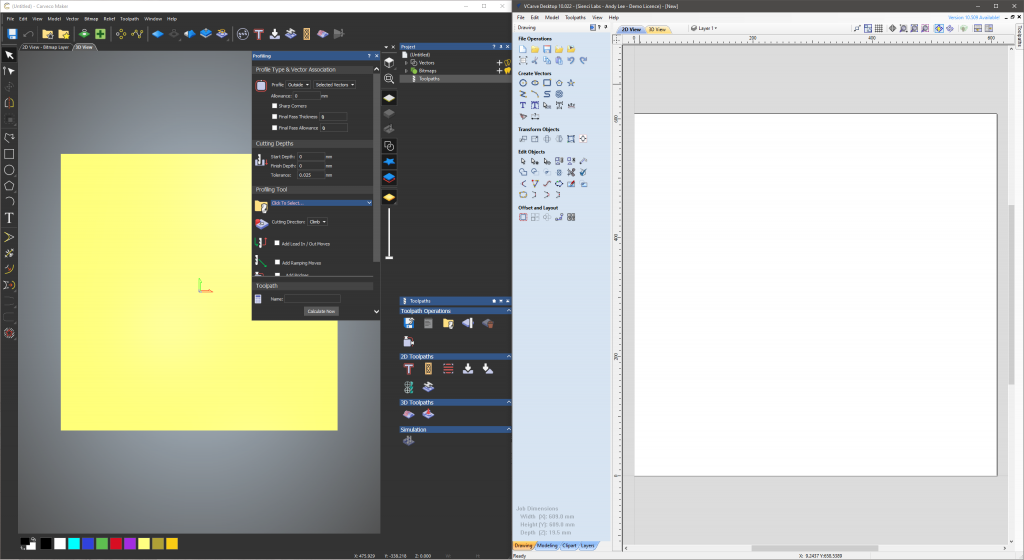 Both programs start with asking you to choose your material/working size, then allow you to either design and upload designs in 2D and 3D.
Generally I have preferred to use the 2D vector tools on VCarve, but working with 3D reliefs was a bit smoother of an experience with Carveco Maker. Overall I feel that the differences are minor, especially if you are going to be using outside programs to do your modeling.
The general online consensus (just from our research) seems to indicate that VCarve is a little bit easier to use. It also offers more online resources and tutorials, likely due to being on the market for longer than Carveco Maker.
Conclusion
These are my personal opinions of each software and my recommendations for each of them. I still highly recommend downloading both programs to test run them before choosing one. Both programs are excellent and there are many happy customers for both.
Overall, I have preferred the experience working with Vectric software, as overall it feels more intuitive and better laid out, especially with some of the toolpath creation and vector editing. Some exclusive features are nice to have, such as flip-milling. There are also a lot more tutorials and other resources available which I feel should help improve the user experience for beginners.
However, due to the 24″x24″ limitation with VCarve Desktop, I feel like for LongMill 30X30 users, using Carveco Maker may be a better option since I find that often times my projects extend all the way to the full working area of the machine. Alternatively, consider getting VCarve Pro to utilize the full extent of your machine.
so…..
If you're on a budget and want the lowest cost option
Go with the Carveco Maker subscription for $15USD/month. It should provide you with most of the features you need to get started, and you can cancel anytime if you want to switch software or decide to upgrade. However, if you are going to use the same software for over 2 years, it will cost less to buy Vectric VCarve Desktop in the long run.
If having a 24″x24″ size limitation doesn't matter to you
Then get Vectric VCarve Desktop. It's easy to use with lots of resources. If you eventually want to work with projects larger than 24″x24″ (without tiling), then you can upgrade to the VCarve Pro later by paying the difference between the two products (around $350USD).
If you want the full 30″x30″ working area but don't want to spend $699USD
Carveco Maker is the way to go as it does not have size limitations.
Buy VCarve Desktop here: https://sienci.com/product/vectric-vcarve-desktop-v10/
Subscribe to Carveco Maker here: https://sienci.com/product/carveco-maker-subscription/