Hi everyone. I just wanted to share an update about where we are about the Mill One. Over the last couple of weekends, I have been playing around with some new designs that I hope will pave the road to the successor to the original Mill One. For this new machine, I will refer to it as the Mill One Plus.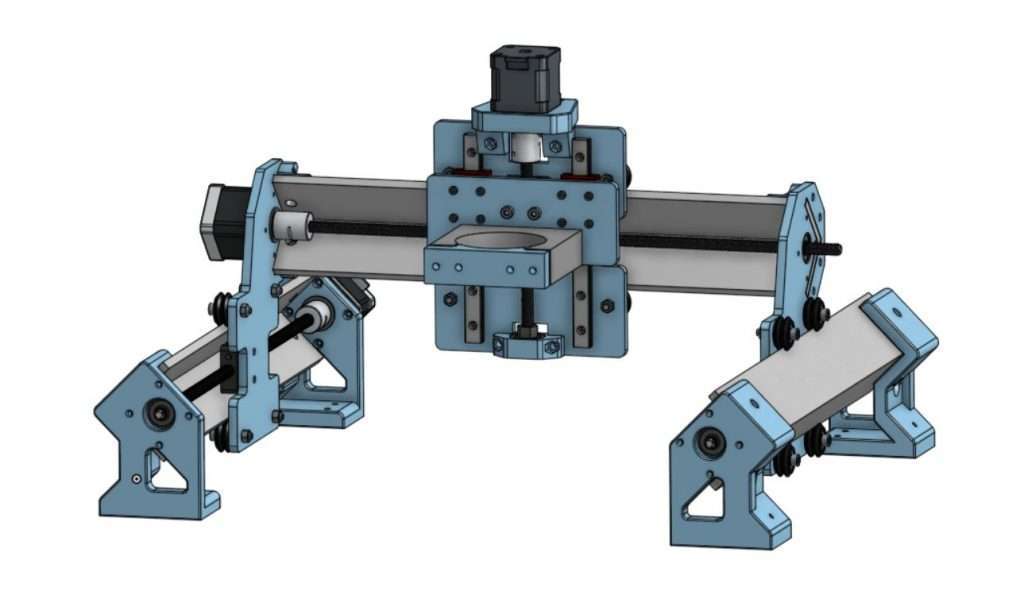 Here are some general specifications about the Mill One Plus:
Will be priced around $500-700CAD
NEMA 17 motors on all axis
Lead screws and Delrin Anti-backlash nuts on all axis
Working area of approximately 247mm x 290mm and 60mm of Z-axis travel
1/4″ steel gantries
The Mill One Plus is designed to be:
An entry-level, first CNC machine on a budget
Small
Compete against smaller, hobby CNCs such as the Sainsmart 3018 CNCs, Millright M3, OpenBuilds Minimill, etc.
Replace the original Mill One
What was the Mill One?
The Mill One was a machine that we developed and launched in the autumn of 2016. To fund the production and manufacturing of the machine, we ran a successful Kickstarter campaign that raised just over $61,000. This was a major milestone for Chris and me, taking what was originally a school project into solidifying Sienci Labs into a company.
The Mill One aimed to meet several objectives:
Be affordable. We wanted to create a product where people could use CNC technology for the first time at a price point low enough that the average hobbyist could purchase.
Be open. We wanted people to tinker, modify, and change what the Mill One was and could do. Since the launch of the Mill One, all of its design files, BOM, and other details are available for free.
Be simple. We wanted to create a machine and ecosystem that provided a machine that was easy to put together and use at a level approachable to the average hobbyist.
Depending on the time you purchased it, the Mill One could be bought for roughly $519-539CAD. If you want to read more about the Mill One, please check out our product page for it.
To this day, we focus all of our products with these three objectives, and the Mill One Plus will also focus on these objectives as well.
What's new with the Mill One Plus?
The Mill One, although a pioneer in hobby CNCing back in 2016 in terms of what it offered, wasn't perfect by any means. Some sacrifices in its mechanical design were made to keep costs reasonable and compared to machines of today, wasn't able to take advantage of improvements in off-the-shelf CNC parts, decreasing part cost from increasing demand, and the economies of scale we enjoy with LongMill production. There were also many mechanical design choices we made that in hindsight may be different from our new experiences with machine design and manufacturing.
So here are some improvements between the Mill One Plus versus the original Mill One. Please note that I am still in the very early stages of prototyping and although there are many changes that I would call improvements, are not yet tested in the real world.
Fully constrained lead screws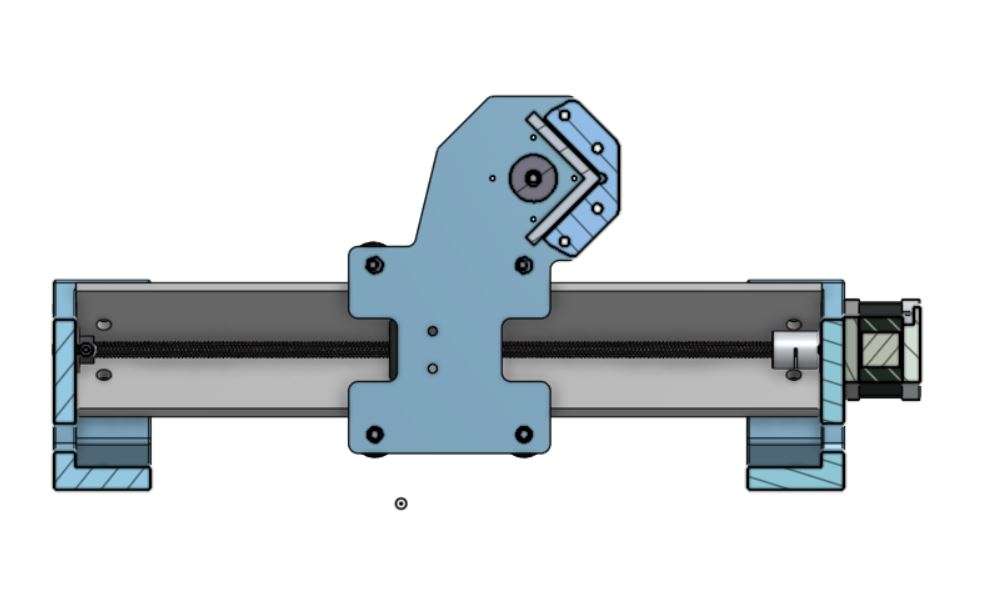 One of the limitations of the Mill One came from the fact that it relied on the bearings inside the NEMA 17 motor to constrain any axial or rotational movement. Although the motors we used were chosen to have stronger bearings and parts inside, larger forces would be able to move the shaft of the motor back and forth. The Mill One Plus uses a combination of 608ZZ flange bearings, solid couplers, and ACME locking nuts found on the LongMill to constrain the movement of the lead screw, decreasing the axial movement in the system.
H-Design/Moving Gantry/Fixed Bed Design
The Mill One Plus shares the same basic layout of the LongMill, with two Y-axis rails carrying the X-axis rail, rather than the Mill One's fixed X-axis and fixed Y-axis rails. Although this design is generally stiffer, because of the way the Y-axis bed was designed on the Mill One, any cutting on the left or right edge of the bed would deflect significantly more than cuts that happened on the middle area of the bed.
The Mill One Plus has a fixed bed, and the cutting tool moves around a stationary workpiece. This has the advantage of having more flexibility with workholding and the ability to "pass through" materials larger than the bed itself. Although having a moving X-axis rail means two degrees of freedom of movement on the rail, I believe that the machine will be more rigid with the use of thick steel gantries over MDF walls.
This design, when using the same length rails, offers slightly more working area (around 247mm x 290mm versus 258mm x 185mm).
Using LongMill parts
The Mill One Plus uses several parts straight from the LongMill such as linear guides, Delrin ACME anti-backlash nuts, solid aluminum router mount, bearings, and ACME locking nuts, all of which are better, more precise, and durable parts than what was originally used on the Mill One.
Although the overall BOM cost of the Mill One Plus will likely be higher than the Mill One, when taking into account that if many of these parts are shared, we can reduce costs by taking advantage of the economies of scale that we already have for the LongMill.
---
Overall I feel that the new design is a significant leap forward compared to the original Mill One design.
Next steps for development
I have been testing the fit and assembly of the design over the past week or so and although there were a couple of adjustments that needed to be made, the Mill One Plus has come together surprisingly well.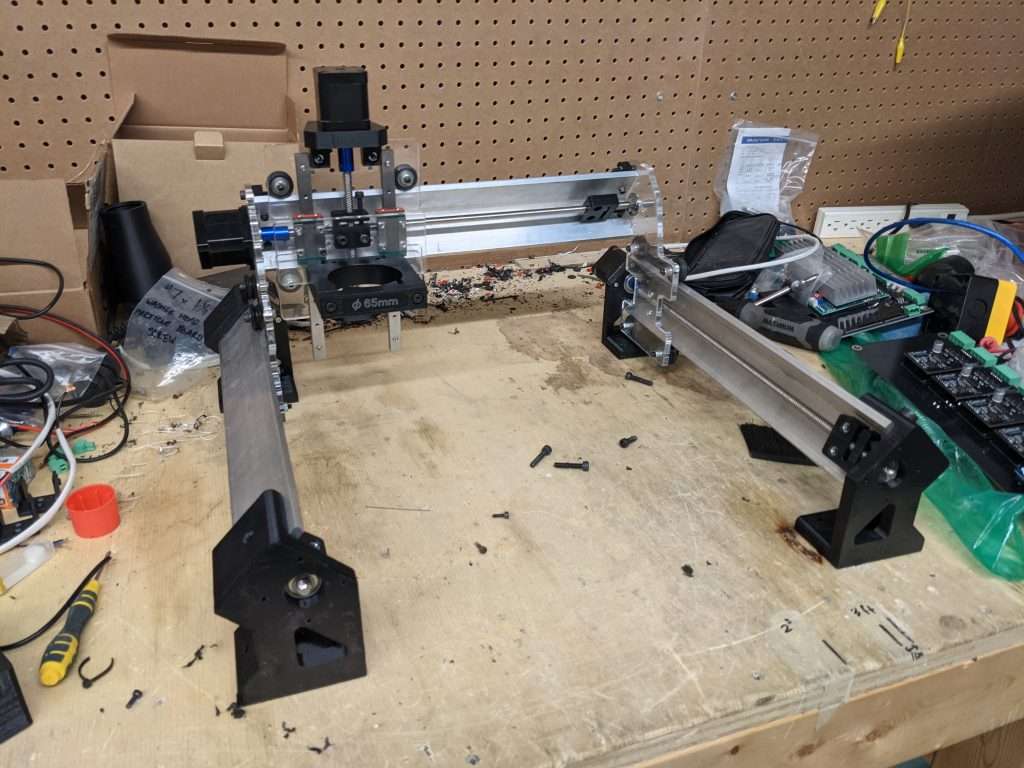 Once all of the parts fit together well, my next step would be to make steel versions of the gantries, as right now I am using acrylic because we have it on hand at the shop and it allows me to see the inner workings of the machine behind each gantry. All of the other parts we already have in storage that are old Mill One parts or stuff from LongMill production.
Electronics will be the next big thing to tackle, as I believe that the original CNC shield from the Mill One won't be up to snuff. Either we will design our own controller or use something off the shelf.
If you want to see the Mill One Plus CAD, please check it out on our Onshape document.
Making a business case
One of the reasons why the Mill One project has been put on the backburner has simply been because 1) we've been so busy will producing the LongMill and scaling production and 2) because the LongMill is simply more profitable than the Mill One was.
Just to put things into perspective, when we first started selling the Mill One, it was just me and Chris mostly putting together and shipping the machines from our garage after class. Today we have a team of close to 20 people to build and support the LongMill. It has been a massive undertaking for us to scale the company but now that the LongMill has started to mature as a product, we've started to take on new projects to improve the CNC ecosystem.
It is also important to mention that we would have to sell three to four times as many Mill One's or Mill One Pluses to match the amount of revenue that one LongMill provides, which brings up a couple of questions:
If we have to dedicate or hire new staff, develop resources, and work on creating a manufacturing process for a new product, will it generate enough revenue to be a sustainable part of our business?
Will our new customers need the same amount of support as our LongMill users do? How will we be able to manage and scale our support team while still continuing to provide high-quality customer service?
Will we be able to sell enough Mill One Pluses to break even on fixed costs such as rent, utilities, insurance, and software?
Ultimately, there are risks in launching a new product. To mitigate this risk, I believe it is necessary to do some market research and basically see if there are enough people interested in this new machine to build it.
I'd like to know if you'd be interested in getting a Mill One Plus and why. To do this I've created a survey to let me know what you think. If you're interested in this new machine, please make sure to share your thoughts. There is also an option to subscribe to a separate mailing list about updates about the Mill One project.
If you are interested in building one yourself, you can find all of the design files here: https://cad.onshape.com/documents/0b14f66c71ea1abec0716d92/w/3d4a9e516e78969663d5781d/e/d7eb0b2dfddbefc90a76fbae*
*Please note that this document contains files and projects that are under active development. Designs and files may change without notice. We do not assume any responsibility for your use of these designs and files and are as-is without support.
Things I think will be on our FAQ
Can you upgrade from a Mill One Plus to a LongMill
While both machines share certain parts, there is no simple upgrade path from a Mill One Plus to a LongMill. If you have a Mill One Plus and want to upgrade to a LongMill, I would recommend selling or passing along your Mill One Plus as it allows the machine to be used by someone else and you will likely recoup more of the initial cost by doing so.
I would also note that although technically the materials in the LongMill kit would be lower if certain parts can be transferred over from the Mill One Plus kit, the added time and customization of the kit for each customer will end up costing more overall due to additional labor involved in doing so, which is why we currently do not offer partial kits for the LongMill.
Can I make the Mill One Plus bigger?
For the most part, yes, if you are able to use longer rails and lead screws, the machine can theoretically be extended. There are other considerations to make that may be covered in this post for making the LongMill larger.
When it comes to offering different variations for machines, it generally is difficult to do at scale as we need to have enough sales for each size to make it viable. It is likely the Mill One Plus will only be offered in a 400mm rail per axis size and potentially a 500mm size taking rails from the LongMill 12×12/12×30 Y-axis.
When can I purchase a Mill One Plus?
Currently, we are in the middle of engineering and development of this machine. As of right now, we do not have plans to share about purchasing the Mill One Plus but the project files will be publicly available for other people to make their own.
If you want to order one, please fill out this survey as we will use this information to decide on a launch plan for the machine.
What software does it come with/work with?
The Mill One Plus will be compatible with any software that works with the LongMill. Please read our Software Resources for the LongMill for more info.