Hey everyone, here's the latest production update. For previous updates, please read our blog.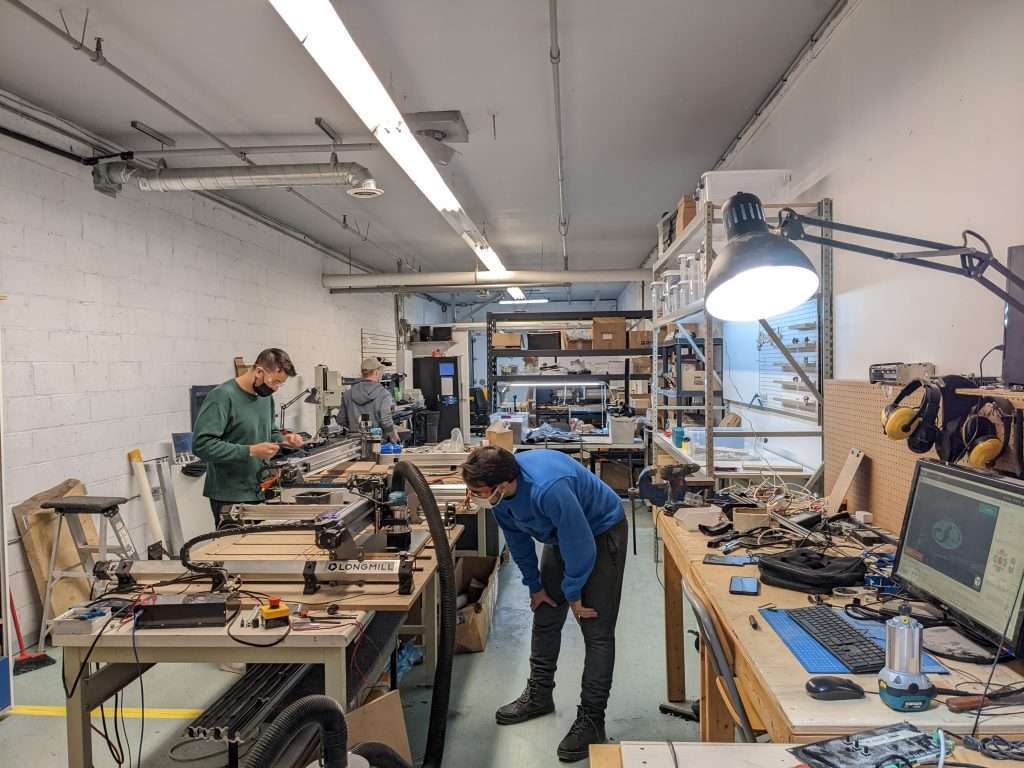 Materials are arriving
We've received a large number of materials over the last couple of weeks including some of the steel parts, power and USB cables, packaging, dust shoe parts, end mills, and more. We've made good progress doing the packing and processing, with most of the materials we've gotten in prepared for shipping once we receive everything.
We're also expecting 3D printing filament, gantries, control boards, and other steel parts, and v-wheels to arrive any day now, as transport has been booked and are awaiting delivery this week.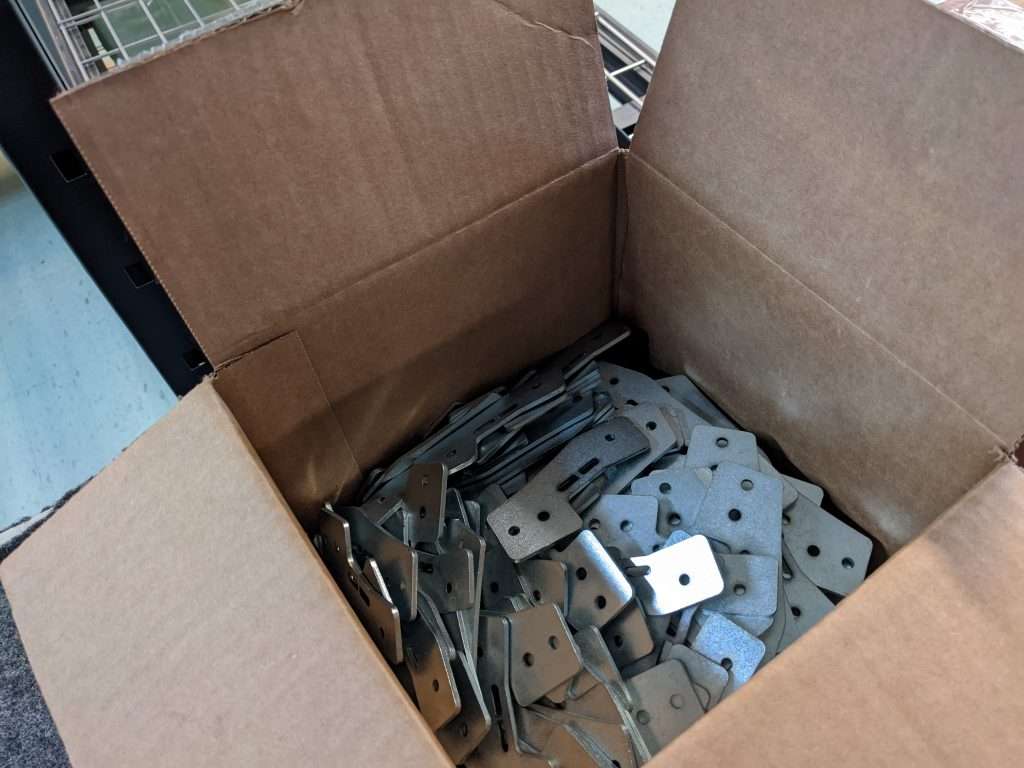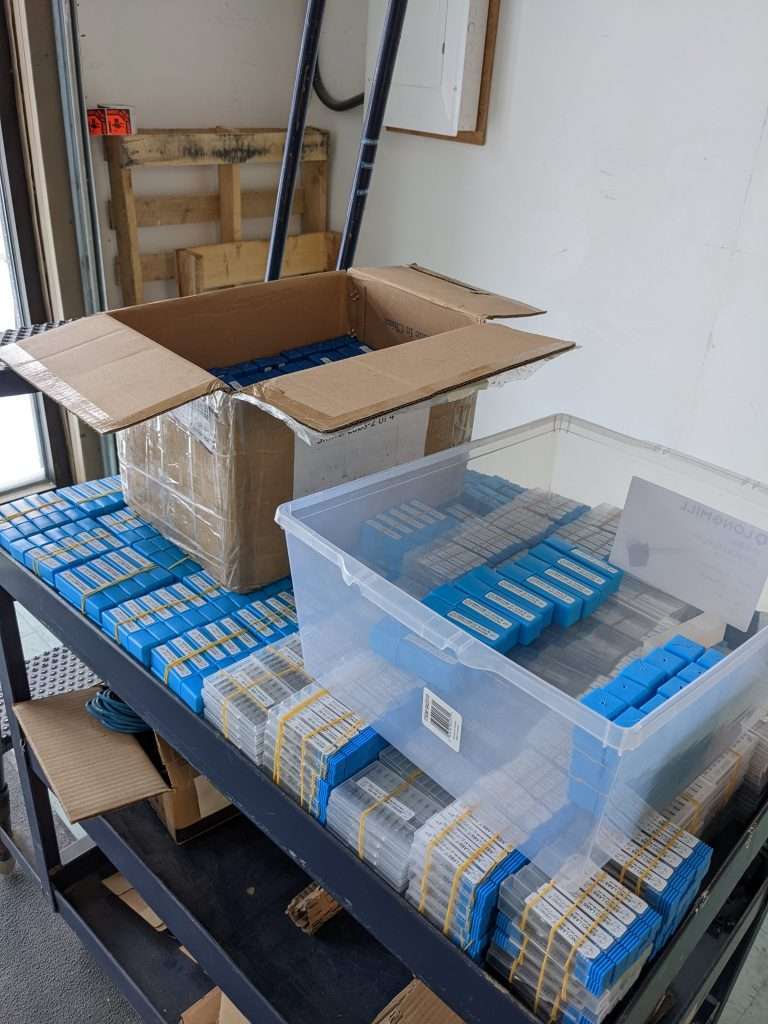 Waiting on materials to arrive
We continue to wait on the shipment of power supplies for the LongMill and LaserBeam and other parts that arrived on Feb 13 at Prince Rupert. Due to rail congestions, we are still waiting on these parts to arrive. According to our updated tracking info, it is expected to arrive in the next two weeks. However, due to the uncertainty with when these parts will be moved onto rail, as well as potential transit time for truck freight from the Mississauga warehouse, we would advise customers that this shipment may not reach our shop until the end of the month.

We are frustrated with the delays in these shipments, as this shipment was expected to arrive at the end of January. We are hoping that these items will arrive soon, and in the meantime, we are doing our best to pre-pack as much as we can so that we can ship machines out as quickly as we can when they do.
By the end of this week, we are expecting to have all of the materials ready to ship the MK2s with the exception of the power supplies, which will be our biggest bottleneck.
Given these delays, for new orders placed today and onwards, customers should expect to receive their machines in April/May.
Packing progress
We've been processing materials as they come in. Most of the day-to-day packing isn't super interesting but we did make a small modification to the printers in our print farm that some folks might find interesting. With the new MK2 dust shoes, the height of the hose comes out to be around 196mm. Unfortunately, the printing height of the Prusa Minis we have in the farm, which make up the majority of the printers we have, only print up to 185mm. Initially, we printed the hoses on some of the other printers we have in the farm, we weren't able to keep up with the number of hoses we needed to print. So, we had the brilliant idea to just make the Prusa Minis a little bit taller. After making a small simple spacer, we're now able to print the dust shoe hoses on the Prusa Minis!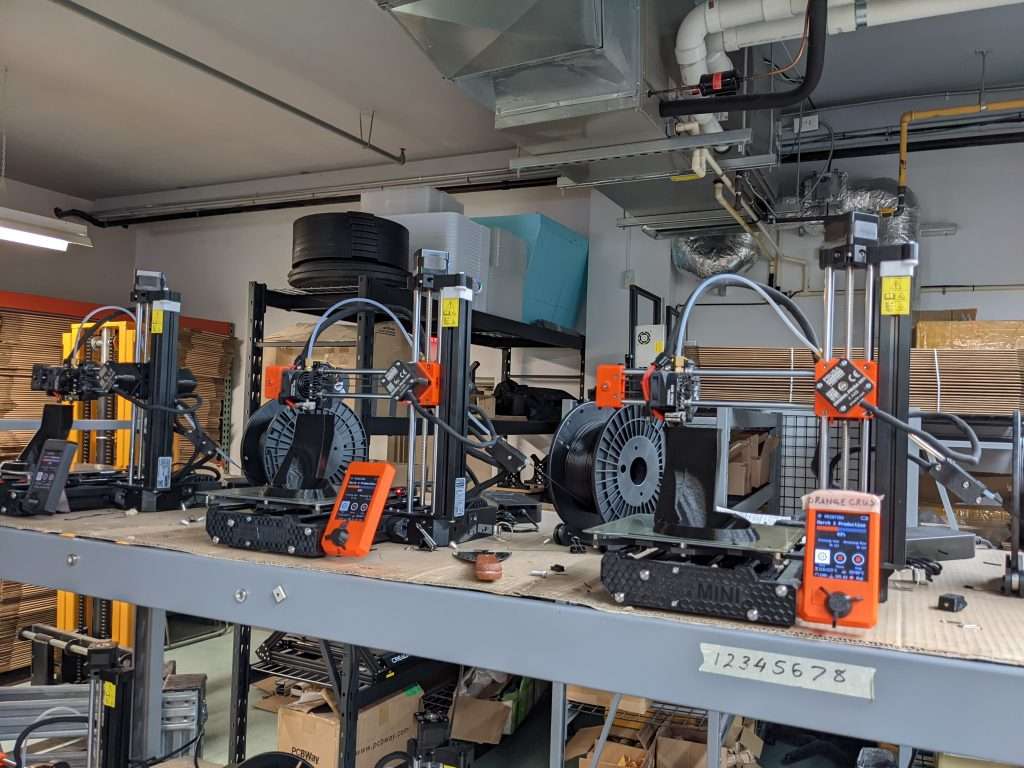 Now with 6 of our printers converted, we can now print up to 18 dust shoe hoses per day, meaning that we should be caught up with the printing in the next two to three weeks.
We're also excited to get our 3KG filament spools to replace the 1KG spools, which means that we'll be able to reduce the number of filament changeovers by 2/3rds, improving our printing efficiency and the amount of manpower it takes to run the farm.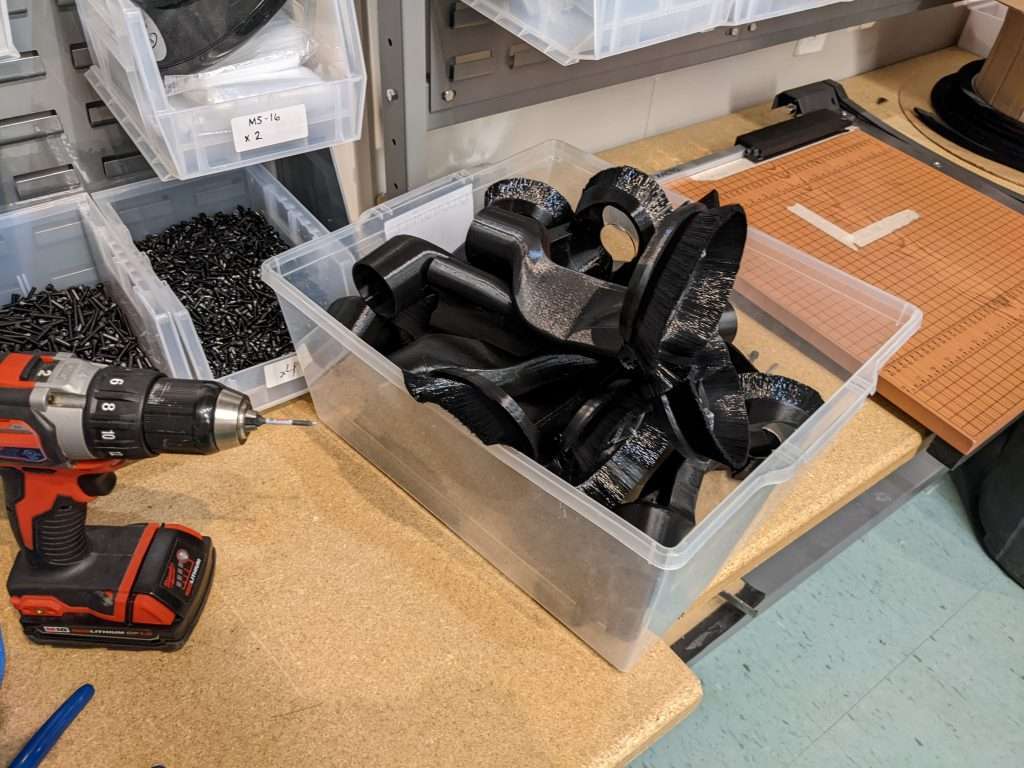 Dimensioned drawings are now updated for all LongMill MK2s.
We've now updated the dimensioned drawings for all of the LongMill MK2s to include the 48×30 as well as overall width and heights of the machine so that customers can prep their work areas, enclosures, and tables.
Wrapping up the instruction manual
Chris and Aleks have been hard at work making the new instruction manual and working with our staff and beta testers to perfect the assembly manual. We're excited to share a final draft of the MK2 assembly instructions. Please note that there are still some minor updates that we need to make to finalize the manual, including making a compressed version (right now the PDF is 107MB large) and updating links for the add-ons, but we just wanted to share this with everyone to get thoughts and feedback, as well as people can get an idea on what the assembly process for the MK2s are going to look like.
LaserBeam production
New batches of drivers and other components are currently in production. We are experiencing delays with driver manufacturing as we need to adapt to component and chip shortages. Based on these supply chain issues, customers are advised to expect delays when ordering the LaserBeam. We are also waiting on power supplies and copper heatsink housing parts to arrive with the large shipment delayed in Prince Rupert to arrive to complete currently pending orders.
While we wait on parts to arrive, we've completed the wiring and have been assembling other parts, such as the air assist and driver housing components to prepare for the arrival of the parts.
We have pushed orders that were scheduled to ship end of Feburary to end of March, and we are advising a 8 week lead time for new orders.