Hey everyone. I'm happy to announce that we've now created a couple of new end mill sets!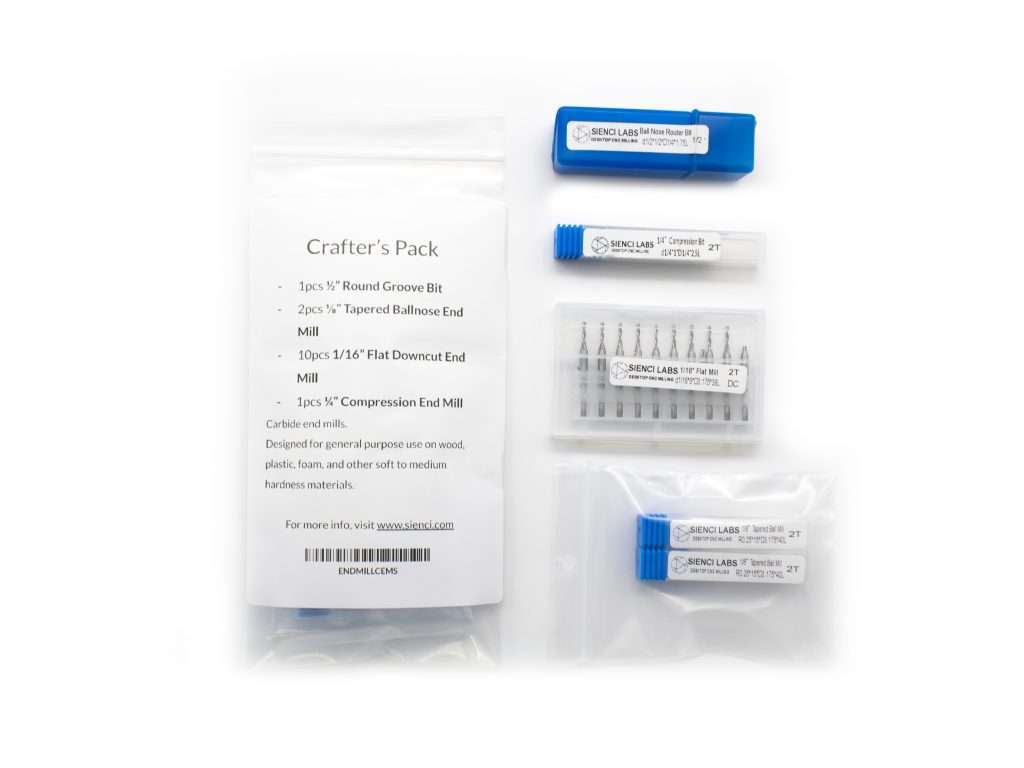 Order them here: https://sienci.com/product-category/cutting-tools/end-mill-sets/
So why did we create these new sets? Well, a common question our support staff has always been getting has been "what end mills should I get?" and we wanted to create something that would let folks try out a couple of different bits at a great price and cater to different types of users that call in.
Every set comes pre-packed with a number of bits and end mills that offer a great starting point for each type of person. We also offer between a 15-20% discount for each set compared to the cost of purchasing each bit individually. Because a large part of the cost of selling bits is in order picking and shipping, selling more bits in packs is more efficient for us and we pass along the savings to the customer.
Do you have any other sets you want to see in our store? Let us know in the comments or by contacting us!
Each set comes with:
1/4″ Flat Upcut End Mill – 2D cutting, such as for borders of signs, making boxes, and other simple shapes
1/8″ Flat Upcut End Mill – 2D cutting on smaller projects, as well as lettering and shape cutting
1/8″ Ball Upcut End Mill – 3D reliefs, such as topographical maps and other simple curved shapes
60-Degree V-Bit – V-carving signs and letters, as well as chamfer cuts
1/4″ to 1/8″ Collet Adapter – Useful for adapting 1/8″ bits for routers that have a 1/4″ shank
This set is a great starting point for rudimentary CNC techniques like 2D cutting, lower detail 3D reliefs, and v-carving/engraving. We believe this is a great starting point for beginner users who want to get a taste of different CNCing techniques with a set of bits that are durable, versatile, and forgiving to mistakes.
Each set comes with:
1/2″ Round Groove Bit – Bowl and tray cutting, for rounded bottom edges on their projects
1/4″ Compression Bit – 2D cutting on materials like plywood which are prone to splintering
1/8″ Tapered Ball End Mill – Advanced and high detail 3D relief cutting
1/16″ Flat Downcut End Mill – High detail letter cutting and general high detail 2D and 3D CNC projects
The focus of this set was to offer bits that we would consider "advanced" and require a bit more care and experience to set up the right feeds and speeds, but with the proper use, can create stunning results. We recommend this set to experienced users who want to try advanced techniques such as super high detail 3D reliefs, lettering, and micro-CNCing.
Each set comes with:
1/8″ Single Flute Upcut End Mill – 2D cutting on aluminum and plastics
1/4″ Single Flute Upcut End Mill – 2D cutting on aluminum and plastics
1/8″ Makita RT0701 Precision Collet – The best option for holding 1/8″ bits on your Makita RT0701 routers
If you want to get cutting aluminum and plastics, this is an excellent set to get going. We recommend using single flute bits on CNC routers like the LongMill as they can produce the largest and biggest chips that help with heat and chip evacuation. This is critical for materials that are prone to melt.