A common query we get here at Sienci Labs is "What should I order with my LongMill?".
We've created a new step-by-step configurator to help customers figure out what they should be ordering with the LongMill. The LongMill MK2 Configurator covers all of the add-ons and toolings that we feel are relevant for someone getting set up with a new machine, as well as providing better info and transparency of what each item does.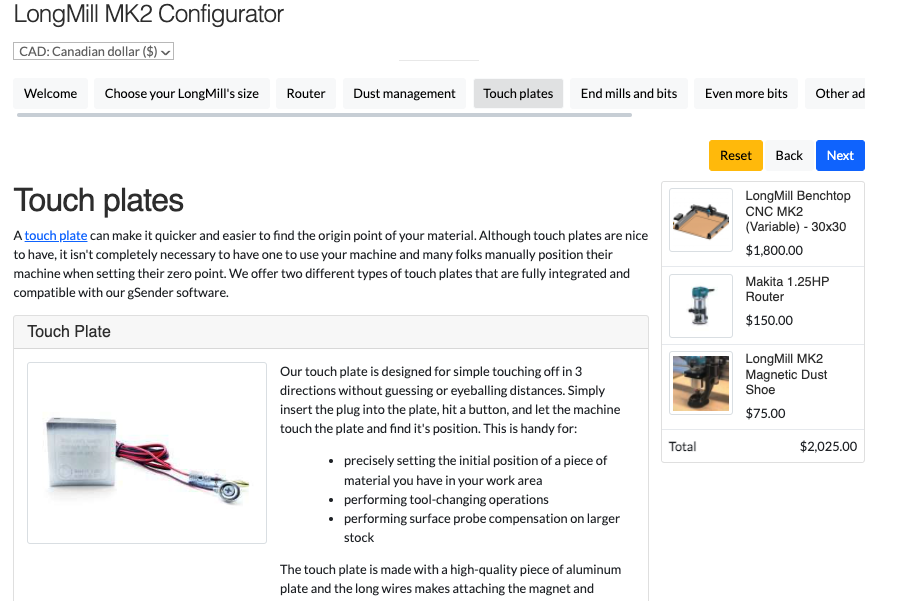 Why this matters to us
One of the interesting results of being in control of how the order page looks on our website is that it influences the purchasing decisions of our customers and changes what is and isn't easily visible to the customer. The consequence of this is that most of our customers purchase all of the add-ons we have on the product page, even though some of these items may not be needed for most beginners.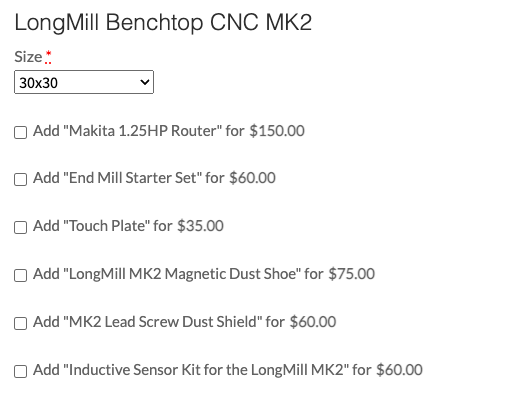 For example, we typically do not recommend beginner users to use or install inductive sensors until they have gained some experience using the machine. For the dust shield, we also don't feel it is required for most customers. However, more than 50% of customers choose these options as default. Although it means more money in our pocket at the end of the day, we would prefer customers to be able to purchase the things they need and have the best experience possible.
Another result of this layout is that there are some confusion and order changes that happen, as we don't list all of our add-ons on the product page. For example, we have our regular touch plate on the list, but not our AutoZero touch plate. Many customers have ended up getting in touch with us to change their regular touch plate to the AutoZero touch plate. With an improved system like the configurator, we can lay out more options and give people the opportunity to compare their options more easily, as well as reduce the overall clutter of the page.
We're hoping that this improves overall customer and ordering experience, while better informing customers on what they need with their machine.
Depending on the reception of the configurator, we may implement it on other products, like the LaserBeam and LongMill Extension kits. If you have any thoughts or feedback, feel free to reach out and let us know!