Hey y'all, Andy here with the Nov 2023 Production Updates. For past updates, make sure to check out our blog.
Some of the info we're sharing here may refer to stuff we talked about in the October update, so feel free to read the last update if you haven't yet.
This one is a super long update so…..enjoy.
We found a guinea pig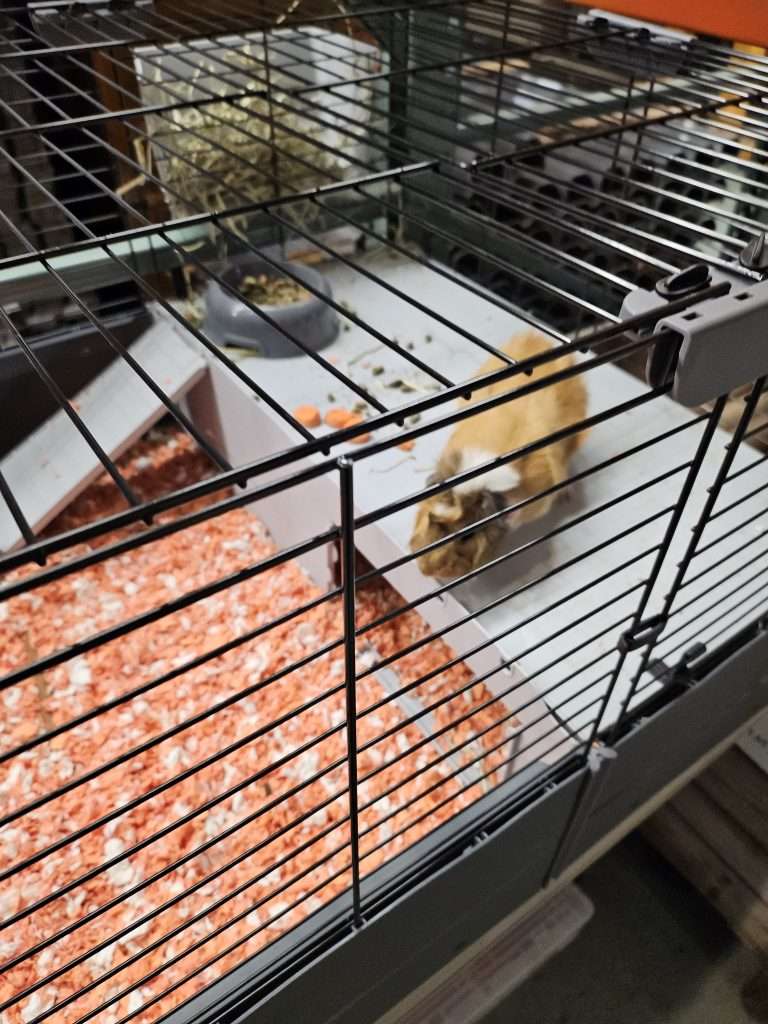 A few weeks ago (I was away), someone (I think Jen) saw a guinea pig run around in the parking lot and living under the shipping containers we have in the back. Eventually, we were able to capture it. What we suspect is someone let it go for some reason.
It appears that everyone has appointed it as the new CEO, and the team is looking for another guinea pig to keep it company (perhaps as the CTO?).
Moving
As we mentioned in the last update, we're moving! Moving has already started and we are working on putting in new plumbing and electrical. We should be getting a truck to move most of our stuff in the first week of November.
Because of the move, we may need to put shipping on pause for 2-3 days. We are working on planning this currently and we'll put a note on the website when this will be the case.
There will be a video coming out soon so keep your eyes peeled!

LongMill MK2 Production
LongMill production continues to go smoothly, with most machines shipping out within a day or two, and the same day for Beginners Kits.
LaserBeam Production
LaserBeam also continues to move along smoothly. We are currently working on building a new batch and parts are trickling in.
Vortex Rotary Axis Production
The Vortex Rotary Axis continues to ship within a few days from stock. However, we are down to our last 30ish units. We are currently in production for the second batch, and expect to restock on another 300 units around the start of December. There may be a chance that lead times may increase once we run out of stock.
CO2 Laser
So it's been a big passion project for Ikenna to develop a CO2 laser. For those who don't know, Ikenna is the guy who developed the LaserBeam.
One of the main downsides of using diode lasers like the LaserBeam is that they are limited to how powerful they are, and thus limited to what and how thick of material they can cut. For context, while the LaserBeam offers a 7 watt optical output, most CO2 lasers can put around 40 to 100 watts of cutting power. A
CO2 lasers that exist on the market have some things we believe need to be addressed to make the technology more accessible to hobbyists. I won't get into too much detail in this update, but look out for a video from Ikenna and Daniel soon that covers details about the project, as well as a survey coming to help us make some design decisions for the project.
Sienci Router
We've continued to work on the design for the Sienci Router. Thank you for everyone who participated in the survey to provide us feedback on the features and designs.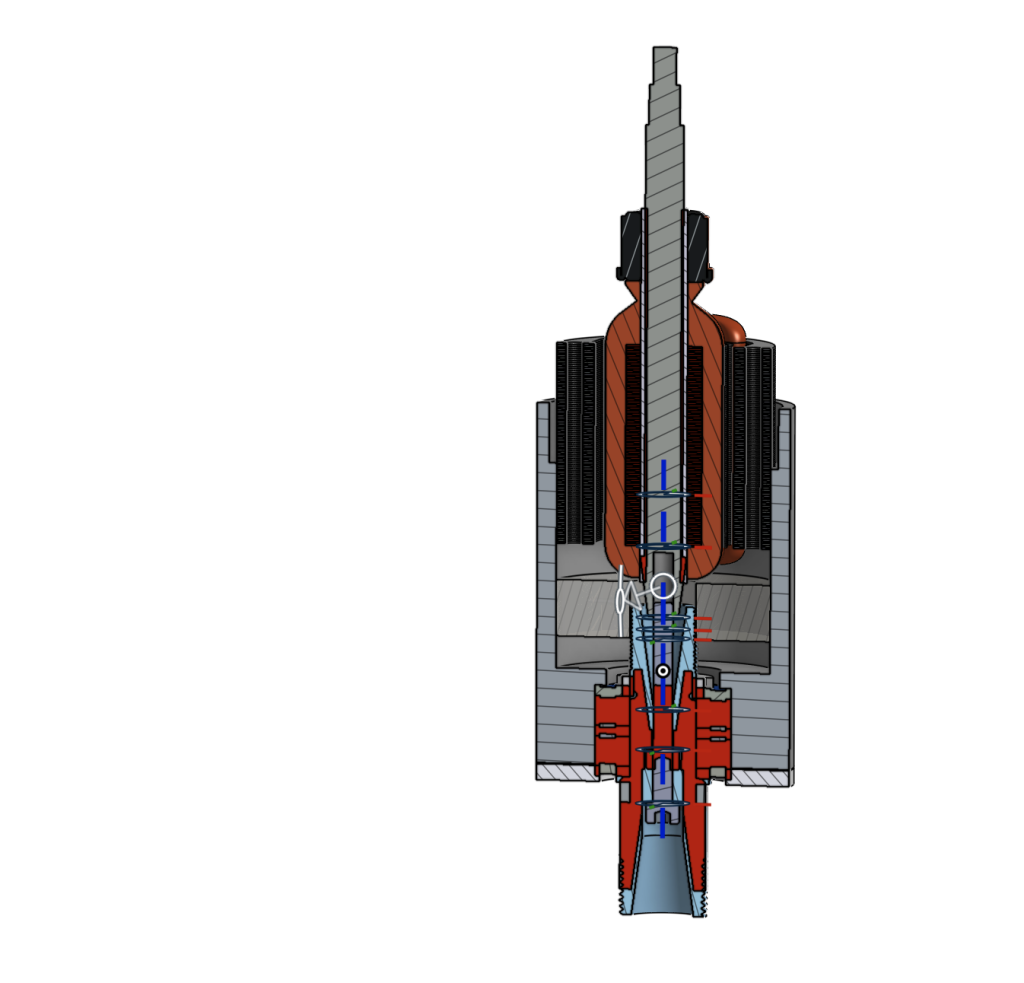 One of the things we've been working on deciding over the last few weeks is the communication interface for speed control of the router, because at this current time, there are several different protocols used in hobby and industrial CNC controls, but the ones that we are addressing are RS485, PWM, and 0-10V analog.
GRBL, the firmware that the LongMill and many hobby CNCs run on, uses ATMEGA 328/Arduino hardware to do the motion control and run the functions of the machine. While this isn't confirmed information, I suspect that GRBL-based machines primarily offer external control for peripheries like spindles and lasers using PWM because the hardware offers the support. PWM is basic, simple, and is generally fairly reliable for this type of application.
However, from my experience, while PWM is the primary interface for laser control, it's rare to find on VFDs. More commonly, there is an analog voltage input, so in a VFD with a 0-10V range, sending a 5V signal would run the spindle at 50% of the rated speed. A lot of users plug their PWM signal into the analog input (which isn't the proper way to do things), because the electronics in the VFD can sometimes average out the duty cycle of the PWM to a voltage. You can read a bit more about it in this previous article.
We also have been looking at different motor options and designs, some of which are here.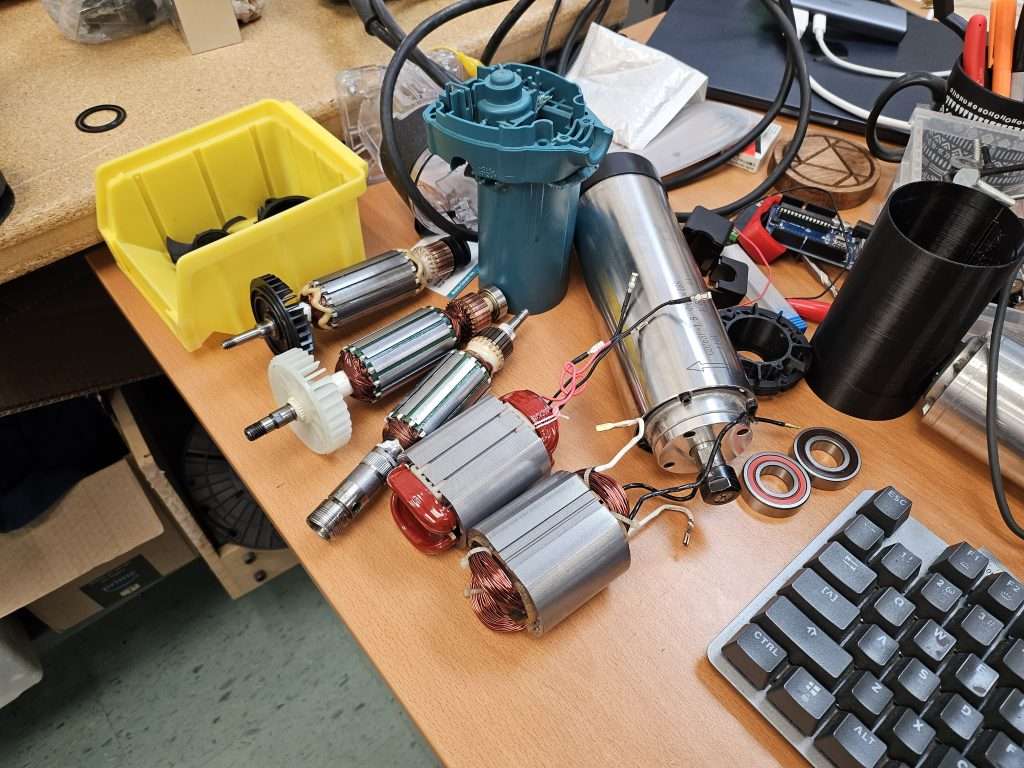 Spring Loaded Anti-Backlash Nuts
We have now started manufacturing of the T12 Spring Loaded Anti Backlash nuts! Thank you to everyone who participated in our open beta of the T8 Spring Loaded Anti Backlash Nuts. We are also finalizing the design for the second iteration of the nut.
We are expecting production for the T12 nuts to take about 4 weeks. We'll put out an update for everyone on the status and when they will be available for sale.
Roughing End Mills
We just received our first batch of 1/4″ Roughing end mills and are working on testing and checking the new design. For a little info, we wanted to make an end mill specifically designed for cutting guitar blanks. Cutting guitar blanks comes with a couple of unique challenges. The first is that guitar blanks are typically around 1.75″ thick. Most 1/4″ bits are usually designed to cut around 1″ to 1.25″ thick material, which means that most standard bits have trouble cutting through 1.75″ material from a single direction. The solution to this is to make a longer end mill, but longer end mills present a new challenge, which is that the longer the bit is, the more deflection is in the tool.
To get around this, we've made some specific design choices. First is to make the end mill stronger, we've gone with a 3 flute design, which means that there is more material in the flute area to give strength to the bit. The second is to add a serrated "chip breaker" edge to the flutes, which helps shear chips apart and prevent them from clogging up in the cut.
Overall we believe that this will be a great tool for guitar builders in general. And we also think that this will be a great addition to CNCers working with thicker materials.
We are currently doing testing and expect to have this available for sale in the next week or two so keep your eyes peeled!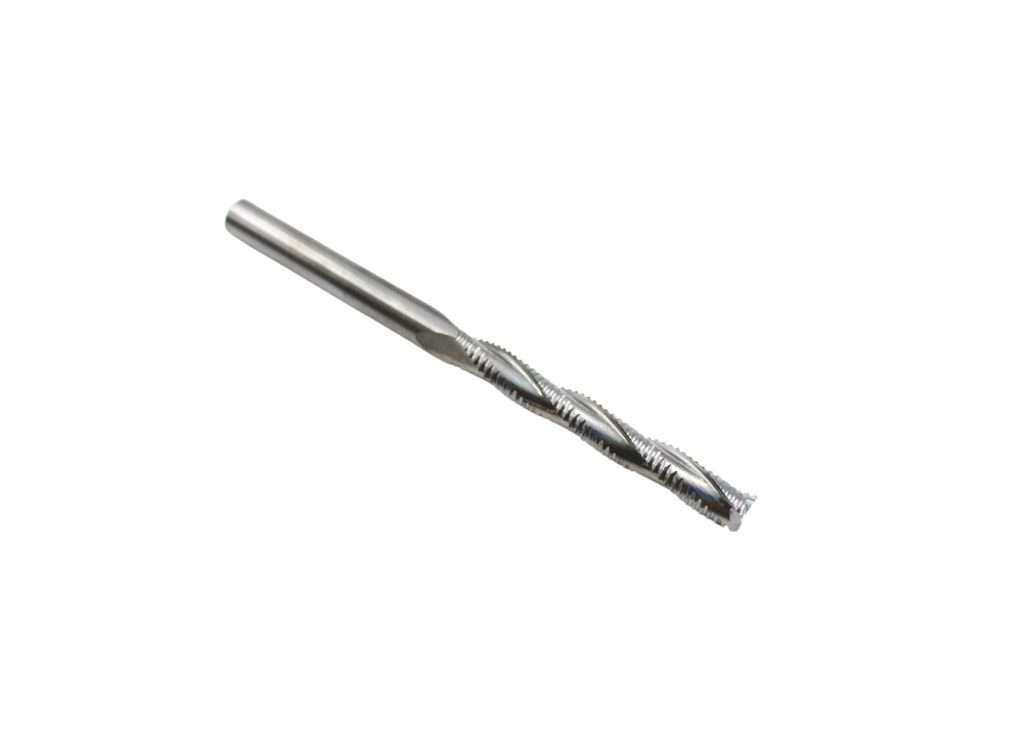 Wanna see our video where we make a guitar body? Check out the video below!
AltMill
We are continuing to work on the AltMill. This project was put on pause since we had a lot of work we needed to get done in building our production and processes for the LongMill, as well as due to lack of space in our current workplace. Now that the LongMill has become more mature as a product and we are moving into a larger space, we feel its a great time to revisit the AltMill project. You can read about the initial launch here: https://sienci.com/2021/09/10/going-bigger-announcing-the-development-of-the-altmill-and-extended-versions-of-the-longmill/. We have just placed an order for the main linear motion parts and expect to have the rail manufacturing starting in the next week or two. Our plan is to build around 50 machines as a small test batch and build a larger batch based on interest.
For the uninitiated, the AltMill is our foray into larger format CNC machines using linear guides and ball screws. We are starting to work on forming the basis for upper-range CNC machines, while still keeping our core values of value and ease of use for hobbyist and small-scale production. These first units will have a 4×4 foot working area and offer an upgrade to the current LongMill. Prices are expected to be around $3000 to $4500 depending on the configuration.
We don't have exact timelines yet, but I expect to see our first prototype units being built in the start of 2024.
SuperLongBoard
SuperLongBoard development continues to move forward. Chris will be putting out an update soon specifically for the SLB, so make sure to watch out for that. Progress feels like two steps forward, one step back sort of situation. Because the board is a lot more complicated than before, we've found that changing different parts of the board which depend on each other can cause things to change in other areas.
Additionally, the hope was that the second version of the controller would be our final version of the hardware, with features only needing to be implemented by updating the firmware. However, we've found a couple of mistakes and certain changes and improvements we can make to improve the board.
Brazil Trip
This past October, Leandro (our marketing manager) and I went to Brazil. Just for a bit of background, we were invited by one of the Canadian trade commissioners to do a trade mission in Rio Grande Do Sul, a southern province known for manufacturing. The goal of the trip was to establish relations between Canadian and Brazilian advanced manufacturing. We went to represent our company and the Canadian government and make connections with different organizations and companies in the region.
It was an amazing experience. One of the things that we got to do was visit and tour several large factories, including Randon, Tramontina, and Marcopolo, which are multibillion-dollar companies that employ tens of thousands of employees. There were a couple of takeaways that all the companies shared.
An emphasis on doing as much in-house as possible, with different departments that focus on making tooling, molds, robotics, and more for production, rather than outsourcing to other companies. Additionally, they have their own financial institutions, educational facilities, medical centers, and hospitals on the grounds where employees can get further support from their companies. I feel that this makes sense because of the scale of each company, and it is more efficient and effective to specialize their needs to the environment and employees that they have.
High volume production of commodity or commonly used items. Because all of these companies make products on such a large scale, they need to focus on making products that people use a lot of. For example, the Tramontina factory produces 20,000 pans and pots per day. Because they make so many and have the resources to optimize their manufacturing, they can make the pans cheaper than basically any company just starting out. This protects them against competition since other companies won't be able to produce at the scale and efficiency they can.
The process for production and the departments are the same regardless of how big you get. In our company, we have people who work specifically in packing, engineering, QA, and customer service, to name a few. We need these different areas because it encompasses all of the different tasks that a company needs to do. In a larger corporation, it's still the same, just at a larger scale. I think that once the company gets larger, the growth of certain departments, such as management and engineering, doesn't grow linear compared to production and labor, because the products that are being made are the same, and you only need to scale certain areas to produce more.
I believe that there are many ways to take some of the things we saw and learned from this experience that we can apply to our own company as we continue to develop.
And also, the bbq in Brazil is incredible. Will return again soon!