The LongMill MK2 Beginner's Kit is a, "everything you need to get started with CNCing" package. This package comes with the LongMill MK2 CNC machine and basic accessories that the large majority of users order. Not only does this help new users get everything they need to start, but also reduces lead times as it allows us to make pre-assembled kits in stock.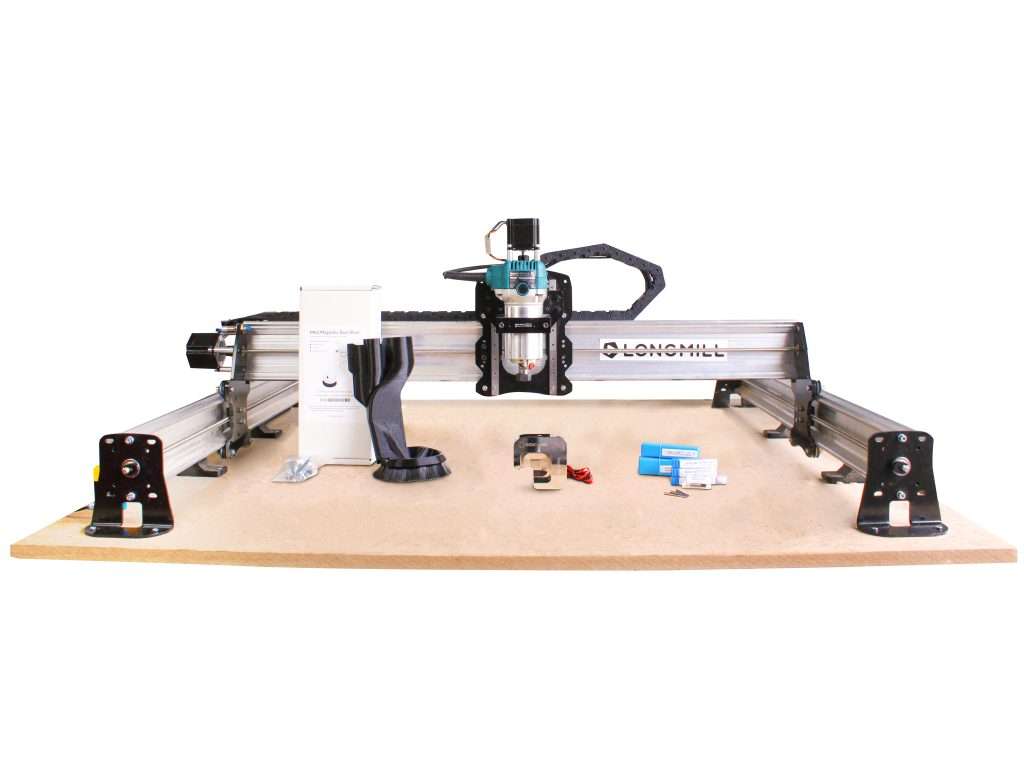 What is the LongMill MK2 Beginners Kit?
We created the LongMill Beginner's Kit based on sales data for items that customers buy with their LongMill, as well as feedback from our customer service team on items we felt were most beneficial for customers to have when opening their boxes.
The Beginner Kit comes fully loaded with:
1 x LongMill Benchtop CNC MK2 – choose between 30×30 or 48×30
1 x LongMill MK2 Magnetic Dust Shoe
It should be noted that all of the items can be purchased separately, customers who wish to pick and choose what they get with their order can still do so through our Store.
It's also important for us to mention that there are also certain items that we feel like although a lot of people buy them, they are either not needed for beginners or don't bring a lot of value.
For example, let's take the MK2 Lead Screw Dust Shield. For regular use, they are not needed at all. Since the lead screws and nuts on the LongMill are designed to be used in dusty environments, they do not need to be covered. In fact, they can be inconvenient in ways as they need to be removed every time the nuts have to be adjusted.
The other big omission folks might notice is the Inductive Sensor Kit for the LongMill MK2. This is because we believe that most beginners will find them unnecessary, and due to the complexity of setting them up, we find a lot of customers have issues due to improper setup and settings. Additionally, since crashing the LongMill won't damage the machine, using limit sensors are not needed for limiting travel. All in all, we feel that for most people, they will be more trouble than they are worth. We recommend adding them once customers are familiar with using their machine and are ready to take the next step in doing more advanced work.
You might also have noticed that the 1/8″ Precision Collet for the Makita RT0701 also isn't included in the list. That's because the Starter End Mill Set comes with a 1/4″ to 1/8″ Collet Adapter included.
The items in the Beginner's Package are there because we think they are the products we think you should get to have the best experience as a beginner. We don't want to sell you stuff you probably won't need, especially when starting out. However, if you want those items, feel free to add them to your cart, we won't stop you!
Why does the Beginners Kit exist?
We decided to create the Beginners Kit as we believe it will streamline many of the processes at Sienci Labs and in the ordering for the customer.
One major thing we're trying to work on, especially in the busy times of the year is keeping up with demand. Most customers will have experienced some sort of wait time for their machines. We've identified that if we can build the same group of kits with the same items over and over again, rather than customizing the kit for every customer, we can save a lot of time and money.
We also found that customers were getting confused with what to order with their machines when first starting out, which meant that in some cases, they would need to make more than one order to get everything they want. In fact, one of the most common questions we get is, "What do I need to get with our machine?"
Additionally, by pre-packing machines, we can stockpile them during slow seasons and ship kits more quickly. This helps keep our packing team busy, better prepared for shifts in sales during the season, and allows us to ship machines significantly faster than before. And at some point, if this works really well, we can also start setting up distribution in the US and other parts of the world with pre-kitted machines so that we can save on shipping costs overall as well.
Another part of this move is also with regards to managing customs, as we found with certain orders with a lot of line items in the customs documentation were prone to being held up and there being more issues overall. We believe that by streamlining the machine kit into fewer line items, we can help clear customs more easily.
Also, now that the pandemic is basically over, we've been getting a lot more people coming in directly to the shop to purchase machines and we're planning on going to some shows and events, and we'll be able to take some machines to sell directly!
So rather than having things set up so that customers have to pick and choose every single item, we bundle everything they need to get set up with their machine based on what the average person orders with their machine.
How does the Beginners Kit work?
Interested in ordering a LongMill MK2 Beginners Kit? Here's what you can do!
Choose the version of the LongMill MK2 Beginners Kit you want and put it in your cart
If you want to order anything else at the same time, feel free to include it in your order.

IMPORTANT: Your order may ship together or in two separate packages. You will receive tracking info once your order ships and either one or two tracking numbers.

You should have your shipped out within the next business day. Most transit times when with courier within North America is 3-5 days, but could take up to 2 weeks.
Beginners Kit Discount
We are currently offering roughly a $100CAD discount on Beginners Kits.
Here's why:
We are moving in October and we want to clear out as much inventory as possible
Since we're expecting some cost savings in streamlining the packing and shipping process, we are passing along these savings to you!
This is also an experiment to see if the Beginners Kit will be a potential staple product for us in the long run.
This offer will be available until:
We run low in stock
We can't keep up with the sales
We realize the beginners kit wasn't a great idea after all…
But otherwise……………..