AC JumpStart is a matching program that provides eligible companies with

$30,000 in seed capital*
$10,000 in mentoring from the AC's team of in-house experts
Access to market research and connections to investors

The program is funded through an $8 million commitment from the Federal Economic Development Agency for Southern Ontario (FedDev Ontario) and delivered in partnership with Conestoga College, Wilfrid Laurier University and the University of Waterloo.
Sienci Labs has been accepted into the fifth cohort for the AC Jumpstart program! We received an email a few months ago that we took it as that we were not accepted, but it turns out that we had been applying to the AC Jumpstart program that is only available to University of Waterloo alumni. Thankfully we were considered for the general AC Jumpstart program, and recently we received this email…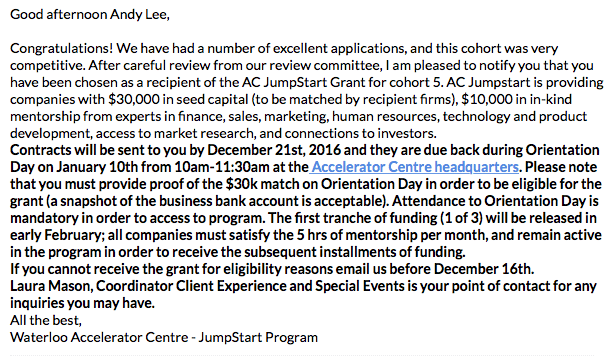 I have heard great things about this program from folks in the startup community who have gone through AC Jumpstart, and I am looking forward to starting this January!