Completed Milestone
On November 2nd we sent off our 7W LaserBeam product for independent testing. With the help of the test project coordinator, we will ensure that our product meets all Class 4 laser product requirements. That could mean making changes to the driver design and/or improving our safety/user manual.
Next Tasks
Safety and User Manual
While we wait to hear back from the test project coordinator we will continue to have our packers assemble parts that we are confident in, and would not be affected by the results of the testing.
Parts to assemble:
Laser diode extension cord
PWM signal cord
Laser diode heat sink assembly
Laser cooling fan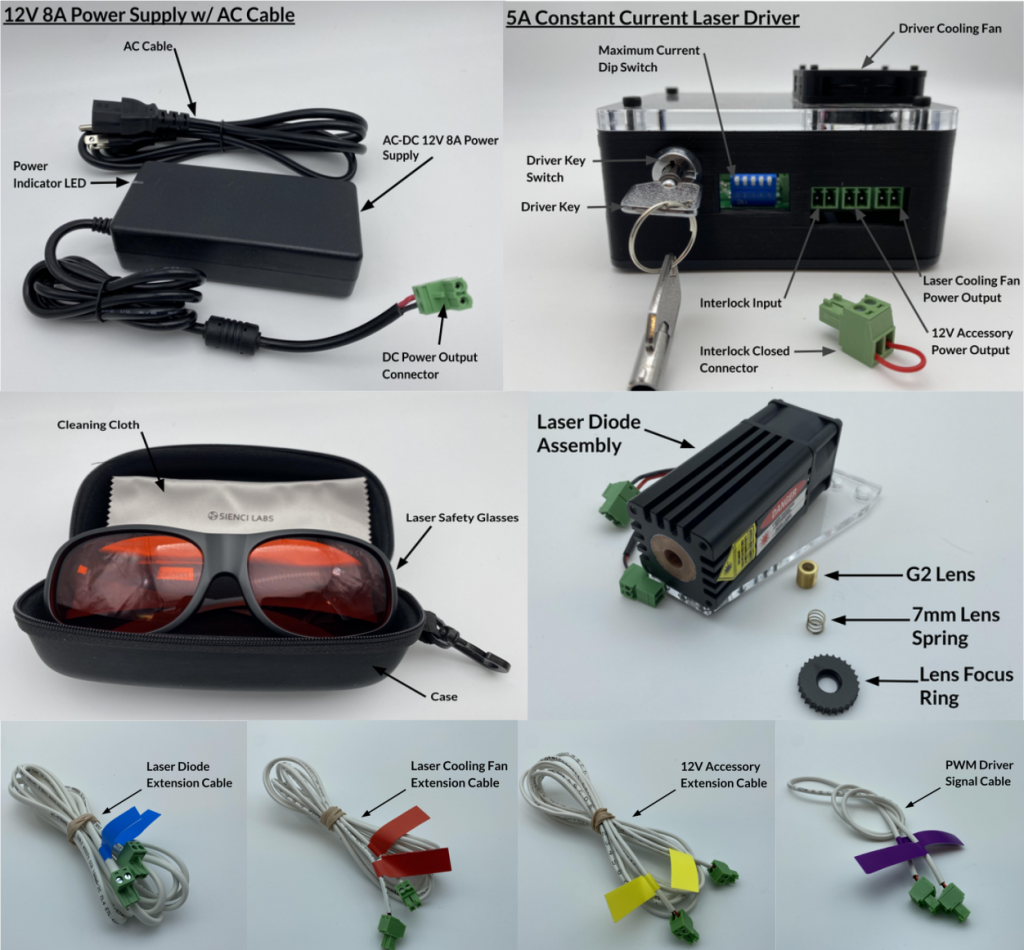 As we wait for updates from the independent testing facility, we will continue to plan ahead for Batch 2, to avoid future delays in shipping. Batch 1 includes the first 300 pre-orders, scheduled to deliver by end of the year.
Supply chain tasks:
We will be upgrading our acrylic router mount to zinc plated 10GA sheet metal

This will further reduce any vibrations that come from the laser cooling fan or LongMill movement

We will begin ordering more parts for Batch 2 of the LaserBeam production, which should take 1-2 weeks

Copper heat sinks
Safety glasses
A/C power cables
Laser diodes

Once the Laserbeam passes testing, we can order the driver PCBs
Remaining Milestones
Pass IEC 60825-1 tests
Receive testing report
Order our driver PCB Assemblies in bulk
File FDA reports
Assemble driver PCB enclosure
Test each LaserBeam system
Pack LaserBeams
Ship LaserBeams
Ordering Additional Safety Glasses & Lenses:
Check out the link above if you need to order additional LaserBeam accessories that you didn't order in your original LaserBeam preorder. You won't be charged any additional shipping and your order will be combined with your LaserBeam Pre order!
Sienci LaserBeam Pre Order:
Place your Sienci LaserBeam Pre order here: https://sienci.com/product/laser/
Answering your FAQ:
Send your Laser Questions Here: https://sienci.com/contact-us/technical-help/
Check out our LaserBeam FAQ video, I take all your unanswered questions from the LaserBeam livestream and try to give you guys more clarity on the LaserBeam add on.
Stay up to date by signing up for our mailing list
If you missed the last update, check it out here:
https://sienci.com/2021/10/22/almost-ready-for-independent-testing/